Fun And Foibles Of Romantic Relationships Are Spot On!
Reviewed by Tom Jones
October 13, 2018
While dating: "I love you. You're perfect!
Day after wedding: "Now change."
Four talented and likeable performers are on stage this season at BDT Stage taking the audience on a sentimental journey of love, happiness, and even a touch of despair. The longest-running off-Broadway review in history has been revised slightly for the 21st century. Some of the modifications are great fun.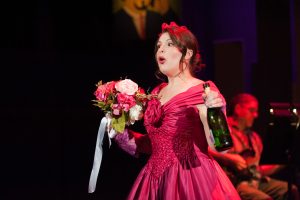 Bob Hoppe, Brian Jackson, and Heather Marie Doris are familiar faces to BDT Stage audiences. Anne Terze-Schwarz is new to BDT Stage, but has extensive experience, is a UNCO alum, and a native of Colorado. They are all very good.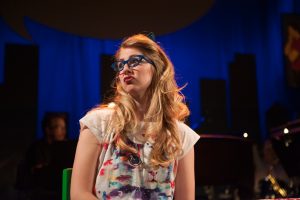 Hoppe can change characters in the twitch of an eyebrow, and takes the entire family on a not-so-joyous afternoon drive. Choreography in this scene is especially clever, with the family of four cruising around the stage with their self-propelled automobile.
Brian Jackson does not want to budge from the couch for the final 32 seconds of the football game on TV, even though his wife, Heather Marie Doris, is trying every tease she can come up with to share some romance. Jackson is also remarkable as the breakfast-time husband, who realizes his love for his wife is as deep as ever, even though they speak nary a word while reading the morning paper over cups of coffee. Anne Terze-Schwarz is effectively somber as the wronged woman trying to make a video to post on a dating network. Doris is terrific of the dreadfully-dressed bridesmaid who laments "Always a Bridesmaid" after catching the bride's bouquet.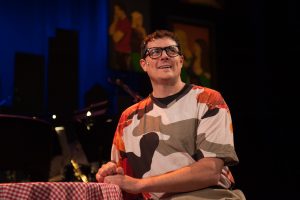 Hoppe and Jackson are zany and obnoxious as parents who can think or talk about nothing but the soundly-sleeping child in the other room.
And so it goes, from first dates, marriage, raising a family, remaining in love, looking for a mate after a divorce, and even going to funerals to find dates after spouses die.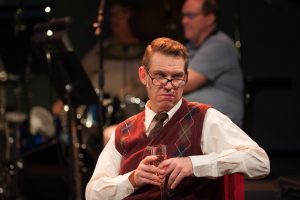 The review has been around for many years, and has not lost its charm. Coming up with ideas for the current generation are problematic. A generation or so ago, when the production first appeared off-Broadway, the thrill of love was usually culminated with an exciting wedding and honeymoon. This has become somewhat passé, as pre-marital co-habitation is now the norm in many situations, and the resulting current scene of Selfie-texting in the review more off-putting than funny.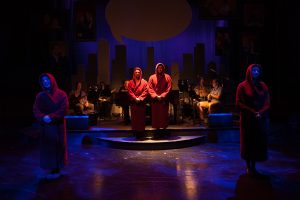 Directing and choreographing the review is Seth Caikowski who is well known to local audiences as a delightful comedian. He received the Henry Award for best supporting actor a few seasons ago in BDT Stage production of "The Drowsy Chaperone." Neal Dunfee conducts the on-stage orchestra, providing excellent support to the goings-on.
The audience had no difficulty relating to most of the show's sequences. They were thinking, "That is you." That is me." "That is us!" "And neither of us has changed….much"
"I Love You, You're Perfect, Now Change"
Where: BDT Stage
5501 Arapahoe Avenue, Boulder
When: Through November 3, 218
Tickets: Box Office (303) 449-6000
For more information: BDTStage.com