Mystical Village in Scottish Highlands comes to life.  It is a beauty!
Reviewed by Tom Jones
February 11, 2023
By 1947 World War Two had been over for two years. Harry S. Truman was President of the United States. In New York, two virtually unknown writers finished work on their latest Broadway endeavor. Even though America was recovering from the effects of the war, money to produce Broadway musicals was not plentiful. Lyricist and librettist Alan Jay Lerner and composer Frederick Loewe had written two shows that were not hits. They auditioned their new show 50 times before successfully finding investors to provide funds for their new offering. This was a fantasy about a mystical village in the Highlands of Scotland. They named it "Brigadoon." It opened at the Ziegfeld Theatre in New York City and went on to receive the Drama Critics Award for Best Musical that year. It opened in London two years later, and has subsequently experienced several successful revivals as well as the l954 movie starring Gene Kelly and Cyd Charisse.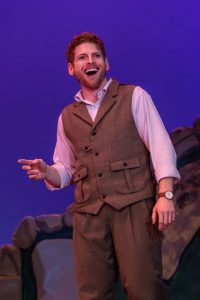 Could the original show have been as exciting as the production now on stage at the Candlelight Dinner Playhouse in Johnstown? This year "Brigadoon" is a marvel in the hands of local performers, choral director, choreography, set designer, music directors – everyone associated in bringing this joyous show to the local stage.
Scott Hurst, Jr., and Sara Kowalski are in peak form in the leads as the American tourist, Tommy, and a kindly Scottish woman, Fiona, They can act. They can dance. They can sing. Their renditions of "Heather on the Hill," "Almost Like Being in Love," and "From this Day On" are breathtaking. Hurst's "There But for You Go I" is one of the most beautiful solos in recent memory.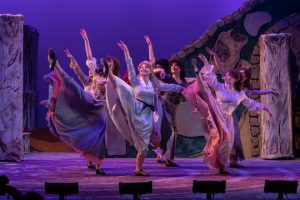 Tommy and his friend, Jeff, are American tourists hiking through the Highlands of Scotland, stumbling onto a mysterious village, "Brigadoon" which reportedly comes to life for just one day every 100 years. The villagers are not eager to explain the mystery of this enchanted village. But by the time the town's history is revealed, Tommy has lost his heart to a local woman, and Jeff has lost any sense of soberness wanting only to return to his favorite bar in New York City.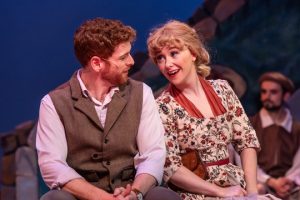 This is remarkable stuff. Everything about this show works to perfection. The set, lighting, and sound provide an undeniably pleasant mood rarely seen on stage. The audience sees the village of Brigadoon for a couple of hours – but long enough to experience the joy of a marriage, the sadness of a funeral, the happiness of spending time gathering heather on the hill. It has appreciation for good people doing their best to lead good lives, but with the understanding that everyone is not going to be happy all of the time. There will be jealousies, temptations, as well as joy and romance.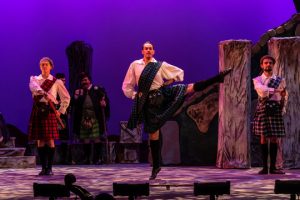 The set by Mike Grittner and Heath Howes is brilliant, bringing life to the Scottish Highlands and providing a welcoming and heartwarming look at village life. The direction (Steve Wargo), orchestra and music direction (Jerimiah Otto), choreography (Shawna Walker), costumes (Debra Faber), sound (Mark Derryberry) and lighting (Vance Mackenzie) are all wondrous.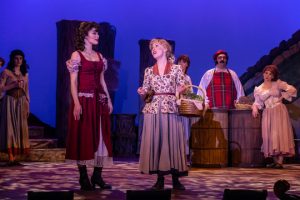 The cast includes Charlotte Lafonte as the delightful over-the top, man-hungry Meg. Chas Lederer is the affable, but continually-drunk Jeff. The entire ensemble is brilliant. Is it rare to see so many talented dancers and singers sharing the stage. The weather outside was the only chill for the entire evening.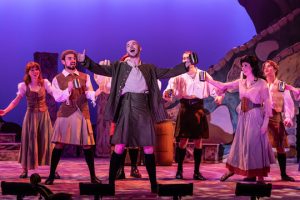 It would have been interesting to be in the initial meetings of the persons involved with staging this current show. Candlelight Theatre productions have become a home base of an increasingly large number of genuinely talented persons – performers and technicians. A great new addition to the Candlelight for this show is a new sound system which clarifies virtually everything said or sung. As was the case in Broadway shows of that era, there is sometimes more dialogue than desired. But the enchanting music and choreography make up for such detraction.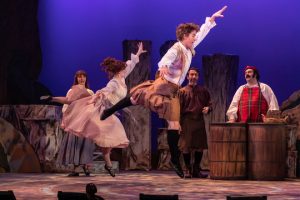 I'm eager to learn how the cast and crew feels at the conclusion of each performance, as fog rolls in to hide the mystical village from the rest of the world They do have the great fortune, however, of visiting there for a couple of hours for several more days of performances (through April 2)!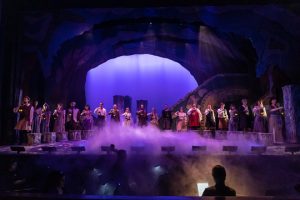 The original financial backers found that their faith in Lerner and Loewe was not misplaced. Some went on to toast success to the writing team in their future megahits: "Paint Your Wagon," "My Fair Lady," "Gigi" and "Camelot." Quite a list. Candlelight staff and crew are making history with "quite a list" of their own with one continuous delight after the next. I'm already planning my schedule to see one of my all-time favorites, "Then Secret Garden" on tap for later this season.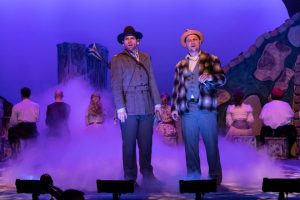 In the meantime, "Brigadoon" at the Candlelight is brilliance not to be missed!
Through April 2, 2023
Candlelight Dinner Playhouse
4747 Marketplace Drive
Johnstown, CO 80534
Box Office 970/744-3747
Online: www.coloradocandlelight.com