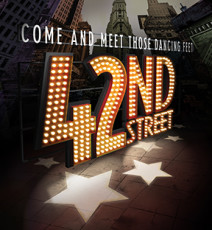 Lisa Carter Shines as Broadway Ingenue Peggy Sawyer
Reviewed by Tom Jones
March 24, 2017
Peggy Sawyer arrives in New York City by train from her home in Allentown. Allentown, PA. She has great naivete, and immense talent, ready to show New York what Pennsylvania can produce. Within a few minutes, Lisa Kay Carter has made the audience realize what a talent they are seeing. As Peggy Sawyer, Carter shows that she can sing. That she can dance. When does she have time to breathe?
"42nd Street" is the proverbial musical about New York City's favorite area – Broadway and 42nd Street. Talents from throughout the world arrive by bus and train each day, hoping to make their mark as performers. Few of them realize their dreams. But those that do are immortalized by delightful productions like this one, on stage at the Candlelight Dinner Playhouse.
Director Pat Payne has a substantial record of directing successful shows, including "Hello Dolly," "Chitty Chitty Bang Bang," and "Hairspray." He continues his run of hits with "42nd Street." There is every cliché in the showbiz vocabulary: The Broadway ingenue, the ageing diva who everyone loves to hate, the young male dancer and singer who befriends the ingenue, the producer and director who want a hit irrespective of what a toll it may take to create such, the show that is doomed to close before opening unless the right star can be found. And the show's incredible opening night when everything works to perfection and the audience goes home happy.
In the meantime, we are enchanted with non-stop singing and dancing. Tap dancing rules the evening – with every step heading in the direction of 42nd Street. Choreography under care of Kate Vallee, is particularly effective. She has been worked with seven different productions of the show, and her excellence as a choreographer is manifest. She has expert help with the bevy of dancers to provide enormous fun with "Dames," "We're in the Money," "Lullaby of Broadway," "Shuffle off to Buffalo," and an especially interesting "42nd Street Ballet" late in the second act.
Set is not particularly interesting until everyone ends up at the Broad Street Station. Lack of scenery is made up for, however, with sensational costuming. Sound and lighting are good, as is the orchestra, under direction of Nicholas Gilmore." Choral work is also memorable.
While Lisa Kay Carter as Peggy Sawyer is the show's star, excellent support is provided by Parker Redford as Billy, David L. Wygant as Julian Marsh, Samantha Joe Staggs as Maggie, Kent Sugg as Abner, and Heather McClain as Dorothy Brock. McClain has a challenging task. She is cast as a comic cliché of the traditional stage prima donna. Her talents are substantial, but she is so likeable that it is difficult to become angry with her character as the over-the-hill diva.
"42nd Street" was produced by David Merrick and opened in New York City in 1980. It became an immediate showbiz legend of its own. Choreography was by Gower Champion who had become incredibly successful with 'Hello Dolly" and other shows. He was ill the last week of rehearsals and died the afternoon before "42nd Street" opened. Following a standing ovation by the opening night audience, Merrick came on stage to tearfully announce that Champion had died that afternoon. Merrick not told the cast before the show, even withholding the news from Champion's girlfriend Wanda Richert who played Peggy Sawyer. The show went on to receive numerous awards and ran for several years in New York City, and worldwide.
The story is based on a novel by Bradford Ropes, and had been made into a 1933 movie, before showing up as Broadway hit about a Broadway hit in 1980.
The opening night audience in Johnstown was slow to warm up to the production. By show's end, however, it was as if they could relax, enjoy super talent, and hear familiar music. They ultimately found boundless joy in the delightful Broadway fable.
"42nd Street"
Where: Candlelight Dinner Playhouse
4747 Marketplace Drive, Johnstown
To: June 4, 2017
For Tickets: Box Office: 970/744-3747
Online:www.ColoradoCandlelight.comhttp://www.ColoradoCandlelight.com