The 1942 Movie That Gave Birth To "White Christmas" Has Arrived As A Stage Musical At Candlelight Dinner Playhouse.
Reviewed by Tom Jones
December 14, 2019
Jim Hardy, Ted Hanover and Lila Dixon are an entertainment trio. They sing. They dance. They entertain. They are very good performers. Their contract in a New York City nightclub is ending, and Jim believes he is ready to retire. He has found a farmhouse in rural Connecticut in foreclosure and snaps up the buying rights. Now he needs to convince his dancing partner, Lila, to accept his marriage proposal and move to the Connecticut countryside where they could become farmers.

Oops – Lila doesn't want to go. She wants to stay as part of the entertainment world and go on dancing with Jim's best friend, Ted Hanover. Yes, "Irving Berlin's Holiday Inn" is a variation of lots of showbiz fables. The better known musical "White Christmas" has been around forever. That 1954 show's famous song was actually created for the 1942 movie, "Holiday Inn," — basis for this current wonder at Candlelight.
Maybe I was grumpy before going to the theatre. The weather had been dismal and the show's overture was not exciting. Although it contains some famous Berlin melodies, the orchestra wasn't sounding perfect. I began to wonder why I was spending a holiday night in Johnstown. Shortly into the show, however, something began to click with me.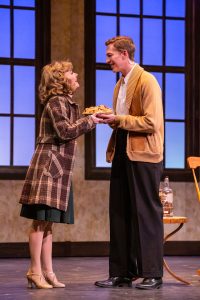 I asked myself, "Self, why are you enjoying this show so much?" I pondered my response. Was it because the performers were so talented and so earnestly sincere? Was it because the costumes (all 240 of them) are so incredible? Was it because the dancing is some of the best seen on Colorado stages? Was the orchestra suddenly sounding brilliant? Were the stage set and lighting so very interesting? Perhaps all of the above. This is super entertainment.
Cole Emarine, Ben Griffin and Susanna Ballenski Houdesheldt are the entertaining trio — Ted, Jim, and Lila. They can all sing and dance. Jim leaves showbiz to Ted and Lila and heads to his newfound farm. He finds the property isn't in very good shape. He is not disillusioned, however, as the daughter of the previous owner stops by to say hello and offer any help he may need. Sarah Kowalski is in great form as Linda Mason, the Connecticut neighbor, a local school teacher. Fortunately for Jim, she has some musical background, and the two are an instant duo. One of the show's most charming scenes is when Ted and Linda (Kowalski and Griffin) sing "Let's Take an Old Fashioned Walk." There is magic in the air.
Jim realizes that he just can't provide income from farming. He and Linda hatch a plan, heavily supported by Jim's entertainment friends to turn the farmhouse into a theatre – with shows emphasizing the various holidays. Yep, it becomes "Holiday Inn"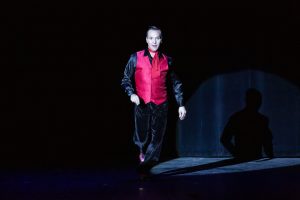 This turns out to be a beguilingly innocent story, set to the music of Irving Berlin. The music includes such Berlin hits as "Stepping Out with My Baby," "Blue Skies," "Let's Start the New Year Right," "Easter Parade," "Let's Take an Old Fashioned Walk," "Be Careful, It's My Heart," and even "White Christmas."
The four leads are very talented and enthusiastic performers. They are given great support from Annie Dwyer as the crazed farm maintenance worker who apparently "comes with the house." Eli Emming and Hayden McDonald alternate in the role of Connecticut neighbor Charlie Winslow, a young man with wisdom beyond his years. David L. Wygant is Danny, the entertainers' friend who wants them to try for the big time in showbiz. The ensemble is also very talented. The dancing skills are amazing.
The show's "star," however, is Kate Vallee who serves as director and choreographer. Vallee has put the entire cast through what must have been a non-stop boot camp in making certain every move made was done to perfection. She has extensive background as a director, choreographer, tap dance champion, and four years as a Radio City Rockette in New York City. What she and her well-honed cast provide is sheer brilliance. There is even a jump rope sequence set to music where no one missed a beat. Alissa Spooner is credited as Associate Choreographer. Music is under direction of Phil Forman.
All of the dance routines are excellent. Cole Emarine is given an opportunity to dazzle, as a soloist, and also shines in a great dancing duet with Susanna Ballenski Houdesheldt. The dancing ensemble nearly defies description, as they are all so very good.
This is a light-hearted Holiday treat. For great Holiday cheer this year – go to the "Inn."
"Holiday Inn"
Where: Candlelight Dinner Playhouse
4747 Marketplace Drive, Johnstown, CO
When: To January 19, 2020 (Many performances prior to Christmas are already sold out)
Information or tickets: Box Office: 970/744-3747
ColoradoCandelight.com