"Thank You for the Music" – And The Entire Show!
Reviewed by Tom Jones
October 11, 2019
Early in Act 1, the cast of "Mamma Mia" provides a captivating rendition of "Thank You for the Music." I have not enjoyed such a "feel good" moment in a musical for a long time. And that is just a part of the show! "Mamma Mia" on stage this season at Boulder's Dinner Theatre Stage is an entire joy!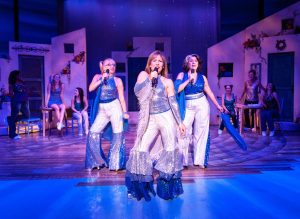 Christy Oberndorf is a delight as the coming-of-age Sophie Sheridan living on an idyllic Greek island. She has found the diary her mother kept, of three summer romances 20 years ago – the summer Sophie was conceived. Sophie is engaged and would like nothing more than to have her father walk her down the wedding aisle. Problem is that she does not know who her father is – possibly one of mother's three romantic liaisons those many years ago. Unbeknownst to her mother, Sophie has tracked down the three men, and has invited them to her wedding.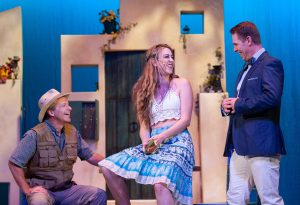 Such is the premise of this worldwide favorite, "Mamma Mia," now on stage at the Boulder Dinner Theater Stage through February 22, 2020. That looks like a long run; but when local audiences hear how terrific this production is, sold-out performances will be on the horizon. While Oberndorf is a wonderful Sophie, Tracy Warren is astonishing as Sophie's mother, Donna. Near the show's end, Warren is triumphant with her "The Winner Takes It All." I would not have been surprised if the audience had not stopped the show with a standing ovation for that rendition.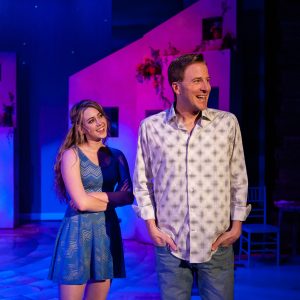 Music and lyrics were not originally written for a musical story. They are the work of the world famous Swedish pop/dance/disco group, ABBA. Their songs topped music charts worldwide from 1974 to 1982, respected for their unique sound. ABBA disbanded in 1983, but their music continued to find success. Producer Judy Cramer became infatuated with the idea of putting the ABBA songs by Benny Andersson and Bjorn Ulvaeus into a story, completely un-related to the singles that had become famous. Anderson and Ulvaeus were reportedly not initially interested in the concept. Undaunted, producer Cramer went on to commission Catherine Johnson to write the book for a potential musical, and the rest is history.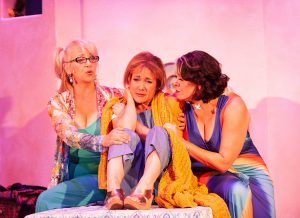 Since opening in London in 1999, the musical has subsequently been seen by an estimated 60 million theatregoers worldwide. It became a movie musical in 2008, with a sequel in 2018. I was one of the stage production's initial fans when I saw it in London while in previews, just before it opened. I was aware of some of the ABBA music, but had no idea the songs would bring such excitement to a live audience. The London production I enjoyed resulted in some of the audience dancing in the aisles.
They're still dancing! Who can just sit still when the theater pulsates with "Money, Money, Money," "Thank You for the Music," "Mamma Mia," "Dancing Queen," "I Had a Dream," "Take a Chance on Me," and "I Do, I Do, I Do." Alicia K. Meyers and Matthew D. Peters share the direction and choreographer roles for this marvel, produced by Michael J. Duran. The set and lighting are impressive as are the costumes. Particularly terrific is the work of music director who also directs the excellent orchestra. Sound has probably never been better in BDT Stage, as off-stage background voices are added to some of the solos.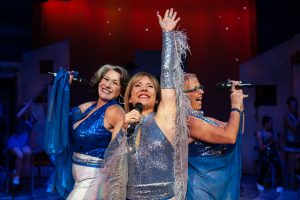 Oberndorf and Warren as Sophie and her mother, Donna, are not alone with their starring excellence. Alicia K. Meyers and Joanie Brosseau-Rubald are enormous fun as Donna's longtime friends who show up to support their friend at the wedding. Scott Severtson, Scott Beyette and Bob Hoppe duel-it-out as to which one might be Sophie's father. Everyone on stage is in fine form – displaying technical perfection in sound and in movement.
The show goes from one musical highlight to the next, taking the audience along on this unusual journey of long-lost love and newly found joy, exhibiting perfection at every turn.
Mamma Mia!
Where: Boulder Dinner Theatre Stage.
5501 Arapahoe Avenue, Boulder
When: Through February 22, 2020
Tickets: Box Office (303) 449-6000
For more information: www.BDTStage com