Tale of Real-Life Newsboys Strike in New York City in 1899 is Enormously Endearing
Reviewed by Tom Jones
August 8, 2017
A rag tag group of young newspaper sellers made their own headlines in 1899 in New York City. They fought the establishment, demanding slightly higher wages, and respect. Their exuberant story has found an equally-exuberant audience in Padre Canyon outside St. George, Utah, this summer.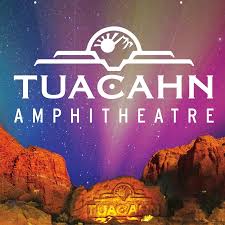 This is the 22nd season for Tuacahn Center for the Arts – with its enormous stage and open-air backdrop of the red cliffs of Southern Utah. This summer their audiences are treated to "Shrek The Musical," "Mamma Mia!," and the terrific Disney's "Newsies." I didn't plan to see all three shows, so selected the one I knew the least about, and ended up being swept away with "Newsies" this summer.
What a great choice. In 1992 the musical film "Newsies" turned up in movie theatres. Music is by Alan Menken, with lyrics by Jack Feldman, and a book by Harvey Firestein. The movie became a cult favorite, and became a Broadway musical in 2012, playing 1,005 performances. The Broadway production reportedly cost about five million dollars to stage, and recouped the initial investment in seven months. At that time, it was the fastest of any Disney musical on Broadway to turn a profit. A movie version of the theatrical production had a three-day release this past February, grossing more than three million dollars
As produced at Tuacahn there is an underlying feeling of ultimate joy, as the young boys struggle for survival in the tough streets of early New York. Their story could have resulted in a dreary look at dreary lives, but has succeeded in rising above the dire circumstances to become an anthem of survival for the city of New York and ultimately for the nation.
The production's success relies not only on the basic story, but on the amazingly athletic dancing of the performers, the heartfelt music of the composers, and the story itself. Newspaper delivery boy Jack Kelly tells his disabled friend, Crutchie, of his desire to someday leave New York City, and move to find his dreams in the faraway western town of Sante Fe. He is a talented artist, with no family, no money, and has his share of troubles with the law. His story could be replicated throughout the entire cast of orphans and homeless young men of the time living on the edge of society in hostile New York City.
The leads in "Newsies" include Ryan Farnsworth as Jack Kelly, Jordan Aragon as his friend, Crutchie, Daniel Scott Walton as Davey, Will Haley as Davey's brother Les, and Whitney Winfield as Katherine, the newspaper reporter who comes to their aid. The cast is enormous and featured roles include Matthew Tyler as Joseph Pulitzer and Jennifer Leigh Warren as Medda Larkin. Pulitzer has become immortalized by his financial success, and by the literary awards bearing his name. In "Newsies" he is shown in a very different light, with the audience wanting to "boo" his every appearance.
There is always a danger of performing a show outside on summer evenings. There were two (or maybe three) drops of light rain following the intermission, but the total effect of an evening outside on a wonderful summer night was one of sheer wonder. A visit to Tuacahn becomes an "event" all its own. At the top of the huge set are the living quarters of the young newsies. Their laundry was hanging out in windows, being blown slightly by a southern Utah breeze, and the incredible dancing on the stage beneath, providing its own storm of delight. A woman in the audience noted she had already seen the show more than ten times. That might be overdoing it a little, but "Newsies" is a true triumph.
Disney's "Newsies"
Where: Tuacahn Center for the Arts, the base of Padre Canyon,1100 Tuacahn, Ivins, Utah, 84738
Website: www.tuacahn.org