Wendy Ishii "Becomes" A Bewildered Alzheimer Victim In Lonergan Drama
Reviewed by Tom Jones
February 8, 2019
Gladys Green is on the cusp of old age, and is often bewildered with what is going on around her. Her hearing is impaired. Her mind is progressively deteriorating. Wendy Ishii is a marvel as she portrays Gladys Green, a victim of Alzheimer disease. Her eyes become wide and wild, as she looks with despair to figure out what she has become. This is a bravura performance. Ishii has portrayed a variety of roles, and this is one of her finest productions. She gets into the skin of the art gallery owner, and holds the audience spellbound.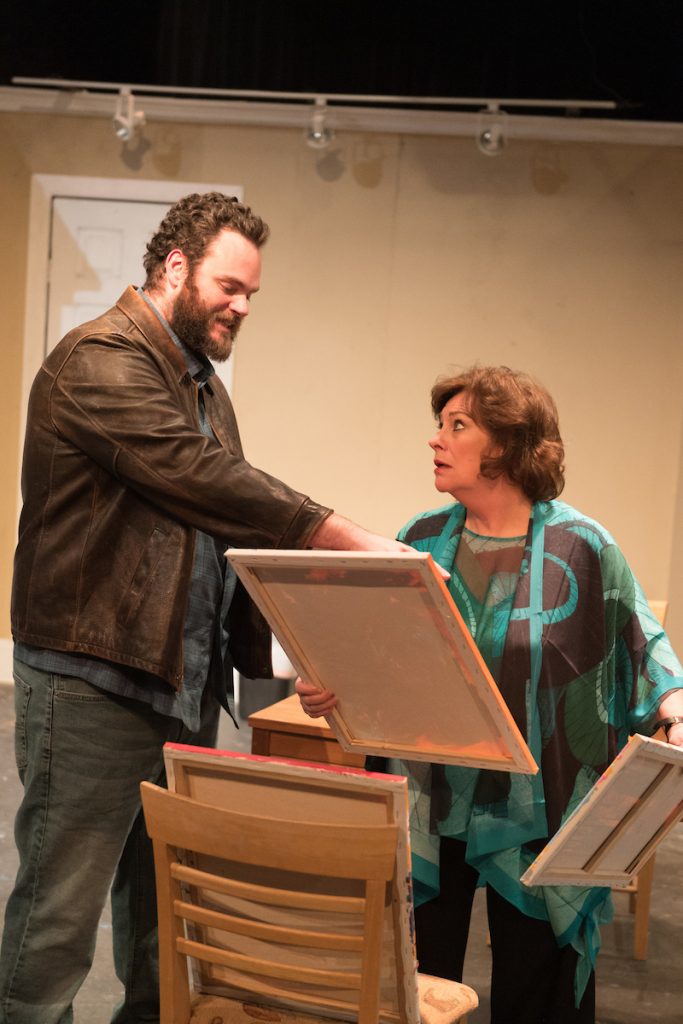 Gladys Green owns a small art gallery in Greenwich Village, New York City. There are very few customers, as it is located in an obscure street-side entrance to a hotel. The landlord wants to use the space for a hotel café, and is closing the gallery which has been Green's "life" for many years. She is alone most of the time. Alone in the gallery. Alone in her nearby apartment. Her contact with the world is limited and she clings to "family" to provide some connection with life in general. Her family now must tell Gladys that she no longer has the gallery.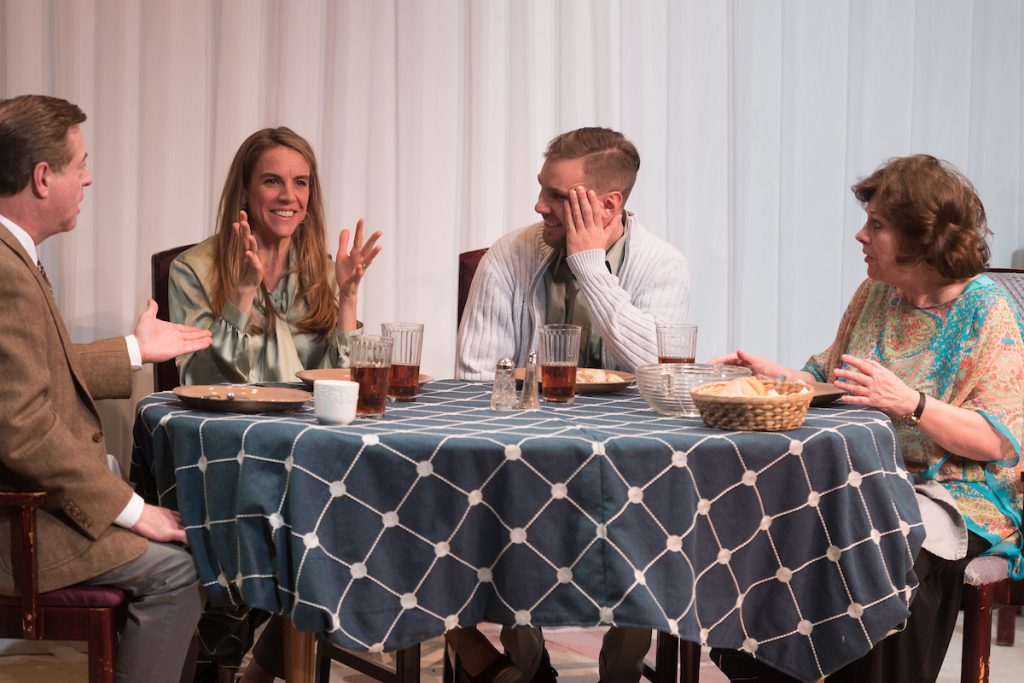 Author Kenneth Lonergan has created a memory play, based in part on his own experiences watching his grandmother deteriorate. He has cleverly used Green's adult grandson, Daniel Reed, as the show's voice. Daniel is portrayed by Galen Trine-McMahan who is new to Colorado audiences. He is a very natural actor, terrific as the adult grandson, watching in horror as his grandmother decays. He tries to give her some support, but realizes that there are limits in what care he can provide.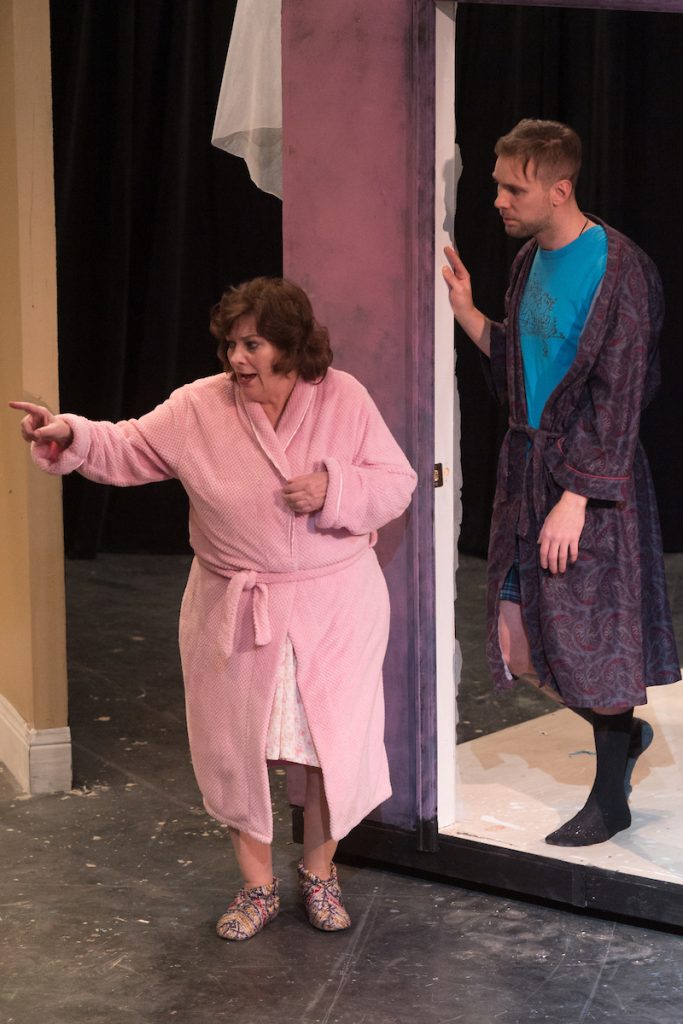 Also terrific is Katie Cassis as Ellen Fine, Gladys's adult daughter. With minimal "hope" on the horizon, Ellen's memory of happier times with her mother sustain her in this helpless situation. The audience is in awe, realizing that many may face similar challenges in the years to come.
Gladys's hearing is minimal. Her mind can't quite grasp what she is being told, repeating the same questions she asked just moments ago. She appears to have a need to be joyful, to revel on times passed, but feels that even her family is "against" her. She does not comprehend that they are incredibly self-sacrificing caregivers. This is difficult stuff. The performances are so convincing that the audience temporarily believes that they are watching real life, not just characters in a play.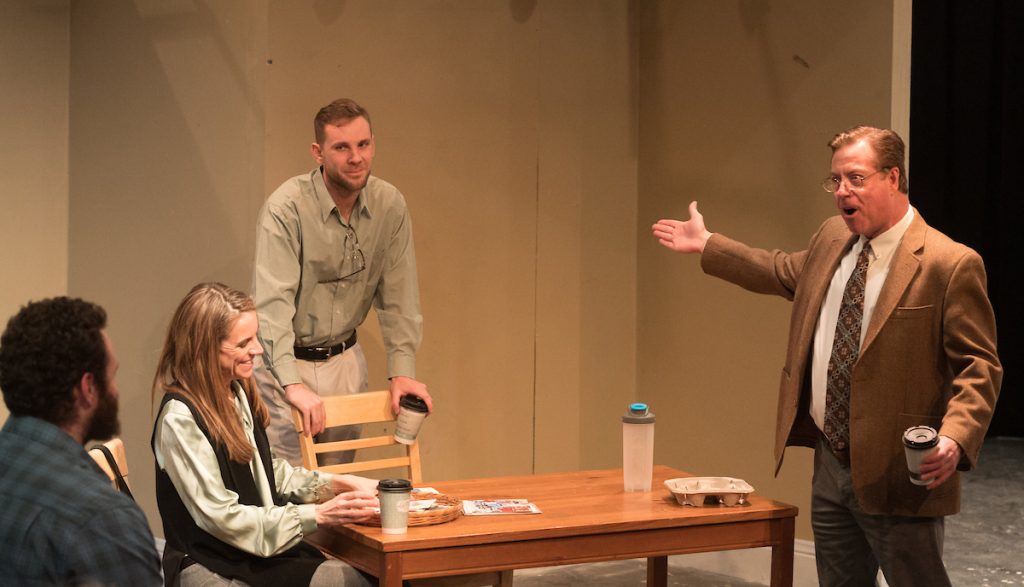 Laura Jones has skillfully directed the production. The set is an interesting look at the gallery, at the family apartments, and the hallway connecting Gladys's apartment with that of her grandson. Ishii, Cassis, and Trine-McMahan are stars of the show, but are given good support from Kevin Christopher as Ellen's husband, and from Steven Fox, as an artist who happens into the Gallery and becomes part of everyone's lives.
"The Waverly Gallery" opened Off-Broadway in 2000 and received several awards. It was a finalist for the Pulitzer Prize for Drama in 2001. A Broadway production premiered in 2018.
This is a remarkable evening of theatre. It is not a "happy" play. Playwright Lonergan has shown wisdom in showing the trials faced by those with deteriorating minds; and great empathy for caregivers who do everything they can to be of help, and even some moments of fun. At show's end the narrator grandson gives especially thought-providing insight. He comments that through all of the heartbreaks and sorrows, the value of life is so precious that we fight hard to maintain it. The human spirit remains proud and intact.
"The Waverly Gallery"
Where: Bas Bleu Theatre, 401 Pine Street, Fort Collins, CO 80524
When: To February 24, 2019
Information: basbleu.org, or call 970/498-8949