Candlelight Dinner Playhouse Dazzles Yet Again
Reviewed by Tom Jones
July 10, 2022
Candlelight continues its roll of providing first-rate productions!  A somewhat new version of the age-old fairy tale is visually wowing audiences this summer.  Emery Hines and Ian Black star as the mentally abused Cinderella and her handsome prince charming.  They are both very talented performers, and charm the audience, especially in Act One's "Ten Minutes Ago I Met You" and in Act Two's "Do I Love You Because You're Beautiful."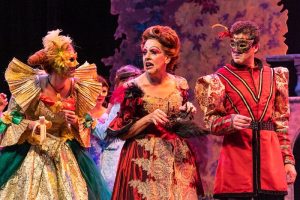 The starring roles are a tad weakly written, however, and the wondrous fairy god mother (played by Sarah Forman) and the crazed stepmother (played by Annie Dwyer) nearly steal the show.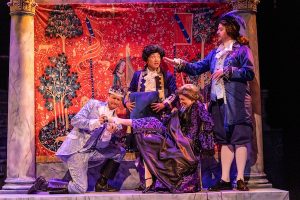 Also dazzlingly delightful are Sara Kowalski and Kelly Maur as the evil stepsisters, Damon Guerrasio as Sebastian, Brian Wilcox as Lord Pinkleton, and Brian Adams as Jean-Michel. In a switch with tradition, one of the "evil" stepsisters turns out to be a courageous friend!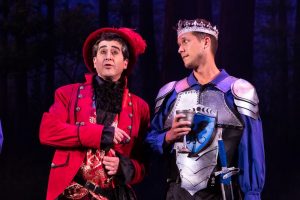 The supporting cast is particularly interesting in this production, as the choreography requires nearly everyone to amaze with great athletic skills.  Choreography is credited to Susanna Cathryn Ballenski, with Phil Forman as the show's director. They have Eli Emming and Lori Newsom nearly flying across the stage (as leaping fox and raccoon) and first rate technical staff keeping the audience alert with creative costume changes and special effects.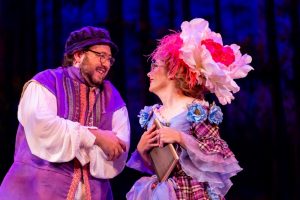 The set, lighting and costumes are excellent!  The show is a beauty!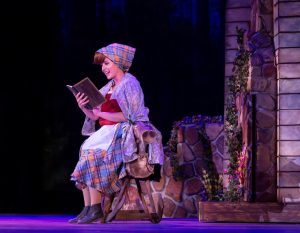 "Cinderella" fairy tale has been around forever.  Richard Rodgers and Oscar Hammerstein turned it into a musical written for television in 1957 starring Julie Andrews.  That production was viewed by more than 100 million people.  It was subsequently remade for television twice with different stars (in 1965 and 1997).  A 2013 adaptation for Broadway had a new book by Douglas Carter Beane production.  It ran for 770 performances on Broadway and was nominated for nine Tony Wards. It is 2013 production that has been recreated on the Candlelight Stage this season.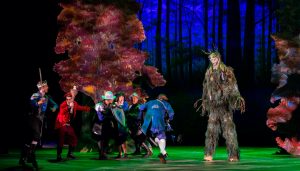 Rodgers and Hammerstein are credited for writing many of Broadway's most famous shows, including "Oklahoma," "South Pacific," "The Sound of Music" and "The King and I."  Music for "Cinderella" does not have the famous music as their other shows, but local audiences may remember hearing "Ten Minutes Ago, " "In My Own Little Corner," "The Prince is Giving a Ball," "Do I Love You Because You're Beautiful," and "Impossible."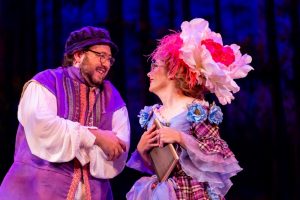 "Impossible" is nearly a theme for the entire production, as it is a scenic wonder providing never-ending "impossible" delights.  The new story line was written with social correctness in mind.  Sometimes that doesn't quite fit the fairy tale.  Also a tad disturbing to the opening night audience was the end of the first act when the glass slipper did NOT fall from Cinderella's foot as she leaves the ball.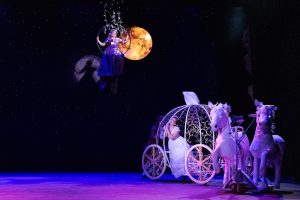 Through the ages, a giddy delight in having the shoe finally "fit" has been a mainstay of the Cinderella fable.  Not to worry, the shoe does eventually need to find its owner.  And, triumphantly, does fit!
Enormous fun!
"Cinderella"
Through September 4, 2022
Candlelight Dinner Playhouse
4747 Marketplace Drive
Johnstown,, CO 80534
Box Office 970/744-3747
Online: www.coloradocandlelight.com