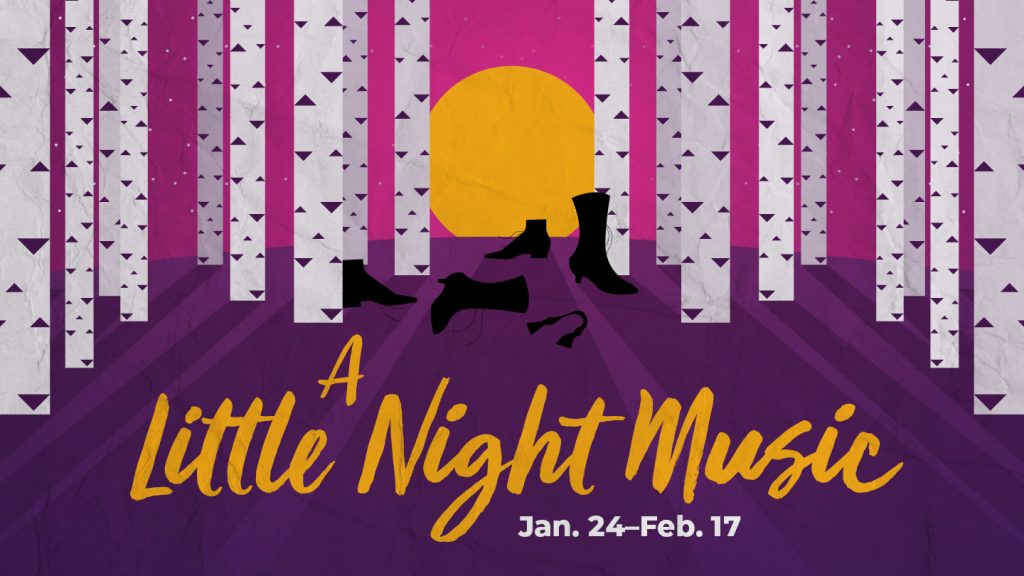 Stephen Sondheim Award Winner On Stage In Denver
Reviewed by Tom Jones
January 27 2019
Fredrik Egerman and Desiree Armfeldt have reached middle age. They are at the crossroads, neither completely content with their lives. They have no plans to change anything. A summer weekend in the Swedish countryside with a sun that won't set is about to change all that.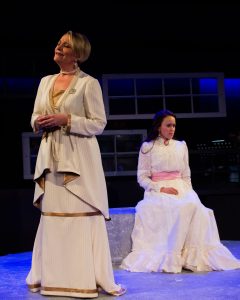 Stephen Sondheim, America's most respected living composer of musical theatre, provided audiences with "A Little Night Music" on Broadway in 1973. The show has gone on to worldwide acclaim. Some productions boast lavish sets and large casts. The show arrived this month in Denver with minimal set, but more than makes up for that by providing excellent costumes, excellent voices and excellent direction. Director Kelly Van Oosbree's clever staging even includes a rotating stage – power-operated by the performers.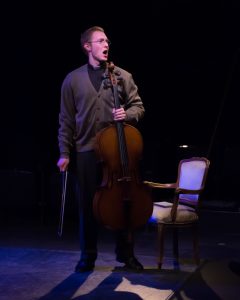 Brian Merz-Hutchinson and Susie Roelofsz are sensational as Egerman and Armfeldt. Fredrik Egerman is a Swedish attorney, a year into his second marriage – this time with an 18-year-old girl who prefers to remain a virgin. Desiree Armfeldt is a highly respected actress who spends her time touring the country, leaving her young daughter, Fredrika, in the countryside estate of her ageing mother. This all takes place in a Swedish summer around 1900 when the sun lingers so long in the sky that some claim "It just won't set."
Everyone in the cast is in top form as they take on the show's roles. Egerman is a somewhat stuffy lawyer with great memories of a liaison many years ago with the actress Armfeldt. He takes his young wife to a local performance of the touring company. Seeing Desiree on stage renews memories of his past love for her, and he succumbs to her allure. Their lives are about to change, but not without affecting several others – some deliciously bizarre.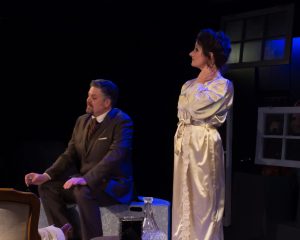 Rachel Turner is in delightful form as the young wife – happy to be married and have nice clothes and to go to elaborate balls; but horrified about losing her virginity. Jeremy Rill is enormous fun as the over-the top self-assured Count Carl-Magnus Malcolm, the military man currently dallying with the actress. His character has an ego as big as all outdoors, but reportedly has the "brain of a pea." Sparring toe to toe with this army dragoon is his wife, Countess Charlotte Malcolm, brilliantly portrayed by Megan Van de Hey.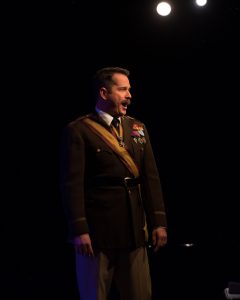 Susan Long is the Armfeldt family matriarch – Desiree's mother, and Fredrika's grandmother. The country weekend takes place on her estate. She hasn't much use for her actress daughter, dotes on her granddaughter, and lives in a dreamworld of the past, recounting her various "liaisons" with the rich and famous. Adding even more craziness to the goings-on are Frid and Petra played by Ryan Belinak and Lindsey Falduto, both worldly-wise servants. They are well acquainted with the upper crust, but appear to accept their roles in the lower echelons of society. Lindsey Falduto's "The Miller's Son" is especially poignant, as Petra realizes that she can serve the wealthy, but will end up marrying someone in her level of society. On the other hand, Lawyer Egerman's adult son, Henrik, is a seminary student, with no idea of where he fits into the life of his family, or life anywhere for that matter. Barret Harper is superb on his own, as the bewildered, cello-playing Henrik.
Excellent accompaniment is provided by Deborah Fuller (violin), David Short (cello) with Trent Hines and Angela Steiner (piano) — Hines for first three weekends, Steiner for final weekend.
The musical was inspired by an Ingmar Bergman 1955 movie, "Smiles of a Summer Night." Playwright Hugh Wheeler wrote the book, with Stephen Sondheim providing music and lyrics. The music is written as waltzes in three-quarters time.
Sondheim was in peak form as a composer and as a lyricist when writing "A Little Night Music." This is especially evident in the "Weekend in the Country" scene where various persons are looking at attending a weekend party on the Armfeldt estate – some invited, some not. The lyrics include the Count and Countess thinking about going (without an invitation), singing:
"A weekend in the country…
How I wish we'd been asked.
A weekend in the country
Peace and quiet. We'll go masked."

This is beguiling production. Everything about it is first-rate. As the theatre is small, the audience can hear nearly everything said or sang, and becomes infatuated with the characters, their foibles, their frolics, and is with them every step of the way. The show even includes the classic, "Send in the Clowns."
"A Little Night Music"
Where: The Pluss Theatre, Mizel Arts and Culture Center, 350 S. Dahlia Street, Denver, CO 80246
When: Through February 17, 2019
For more information: Cherry Creek Theatre, 303/800-6578, cherrycreektheatre.org