Candlelight Dinner Playhouse begins 15th Anniversary With Great Swordplay, Music, Romance & Deceit
Reviewed by Tom Jones
September 17, 2022
It is 1792 and current French leaders have found a new way to get rid of persons they don't like, and the English are finding ways to stop the slaughter. Sounds grim? It could have been, but Candlelight's latest triumph is a remarkable look at England and France during the Reign of Terror of the French Revolution.
Acclaimed French actress, Marguerite St. Just, is performing in her final show in Paris at La Comedie Francaise. Her announcement to her audience that she is planning to marry a wealthy English aristocrat is disrupted by French government authority Chauvelin who announces the immediate closure of the entire theatre. The wickedness of Chauvelin is obvious as he then oversees the execution by guillotine of two of Marguerite's friends.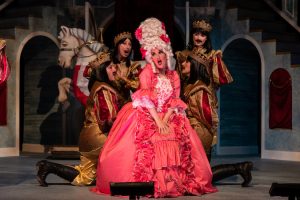 Marguerite and her fiancé, British aristocrat Sir Percy Blakeney, leave immediately for England, horrified by the guillotine deaths. In England Percy perceives a plan to make amends for the deaths by saving other innocents from the guillotine. He doesn't tell Marguerite what he is up to, as he puts together a group of friends to return to France for vengeance. The group of friends are well-trained English military men. Percy needs to provide a disguise for them, and they become elegant British ninnies – off to battle in Paris their finest over-the-top clothing! Percy sets himself up as a mysterious "Scarlet Pimpernel," with only his band of "warriors" aware of who he is and what he is up to.
Sarah Forman portrays Marguerite St. Just, with Patric Case as Percy Blakeney, and Scott Hurst Jr. as Chauvelin. It would be difficult to come up with three more talented performers than Forman, Case, and Hurst. They have incredible voices, terrific acting skills and are just plain "excellence in action."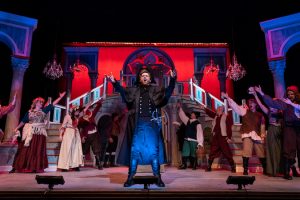 Based on 1905 novel by British author Baroness Orczy, the musical began as a concert album in 1992, and some of the music became fairly well known, including "Into the Fire," and "When I Look at You." It didn't turn up as a Broadway musical until 1997 and played in various Broadway theaters for nearly three years. It subsequently had National Tours, and has been seen in dozens of cities worldwide. The music is by Frank Wildhorn with lyrics and book by Nan Knighton. Wildhorn music is highly respected, especially his wondrous score for "Dr. Jekyll and Mr. Hyde." He made history in 1998 as one of only a handful of composers to have three shows running on Broadway at the same time: "Pimpernel," "Jekyll," and "Civil War."
The current Candlelight production succeeds on every level. The entire cast is excellent. Forman, Case and Hurst are given great support by a uniformly remarkable cast, including Ethan Walker and Kelsey McKelfresh in supporting roles. The set is effective; the costumes outstanding, lighting., orchestra, and sound are flawless. Steve Wilson directs the show, with Carrie Colton overseeing choreography and fight direction. Swordplay on stage has never been more exciting. Vocal direction is by Jalyn Courtenay Webb.
The Candlelight is to be admired for providing a variety of theatrical productions and especially for bringing such little-known shows as "Scarlet Pimpernel "to the attention of local audiences. A member of the audience, sitting near to me, noted on leaving the theatre, "This is the best production I've seen at Candlelight in the eight or so years we have been seeing their shows."
This is remarkable theatre – providing the audience with terrific sights and sounds, and even a bit of history tossed it. Did you realize that the guillotine, Robespierre, and Madame Tussaud's wax figures had anything in common?
"The Scarlet Pimpernel"
Through November 6, 2022
Candlelight Dinner Playhouse
4747 Marketplace Drive
Johnstown,, CO 80534
Box Office 970-744-3747
Online: http://www.coloradocandlelight.com