Candlelight Dinner Playhouse Triumphs Yet Again!
Reviewed by Tom Jones
April 14, 2023
Several months ago when I learned that the Candlelight was bringing "Cats" to its Johnstown stage I was non-plussed. I saw the show in London when it first opened in 1981 and was not impressed. My memory is of a somewhat drab show that made no sense. As a Candlelight Season Ticket patron, I decided to go ahead and see the show again this month to see if my memories of 42 years ago were correct. What a difference those intervening years have made!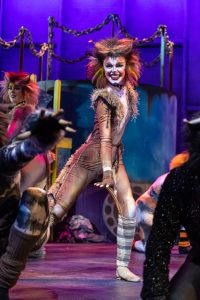 Entering the Candlelight Theater at the same time we did on opening night an elderly couple mentioned they had already seen the show twice, in other venues, and were looking forward to seeing it again. The woman noted, "I love this show." As we sat down to order dinner, we asked the waiter if he had seen the preview the previous night. He said, "Yes. I still don't know what it was all about, but it is sensational." I realized that maybe I had been missing something that first time around so many years ago and decided to give it my best attention.
No "best attention" was necessary. This production of "Cats" dazzles from the opening music to the final standing ovation! The costumes, set, makeup, lighting, orchestra, and entire cast are a wonder to see and hear. And the choreography! At one point I felt like I had paid to see a first rate, two-act classical ballet, set to delightfully fun music! The cast is large and all performers move together as one great wave of talent. What a show!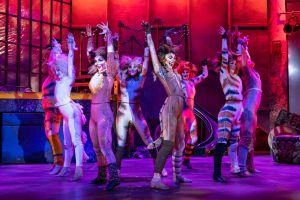 British musical genius Andrew Lloyd Webber became acquainted with the poems of T. S. Elliot when he was very young, being especially enamored with his "Old Possum's Book of Practical Cats." Webber's musical theatre success began in 1968 with "Joseph and the Amazing Technicolor Dreamcoat," followed by "Jesus Christ Superstar" in 1970, and" Evita" in 1976. Shortly thereafter he began setting Elliot's feline poetry to music. This became a difficult process, involving other lyricists and writers to possibly make a coherent musical out of the Elliot poems. Everything began to fall into place and he went full speed ahead to produce the musical – only to find backers not as interested as he was. Despite his early successes, he mortgaged his own home to finally come up with funds needed for "Cats." It opened in London in 1981 to mixed reviews, but audiences were enchanted and began to tell their friends, who evidently liked it better than I did.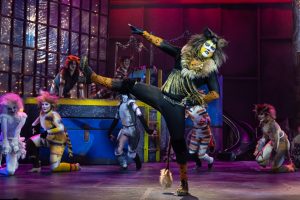 "Cats" subsequently began garnering every award possible, including "Best Musical" in London and America's "Tony Award for Best Musical" in New York City. As of last year, "Cats" has turned out to be an incredible financial success – worldwide gross of 4.5 billion dollars. Webber didn't stop writing, but went on to provide the world with such amazements as "Phantom of the Opera" in 1986 and "Sunset Boulevard" in 1993. He currently has a new version of "Cinderella" playing in London.
Why is "Cats" such a phenomenon? Basically it is about 15 of T. S. Elliot poems set to music. There is no dialogue, as everything is either "sung" or "spoken" as choral readings. The story takes place in a junkyard inhabited by a host of cats who have become longtime friends, several into more than one of their estimated "nine lives." Each year they have a Jellical Ball the night of a full moon when the longtime leader, "Old Deuteronomy," will make an appearance and declare which cat will receive the honor that year to be reborn into a new life on the "Heaviside Layer."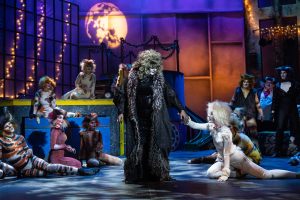 During the space of about two hours the cats sing and dance about themselves, several indicating why they should be chosen for the "reborn honor" that year. There are cats with all manner of different occupations, personalities, and traits. Probably the oldest and least-liked is Grizabella who is somewhat ignored by others when she comes into the yard. She is probably the most mis-understood, and it takes some support from Old Deuteronomy to result in the other cats better appreciating their "old" friend.
As cats sing about themselves, they provide some of the most delightful cat-like choreography imaginable. The costumes and makeup are wonderful. The overall effect is amazing! The staging is brilliant, moving the many performers smoothly on stage with great care and grace.
Everyone on stage is extremely talented. Some of the "names" I remember from past Candlelight shows include Chris Bain, Alisha Winter-Hayes, Cory Michael Klements, Ryne Haldeman, Sara Kowalski, Chas Lederer, and Patric Case. Scott Hurst, Jr. is among the best-known performers, taking on the role of Old Deuteronomy. Rachel Miller makes her first Candlelight appearance with great wonder as Victoria.
The remarkable production team is headed by Kurt Stamm, Director/Choreographer; Shawna Walker, Associate choreographer; Richard Shore, Music Director; and Jalyn Courtenay Webb as Vocal Director. Longtime Candlelight favorite, Webb, portrays "Grizabella' and provides the musical's most familiar song, "Memory." Her rendition just might be the definitive offering and the audience was virtually stunned with what they heard. Interestingly, "Memory" didn't become part of the original show until it was well into previews.
And no, I did not understand everything that was sung and choral-reading spoken. The sound system is very good, but the lyrics weren't always clear. That is a problem. But once I figured I knew enough about what was happening, I could just sit back, relax and enjoy the marvel of the show itself! What a treat!
"Cats"
Through June 25, 2023
Candlelight Dinner Playhouse
4747 Marketplace Drive
Johnstown,, CO 80534
Box Office 970/744-3747
Online: www.coloradocandlelight.com