Candlelight Dinner Playhouse Dazzles The Audience And Even Rains On Some!
Reviewed by Tom Jones
April 29, 2022
Standing ovations are rare in dinner theater shows, and applause during an actual dance routine is nearly unheard of. Audience response to "Singing in the Rain" opening night at Candlelight was remarkable as applause nearly stopped a dance routine and a standing ovation completed the final curtain call. But in fact, everything about this production is "remarkable.
Kate Vallee brings excitement to the stage as director and choreographer. Her talents are enormous, with a background that includes performing as part of the famous New York City Radio City Rockettes. Timing in outstanding in this jewel of a production. Dancing is about as impressive as anything previously provided on local stages.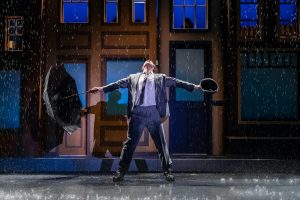 Denver native Matthew Dailey stars as silent movie star Don Lockwood in 1927 Hollywood. Dailey is a newcomer to Candlelight, and hopefully he will return frequently. He is a polished performer with super skills as an actor, singer, and dancer. He is a treasure to see in motion, so light on his feet that even Gene Kelly could be in awe. Rachel Turner, a Candlelight favorite, is teamed with Dailey as Kathy Selden, a performing newcomer with potential. She continues to bring joy to the stage each time she appears. She and Dailey have great chemistry and believability.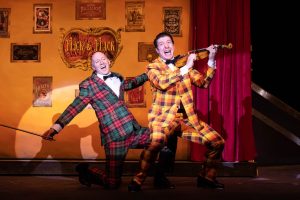 Stephen Turner is Cosmo Brown, Lockwood's longtime friend and burlesque partner with no bones in a body that can move in every direction – at the same time. The flashbacks of him and Don Lockwood's burlesque days are enormous fun. Another longtime Candlelight wonder, Alisha Winter Hayes, sparkles as the over-the-top diva, Lina Lamont, who photographs well, but has few other skills. Hayes, who plays Lina, on the other hand, is enormously skillful with sly winks, an impossibly obnoxious voice and a commanding presence
This quartet of talents is backed by a glorious ensemble with some taking more than one part. Michele Jeffres keeps backstage crew busy as she changes wigs and costumes to appear in at least three roles—all delightful.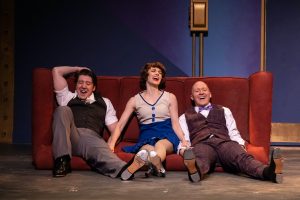 The movie version of "Singing in the Rain" was a 1952 American musical romantic comedy film. It starred Gene Kelly, Donald O'Conner, and Debbie Reynolds (who was only 19 at the time)! Choreography was by Gene Kelly and Stanley Donen. The movie was not a run-away hit when first released. It has subsequently become a classic, however, now on many lists as one of the best musical films ever made. A Broadway stage version opened in 1985 and enjoyed only a limited run.
Don Lockwood and Lina Lamont are stars of Hollywood's silent move era. Lockwood is multi-talented, and has no desire to be Lamont's boyfriend. Lamont is an unabated love-crazed movie partner to Lockwood. She has no talents except for being photogenic. Her "romance" with Lockwood is a fantasy created by the gossip columnists and motion picture back-offices to maintain the public's interest in showbiz. Unassuming Kathy Selden comes into the mix, meeting Lockwood while getting away from the crowds following a Lockwood movie premiere. She is a warm hearted, honest individual who immediately clashes with the wild over-the-top Lina Lamont.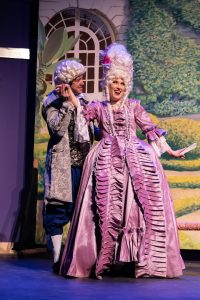 The plans to transfer an ill-fated silent film into a full length musical with sound are filled with terrific dancing and singing. The costumes are especially interesting, as is the set that has pieces moving on and off effortlessly, as if they are a moving picture. There is so much going on in this super production that it is impossible to lose interest. Among the technical wonders are the black and white film clips of the silent movies – starring the cast we see in real life on stage and prepared by the impressive team at The Creative Agency. Lighting, sound, costumes, dancing and singing combined to provide an unusually awesome evening. The orchestra is very good, under direction of Phil Forman.
"Singing in the Rain" provides exciting entertainment. Much of the music is well-known. The first few rows of the audience are provided with ponchos to keep dry while Matthew Dailey pulls out all the stops to sing and dance, and stomp in the rain-drenched stage at the conclusion of Act One.
Based on audience response on opening night, tickets might soon be gone to experience this delight.
"Singing in the Rain"
Through June 26th, 2022
Candlelight Dinner Playhouse
4747 Marketplace Drive
Johnstown,, CO 80534
Box Office 970/744-3747
Online: coloradocandlelight.com