"Elf – The Musical" Is Joyous Christmas Treat At Arvada Center
Reviewed by Tom Jones
November 21, 2018
The elves in Santa's North Pole Workshop are a happy and busy crew, preparing toys for Santa to distribute worldwide. The fun begins. They are a clever sight to behold – all about three feet tall, spinning and dancing with glee. They are an efficient lot, all except one unusually tall and maybe not overly bright chap, Buddy. He overhears other elves discussing why he is not as efficient as they are. Speaking in hushed tones, they comment that Buddy's probable problem is that he is "Human." Buddy confronts Santa who confirms that he arrived at the North Pole after crawling into one of Santa's bags as a baby on a long ago Christmas delivery. Santa has raised him as his own, but shares information as to where his true father lives. Buddy says "Goodbye" to the North Pole and heads for Manhattan to find his dad.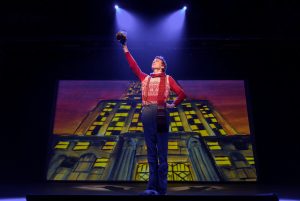 Josh Houghton is enormously talented as the six-foot-six inch elf, Buddy. Houghton can sing. Houghton can dance. Houghton can mime. Is there anything this wonder cannot do? His timing is impeccable. He is a non-stop whirlwind of delight, as he becomes the naïve, enormously tall, and wonderfully kind Buddy.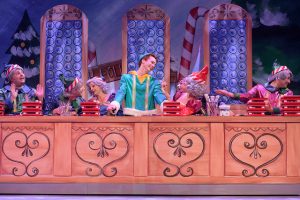 When he reaches the New York City office of his father, Buddy is every bit as charming, fun, and nutty as he was among the elves at the North Pole. His father, well portrayed by Mark Devine, is not amused.
The basic story is familiar to those who saw the 2003 movie starring Will Farrell as Buddy. A few changes have occurred in transferring the movie to the stage, but it is every bit as charming and endearing as that first glimpse we had of Buddy many years ago. This stage musical version first appeared on Broadway in November of 2010 and has become a popular holiday season show.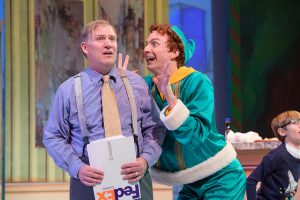 Arvada is giving this great gift to audiences this season. Opening night enthusiasm was high, and a sold-out season may be in store. Gavin Mayer directs this charmer, especially using the skills of Kitty Skillman Hilsabeck's choreography and Laura K. Love's scenic design. The stage turns into a large children's book of colorful artwork – the North Pole, the Manhattan Skyline, Rockefeller Plaza Skating Rink, The Tavern on the Green Restaurant in Central Park, and others. There is nonstop action – a wondrous rotating Christmas tree decorated before our eyes, a believable skating moment on the rink at Rockefeller Center, a host of not-so-happy off-duty dancing Santas as seen away from their work.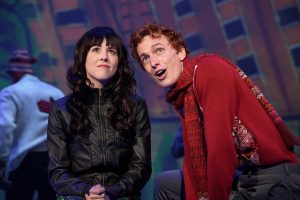 "Elf" is truly Josh Houghton's show. He does, however, have excellent assistance. Leslie Hiatt is enchanting as Jovie, the Macy's employee who becomes Buddy's love interest. Hiatt is especially good in her "Never Fall in Love with an Elf" rendition in Act II. Also in that second act is the musical report that "Nobody Cares about Santa" provided by the dancing Santas.
Maria Couch is very good as Buddy's stepmother. Sharon Kay White is delightful as the Hobbs office employee who becomes a Buddy fan upon first meeting. Colin Alexander plays two rolls. He is a jolly and kind Santa; and a less-than jolly and less-than-kind, Mr. Greenway. The role of Buddy's younger brother, Michael is played in various performances by Tyler Fruhwirth, Austin Golinksi and Harrison Hauptman. I saw Fruhwirth who was particularly good.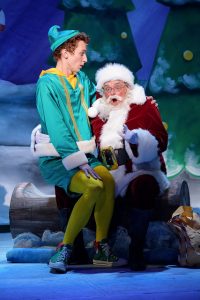 Music and lyrics by Matthew Sklar and Chad Beguelin are pleasant and warm-hearted. There are no melodies that the audience hums when leaving the theatre, but "A Christmas Song" hits home. This is an anthem to family, love, memories, and the Christmas spirit.
While the audience doesn't go away humming, they do leave the theatre chuckling, when thinking of the total experience — especially incredible antics performed by Josh Houghton and entire cast in this seasonal charmer.
"Elf — The Musical"
Where: Main Stage Theatre, Arvada Center for the Arts and Humanities
6901 Wadsworth Boulevard, Arvada, CO 80003
When: Through December 23, 2018
Tickets: 720/898-7200
Online: Arvadacenter.org