The Academy at Midtown Arts Center Provides Three Versions Of The Teenage Classic
Reviewed by Tom Jones
August 19, 2018
Three weeks! Three weeks from first read-through to standing ovation performance. Must be some sort of record! Staff of The Academy at Midtown Arts Center in Fort Collins worked in overdrive all summer to provide three separate versions of "Grease." Two of the versions were designed for younger performers, third through eighth grades. The third one was comprised of high school age students.
Each section session lasted three weeks, each providing an entire production of "Grease" after three weeks at the Academy. The performance I saw was enormous fun – the youngest section of this summer's Academy offerings. Sizes went from mini to maxi, with some diminutive performers displaying some enormous potential. And the attitudes were great. Youngsters with greased hair and black leather jackets strutted with great élan. Girls, some tough as nails, some shy as mice, came through with great vim as the school's Pink Ladies clique. Everyone on stage was obviously having a great time. So was the audience – most friends and families of the performers.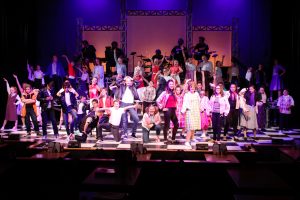 The only "adults" in evidence on stage were the super band of experienced "Grease" music providers. Some were the same as performing at Midtown Arts Center's "Grease" production this summer that runs to August 26. They provided excellent background for the young stars to shine.
This was the first stage experience for most of the performers I saw. There are already some standouts. Ella Tremblay is the show's star as Sandy Dumbrowski, the wide-eyed innocent who transfers to the rowdy Rydell High School in 1959 without knowing anyone. Tremblay is great. She has excellent stage presence, a very good voice, and looks terrific.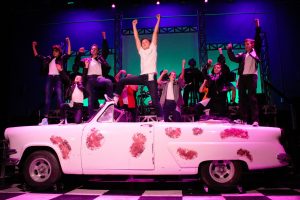 Giving Tremblay great support were Zoe Glenn as the rough and tumble Rizzo; Katie Brown, as the overly-enthusiastic and universally disliked cheerleader Patty. Ellie Swain was the continually-eating Jan whose daily highlight is going through everyone's sack lunches. Maya Stanley was excellent as Cha Cha. Gillian McCreery was convincing as "Frenchie" the beauty school dropout, who had everyone routing for her to succeed. Kathryn Attkisson was in fine form as Marty, singing of her "Freddy, My Love."
Across the school's cafeteria from the girls Pink Ladies clique, are the tough-guy wannabees. They become angry when one of their pack, Danny Zuko, might want to change his ways and hook up with the innocent Sandy. Zach Pickett is in good voice for the role, but does come across as too-kind for the pack. Cameren Torres has great fun as Kenickie, standing atop his new car to sing, "Greased Lightning." Maisen Theisen was the guitar thumping Doody. Amy Smith nearly stole the show as Sonny, the sunglass-wielding, swaggerer.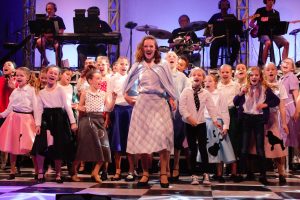 While the cast isn't quite yet ready for prime-time, such just may be on the horizon for several. And in the meantime, it appears that everyone was having a swell time on stage. And all after only three weeks from first-read to final curtain! The cast for each show is large, with more than 50 performers participating in each of the Academy's three sections this summer.
Michael Lasris directed the show, with Jalyn Courtenay Webb as producer and artistic director, Emily Erkman was musical director, and original choreography was by Joshua Buscher. Instructors for the three show-providing sessions were Katie Burke, Abbie Hanawait, and Kyle Smith. Interns included Max Allan, Emily Hevelone, Sky Hume, Aliyah Kirkes, Zoe Maiberger, Naomi Roberts, Melanie Smith, Evan Wilusz, and Marion Yager, with Alyssa Ankney and Jon Collins as tech crew. Britni Girard was costumer.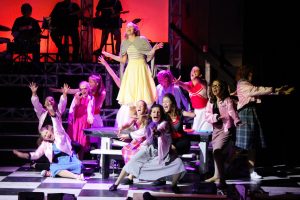 The friendly audience was awed by the choreography, with more than 50 young performers on stage at the same time in many scenes – singing and their dancing their hearts out. "Grease is the word" this year at Midtown Arts Center.
The Academy concluded its "Grease" shows August 19, and the professional version of the show continues on stage to August 26.
The Academy at Midtown Arts Center
3750 South Mason Street, Fort Collins, CO 80525
Telephone:  970/225-2555
Registration is now open for fall classes at the Academy. Classes begin September 10. Use code "early bird" for $50 off any class.
Register at www.midtownartcsenter.com/education.