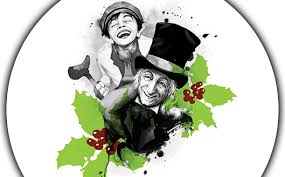 "A Christmas Carol" Offered on Two Northern Colorado Stages!
Reviewed by Tom Jones, December 2015
A year ago I was knocked out by an incredible production of "A Christmas Carol" as performed on the Stage Theatre of Denver Center for the Performing Arts. This year two different productions based on the Charles Dickens story are charming audiences in the area! The Denver Center performance is again brilliant, and the Johnstown production at Candlelight Dinner Playhouse is proving to be an incredible crowd-pleaser!
I won't attempt to report which is the better show, but will mention some of the highlights of each show. You cannot "lose" by seeing either one, and it may just be a decision of going to the show nearest to your home. Both shows provide heart-warming "joys" of the season.
Candlelight Dinner Playhouse in Johnstown offers the musical with music and lyrics by Alan Menken and Lynn Ahrens. This version premiered in 1994, and has been a popular attraction for several holiday seasons at New York City's Madison Square Garden Paramount Theatre. This is a very family-friendly production.
T.J. Mullin is remarkable as the miserable tightwad, Scrooge. He is in great form, gleefully making the season as dreadful as possible for himself and everyone around him. Mullin was former owner/producer of the Heritage Square Music Hall and has been performing on stage for over 40 years. He played Kris Kringle last year at Candlelight's "Miracle on 34th Street."
Kent Sugg is wonderful as the tortured Marley. His voice is excellent, as he warns Scrooge that he is about to be visited by ghosts of Christmases Past, Present, and Future. Also in fine voice is Christopher Walton as Tiny Tim. Young performers are sometimes difficult to understand. Walton's stage presence, combined with the Candlelight's remarkable sound system, make him an immediate miniature "star." Stephen Charles Turner is convincing as Bob Cratchit, the Scrooge employee who is hesitant to say an evil word about his boss.
The set is very good, as are costumes, lighting, and, as mentioned earlier, the wonderful sound. The music is pleasant, but the audience doesn't leave humming the songs.   Choreography by Michelle Sergeeff is very good. The entire production is staged and directed by Patrick Sawyer. This is a heart-felt rendition of the Dickens saga.
A few miles south of Johnstown is Denver Center's production, directed by Bruce K. Sevy. This time the story was adapted by Richard Hellesen, with music by David de Berry. The unhappy Scrooge is played by Philip Pleasants, in his tenth version of "A Christmas Carol" on the Denver stage. He first played the role in 1978 on a stage in Alaska, and has indicated that this production is his "farewell" to the role which he has immortalized. He is wonderfully greedy, but has enough sense to realize that his life can make some great changes if he heeds the advice of the "ghosts" appearing to him.
The Denver cast is enormous, highlighted by performances by Pleasants, as well as James Michael Reilly as Bob Cratchit, Jeffrey Roark as the ghost of Jacob Marley, Leslie Alexander as Mrs. Cratchit, and Annie Dwyer as Mrs. Fezziwig. The entire cast is flawless.
The total production is a wonder. The set is terrific, as are costumes, lighting, and sound. This is a more solemn telling of the story, but is an extremely rewarding experience as the show looks and sounds so amazing. This might just be the definitive staging of "A Christmas Carol."
The Candlelight Dinner Playhouse is a dinner theatre in a beautiful venue, with good food and complimentary parking. The Stage Theatre at the Denver Center for the Performing Arts is a super theatre with nary a bad seat in the house. There is a fee for parking.
"A Christmas Carol" whether seen in Denver or in Johnstown this Holiday Season is a "Carol" well told and sung – and seen!
"A Christmas Carol"
Candlelight Dinner Playhouse
4747 Marketplace Drive
Johnstown, CO 80534
Box Office: 970/744-3747
www.coloradocandlelight.com
"A Christmas Carol"
Stage Theatre, Denver Center of the Performing Arts
Through December 27. 2015
Tickets: 303/893-4100
denvercenter.org 800/641-1222, Telephone 303/893-9582