"Footloose" Comes Alive At The Candlelight!
By TOM JONES
Ethan Walker portrays Ren McCormack who is at loose ends – yep.  He is footloose.  He and his mom have moved from exciting Chicago to "Bomont" in the middle of nowhere USA when his father abandons the family. Ren and his mom, Ethel, are forced to move to Bomont, as his mom's sister and her husband have offered them a place to live.  Walker is wondrous as the out-of-place Ren.  He can sing.  He can dance.  He can act.  He creates excitement wherever he goes.
Unfortunately for Ren and his mom, Bomont is not excited to have them arrive in town.  It appears that a few years ago there was a tragic automobile accident that killed four youths, including the son of Reverend Shaw Moore, the local preacher.  The preacher continues his deep morning the loss of his son and has expanded his grief to exclude any type of normal teenage activity – including dancing.  Thomas Castro is well known to Candlelight audiences, and he is especially good as the preacher who has not only excluded the town teenagers from happiness, but has alienated his wife, Vi, and their teenage daughter, Ariel.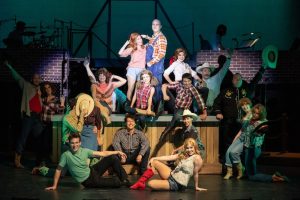 Heather McClain is convincing as the wife, Vi, and Susanna Ballenski dazzles as Ariel, their daughter.  Like Ethan Walker playing Ren, Ballenski is sensational as Ariel.  She, too, can dance, act, sing, and light up the stage.  Unfortunately she is dating the town trailer trash Chuck Cranston making her preacher father especially unhappy.  Hugh Butterfield also well known to Candlelight audiences is very good as Cranston, and he brings a roughness to the boy from the wrong side of town.
"Footloose" at the Candlelight is a wonderful story- one of forgiveness and hope  that doesn't come along very often.  It has a beautiful storyline, some comedy relief, and some phenomenal dancing.  Music is pleasant, with a few songs that are hummable favorites from the past, including "Mama Says" and "Footloose." Ren and Ariel make their own magic with "Almost Paradise;" and "Let's Hear it for the Boy" in the second act is just about as rollicking a dance number as seen in recent memory.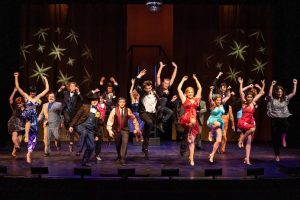 Ren learned his dancing skills in Chicago and wants everyone in Bomont to enjoy such an opportunity. He even rallies the town around the idea of over-riding the Preacher's anger, hoping to have an actual school dance.  He faces obstacles.
Everyone associated with his production appears to be first class!  The trio of leads is amazing, as are all of the supporting players. In addition to the persons listed above other standout performances are provided by Ethan Lee Knowles as Willard Hewitt,  Allison Hatch as Ren's mother, and Sarah Forman as "Rusty." The extent of talent is remarkable.
Putting the production together must have been a Herculean task!  The planned production was to be a version of "Peter Pan," but that was pulled from the list only about two weeks prior to opening night.  Cast and crew decided upon "Footloose" and put the entire production together in only about two weeks.  A mini miracle on its own.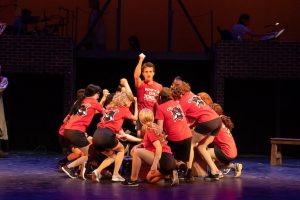 Much of the credit for the success is the work of Cole Emarine, (Director and Choreographer), Phil Forman Music Director), Heather McClain (Associate Choreographer), and Jalyn Courtenay Webb (Associate Music Director).  The set, lighting, costumes, and sound are all excellent.
Footloose the Musical is based on the 1984 movie that sky-rocketed Kevin Bacon to stardom.  Bacon portrayed Ren who has moved to Bomont with his mother and just plain doesn't fit into the crowd.  The musical stage version opened on Broadway in 1998 and versions of the show have toured worldwide.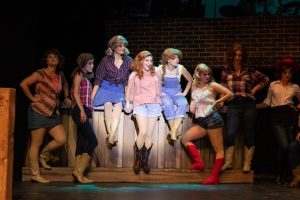 I saw the final dress rehearsal prior to opening night at Candlelight and was blown away with the excellence of the entire production.  Seeing it again a week later only heightened my appreciation for the efforts made to make "Footloose" such great entertainment.
As a bonus to "Footloose" is the current Candlelight meal!  Dinner theaters are not highly regarded as great places to eat.  That has changed as Rode Roberts is now Head Chef at the Candlelight.  The meal with "Footloose" was a super addition to an already exceptional evening!
Candlelight Dinner Playhouse
4747 Market Place Drive
Johnstown, CO 80534
970/744-3747
www.ColoradoCandlelight.com