Candlelight Dinner Playhouse Continues Its Triumphant Runs Of Excellence In Johnstown
Reviewed by Tom Jones
November 18, 2022
Opening night of "White Christmas" was amazing. As light snow was falling outside, but didn't make it into the theater until the last few moments of this theatrical delight. For starters, the plotline is pleasant without surprises. I had seen a production of the show several years ago at Midtown Theatre in Fort Collins and was nonplussed. I easily could have opted to stay home and let opening night take place without me.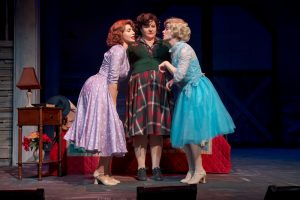 So very glad that I headed to the theater. From the moment Scott Hurst sang "White Christmas" early in the show, I was hooked! The entire production is not to be missed. Hurst, as Bob, shares the stage with a remarkable cast. It appears that Candlelight has rounded up every super talent in Colorado to perform for its audiences. Nathan Petit is excellent as Bob's friend who joins Hurst for some delightful showstoppers throughout the event. They have terrific voices and are seasoned dancers. What a duo. Their love interests are Maryann Dutcher as Betty Haynes, and Sara Kowalski as her sister, Judy Haynes. Kent Sugg is excellent as General Waverly, as are Samantha Jo Staggs as Martha Watson and Kate Trainor as Susan Waverly. The role of Susan Waverly is shared with alternating performances by Alianna Glorioso and Adleleia Odekirk as well as Kate Trainor. Kate was a real "find" as the General's granddaughter!
While the plot is trite, the performances are not! Kate Vallee as director and co-choreographer and Matthew Dailey as associate director and co-choreographer have pulled out all the tops to provide some of the most entertaining tap dancing imaginable, with "Blue Skies" in act one, and "I Love a Piano" opening act two. The choreography defies belief, completely wowing the audience with displays of talent hard to top.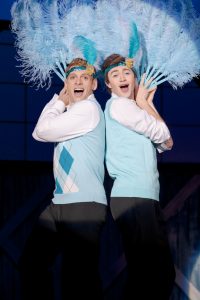 The song "White Christmas" by Irving Berlin first appeared in the movie "Holiday Inn." The song became an instant classic and became even more popular with the release of the 1954 movie musical "White Christmas." The move starred Bing Crosby, Danny Kaye, Rosemary Clooney and Ver-Ellen, and became a classic on its own.
The story didn't turn up as a Broadway musical until 2008. It was not an immediate stage sensation, but has enjoyed increasing success in England, Australia, and on various USA tours. I would be hard pressed to find a cast as brilliant anywhere as currently on stage in Johnstown. The show looks great. Orchestra is great. Costume and design are great. And the direction and choreography = A+
"White Christmas"
Through January 8, 20923
Candlelight Dinner Playhouse
4747 Marketplace Drive
Johnstown,, CO 80534
Box Office 970/744-3747
Online: www.coloradocandlelight.com