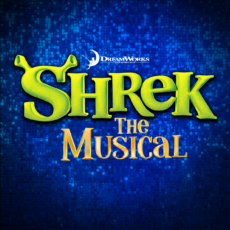 Shrek And His Pals Combine For An Enchanted Evening
By Tom Jones
June 18, 2021
An ogre, an isolated princess, a talking donkey, an egotistical duke, and an unhappy dragon join forces with an amazing ensemble to provide an evening of absolute wonder! Mystery, intrigue, mayhem and a host of fairytale characters merge to provide nearly three hours of craziness this season in Johnstown.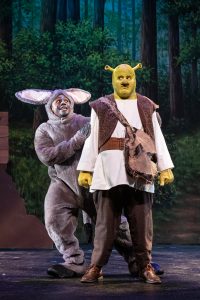 The hi-jinks are non-stop as 13 performers take on more than two dozen characters in this look at the misadventures of Shrek and his friends (and enemies). Many of our fairy tale friends are there, including the Three Little Pigs, the Three Bears, Peter Pan, Humpty Dumpty, the Gingerbread Man, the Pied Piper, The Mad Hatter, The White Rabbit, Three Blind Mice, Little Red Riding Hood's wolf (wearing grandma's nightgown), and Pinocchio whose nose grows when he announces that he is "A real boy."
The characters have been living in the Kingdom of Duloc and have been forced into exile by Lord Farquaad — sent to live in a swampy land currently inhabited by a grumpy ogre, Shrek. Already isolated in a castle somewhere in the area is Princess Fiona who has great problems of her own, changing persona as the sun sets each day. And along for laughs and pronouncements of wisdom is the wise-cracking, talking, Donkey.
We learn that Shrek was sent away from home at age seven, to fend for himself in a hostile world. Princess Fiona was also "sent away" at age seven, to spend her years in an isolated castle, counting the days until her prince would come to save her.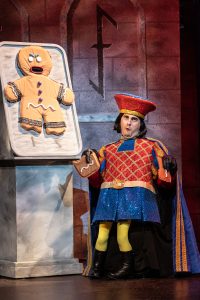 Meanwhile in the kingdom of Duloc, Lord Farquaad can't become king until he marries a princess to become his queen. Shrek convinces Farquaad that he can find the isolated princess to become queen if the fairy tale chums can return to their homes in Duloc to get them out of his swamp. Donkey turns up to provide support, guidance, and non-stop jabbering.
Scott Hurst Jr. brings his powerful voice to portray Shrek. He provides pathos (as well as some fear) in the role of the misunderstood ogre. Matching talents with Hurst is Kelly Maur as the fabulous and feisty Fiona. Maur is new to Colorado audiences and is a real "find." She can sing, dance, and act. She is terrific.
Oscar Whitney, Jr. is Donkey. He appears to have no bones in his body, as he has every "move" known to mankind, with a voice to go along with his athletic skills. Rounding out the leads is Ethan Lee Knowles as the diminutive Lord Farquaad, barely three feet tall. Knowles spends the show bouncing around on his knees, giving no indication that he is really about six feet tall. Every moment he is on stage is great fun.
There are two other "lead" characters. One is the entire cast ensemble. They take on numerous roles, changing costumes in a flash, with remarkable dancing skills. The other "lead" is the sad dragon, wanting only to be loved. This is a combination of three persons manipulating the huge dragon designed by Cory Gilstrap. Sophia Ruiz provides the strong dragon voice.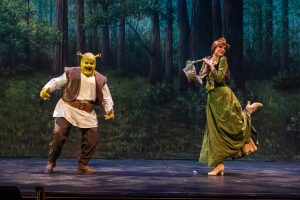 The show itself is a visual charmer. The initial backdrop of the forest is beautiful, and the set changes effectively to turn the stage into Shrek's swamp, a castle, the Kingdom of Duloc, and trails throughout the woods. Lighting, sound, and costumes are all excellent.
Piper Lindsay Arpan has directed and choreographed this musical treat. It would be interesting to look into her mind to see how she figures out how to make everything "happen" on stage, and put the performers into their paces as skilled dancers. Phil Forman is music director, and participates with Heather Holt Hall, Gabriela Meriwether, Christopher Norwood and John Meriwether as the orchestra.
"Shrek's" tale turned up as an animated film in 2001 and immediately caught the fascination of kids of all ages. It was turned into a stage musical opening on Broadway in 2008, and has subsequently been seen throughout the world. Music is by Jeanine Tesori with book and lyrics by David Lindsay-Abaire.
Opening night at The Candlelight was exciting. The cast and crew were in great form, and obviously looking at a long run. My only concern was understanding all that was said and sung. The diction will undoubtedly improve as the cast becomes more experienced. Opening night, however, there were no grumbles heard from departing patrons. I only heard, "We've got to look at our schedules and see when we can return to bring the entire family."
This production is great medicine to help cure the pandemic ails of the past many months. As the audience is reminded — "This is a 'Big, Bright Beautiful World."
"Shrek – The Musical"
Candlelight Dinner Playhouse
June 17 – August 22, 2021
4747 Market Place Drive
Johnstown, CO 80534
970/744-3747
www.ColoradoCandlelight.com