Timothy Ackerman Is Brilliant As The Misunderstood Monster
Reviewed by Tom Jones
November 10, 2018
What do you remember about "Frankenstein?" My memory bank did not pull up much information. Was he a monster, a monster's creation, or just someone to terrorize children at Halloween? OpenStage continues its wonderful trend of providing excellent theatre. "Frankenstein" just may be one of the best! In addition, it helped me fill in the blanks about that Frankenstein chap!
For starters, "Frankenstein" is NOT the monster! The monster/creature is the nameless creation of a brilliant scientist and mathematician, Victor Frankenstein. The deformed and frightening creation comes to life, initially only grunting and struggling. Timothy Ackerman is spellbinding as the creature, wanting only to find some joy in a world that finds him frightening. Heath Howes is excellent as Victor Frankenstein, the genius, who abandons his "creation," leaving it to fend for itself. He does not yet realize that the creative success of his lifetime will become his lifetime's torment.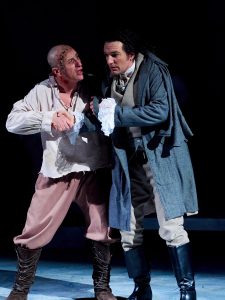 Peter Anthony is a highly respected director who has received numerous accolades. Among his recent successes was "The Crucible." I wondered then, "What can he do for an encore?" What he has "done" is provide local audiences with yet another evening of unparalleled wonder. The actors are remarkable, and his direction has succeeded in making it possible for the audience to understand virtually every word spoken. The set he created is an "experience" all its own, as the audience is transported through the various seasons in Europe of the 1790s.
The production opens with a virtual monster terrorizing the local community. He is so deformed that he frightens anyone who sees him. He has no one to care for him. No one to feed him. The first few minutes he is on stage I wondered what the script "dialogue" must show, as there are only howls and grunts. Fortunately, the creature turns up at the forest wilderness home of De Lacey, a blind man who is taken care of by his son. The son and his new wife are away much of the time. De Lacey cannot see the creature, but does touch his deformed head, realizing that he needs help. He invites the creature into his home and ends up feeding him, befriending him, and ultimately teaching him. The creature is wild looking, but has an amazing mind, and is a quick learner.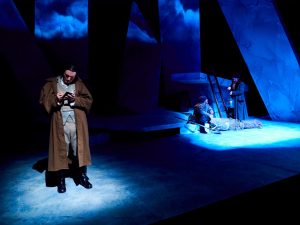 The leading players are especially good. Howes is convincing as the mathematical and scientific genius who has created "life" and has no way to explain what he has done. Ackerman as the creature is a wonder. He was recently excellent as John Proctor in "The Crucible." His skills there were enormous, but nothing of the magnitude he exhibits as the creature this season at OpenStage. Charlie Ferrie is very good as the blind De Lacey. Teal Jandrain is believable as Victor's fiancée, who cannot understand why her desired husband wants to put off marriage yet again. Luke Stephens and Kiere Gilbertson are also effective as the son and daughter-in-law of the blind teacher.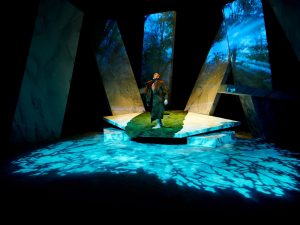 The entire cast is flawless. In addition to those mentioned above, special notice must be made of Dominique Mickelson's appearance as the not-yet-complete female creature; Jacob Sadow as William Frankenstein, the young member of the family who fears the creature, but is somewhat willing to help him; and Steven P. Sickles as Victor Frankenstein's father. Several persons play multiple roles, but Director Anthony has carefully let the audience know who is who throughout the entire show. The "entire show," incidentally, takes place in less than two hours — no-intermission. The production is so very interesting that a person sitting near to me echoed my thoughts, "It is over already? What happened to the time?"
What "happened" to the time was the result of a script by Nick Dear, based on the novel by Mary Shelley. Shelley was only 21 when she wrote her Gothic novel, "Frankenstein," based on Prometheus of Greek mythology. The book, published in England in 1818, has been widely read and has been adapted into hundreds of movies, plays and other books. The production at OpenStage this season is Playwright Dear's interpretation of the story, as premiered at the Royal National Theatre in London in 2011.
The novel and the current play continue to touch on many themes. Fear of creating something beyond our capacity to care for it. Fear of the unknown. Fear of others foreign to us. And, our unwillingness to accept anyone "different" from us in appearance or in ideas. The audience experiences an entire gamut of emotions. This spellbinder is enthralling and thought provoking to the very end.
"Frankenstein"
Where: OpenStage Theatre production on the Magnolia Theatre Stage of Lincoln Center
417 West Magnolia Street, Fort Collins
When: Through November 24 2018
Tickets: 920/221-6730
Online: OpenStage.com  www.lctix.com