Candlelight spotlights the goings-on of a theater company in disarray with "Curtains"
Reviewed by Tom Jones
February 17, 2022
Jessica Cranshaw is a supremely untalented star of "'Robbin' Hood of the Old West." She drops dead at her opening night curtain call in Boston. Was she just worn out for being such a horrific performer, or did someone in the cast or crew do her in? The show's cast is delighted that the star is gone, but what now will happen to them? Do they say, "The show must go on," or do they take the next train out of Boston?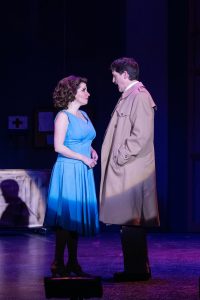 Boston detective Cioffi arrives on the scene, announces that Cranshaw has been murdered and demands that everyone in the cast remain in the theatre until the mystery is solved. Damon Guerrasio, a newcomer to Candlelight audiences, plays the theatre-struck detective. He is very good, and will hopefully turn up in future Candlelight productions. He has great stage presence, is an excellent dancer, and will hopefully find himself in center-stage in future shows.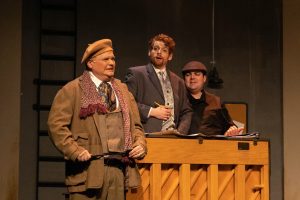 "Curtains" is a clever mix of stage stereotypes. There is the over-the-top child-star mother, the evil producer, the hassled director, and the cast doing whatever they can to become "stars." Detective Cioffi is in his element, surrounded by the people he adores -– "Show People." He just might make his mark in finding the murderer and finding a way for the show to go on.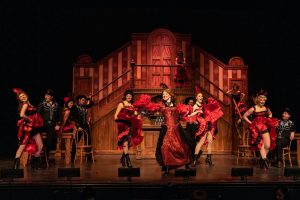 While the mics were sometimes problematic, the sets, costumes, lighting, orchestra and most of the cast were in fine form. The staging and direction are very good and the excellent choreography under direction of Kate Vallee, with orchestra directed by Phil Forman.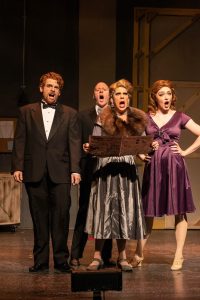 Candlelight has a large pool of excellent performers, many taking the stage for "Curtains." Standouts include Scott Hurst, Jr., Sara Forman, Abigail Kochevar, and Hugh Butterfield. Musical highlight of the production is "I Miss the Music" as performed by Hurst, and again as "Thinking of Missing the Music" assisted by Kochevar. Butterfield continues to be a wonder. It appears he can do everything – dance, sing, play comedy or tragedy. He continually lights up the stage.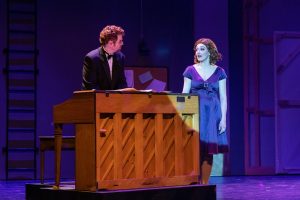 "Curtains" is a musical mystery comedy with a book by Rupert Holmes, lyrics by Fred Ebb, and music by John Kander, with additional lyrics by Kander and Holmes. It opened on Broadway in March of 2007, receiving mixed reviews. David Hyde Pierce received the Tony Award that year for his performance as Detective Cioffi.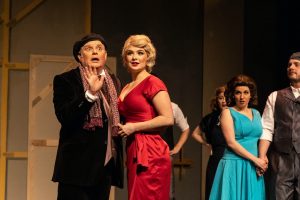 A show-biz hymn, "A Tough Act to Follow" is the production's pleasant finale. It is somewhat telling, as the "Curtains" production arrived on the Candlelight stage immediately following the enormous success of the wondrous "Sound of Music." "Curtain's" performers are a hard-working team, highlighted by excellent sets, lighting and costumes, and super choreography. Great fun!
"Curtains"
Where: Candlelight Dinner Playhouse
4747 Marketplace Drive, Johnstown, CO
When: To March 13, 2022
Information or tickets:
Box Office: 970/744-3747 or
ColoradoCandelight.com