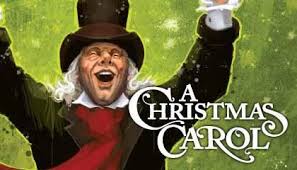 "A Christmas Carol" is Top Notch Holiday Show at Denver Center"
Reviewed by Tom Jones, December 14, 2014
In an article reviewing an entirely different show December 13, Denver Post Theatre Critic Lisa Kennedy wisely noted, ""The Denver Center's version of Charles Dickens' tale remains an edifying, possibly perfect holiday tale of hubris and redemption."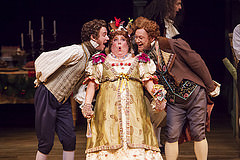 I can only add, "Right on!" In the DCPA's 35-year history, the Company has presented two different adaptations of "A Christmas Carol" totaling 22 productions! By now, the Company has it down pat! The scenery, lighting, sound, costumes, cast – all to perfection! Why, oh, why has it taken me so long to drive to Denver to see this terrific production?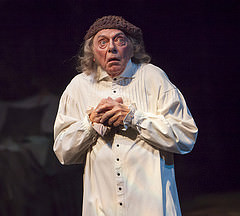 Philip Pleasants as Ebenezer Scrooge has already played the role in nine different productions, but keeps the performance alive, as if it were his first time pleasing an audience. He is the Humbug that we love to hate, the man who believes any happiness around him is misplaced, and lives only to count his money and make life as miserable as possible for everyone – including his nephew, his only relative! His only employee, Bob Cratchit, has the audacity to ask Scrooge for a day off for Christmas. He is aware that his boss is a dreadful sort, but asks anyway, and is nearly rebuffed. James Michael Reilly plays Cratchit to perfection. His performing credentials are substantial, and he brings a great charm to the role – that of a very good man, trying his best to take of his family in difficult times, and putting up with Scrooge, as his only source of income.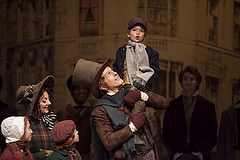 The London in the 1840s was a difficult place to live, especially for the many with limited financial resources. Charles Dickens published his story "A Christmas Carol" in 1843 and it has become the epitome of a Christmas classic.
Ebenezer Scrooge's only option of refuge is his bedroom, after Cratchit has gone to be with his wife and children. Scrooge is confronted by a dream of his former financial partner, Jacob Marley, now shackled in chains to endure the eternities because of his devious deals while alive. Scrooge is horrified, only to learn that he is to receive visits of three more ghosts in the days to come: The ghosts of Christmas Past, Present, and Future. Each one frightens Scrooge with promise of a future as dreadful as that faced by Marley unless he does something worthwhile with his life.
This is not a sugar-coated Christmas tale, but one of Christmas carolers, of families in poverty – of ghosts raging to frighten some sense into Scrooge. The set is terrific, as if everything else in this wonderful version of Dickens' story. There is lots of music and dancing. Thought-provoking insight of the idea of "sharing," and basically the encouragement of helping those less fortunate.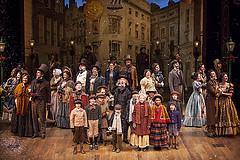 The enormous cast includes several in supporting roles. Especially noteworthy are Colin Alexander as Scrooge's Nephew, Fred; Charlie Korman as Ebenezer as a child; M. Scott McClean as Ebenezer as a young man; Leslie Alexander as Mrs. Cratchit, and Stephanie Cozart, terrifically adorned as the Ghost of Christmas Past. There are many children in the cast, making the production of special interest to younger theater-goers.
The production is flawlessly directed by Bruce K. Sevy. Adaptation of Dickens' story was done by Richard Hellesen, with music by David de Berry.
The end result is the desired realization that Scrooge can become teachable. He can learn some basic goodness, and realize the need of "sharing." And while Scrooge is learning, the audience is treated to a visual feast of Christmas!
"A Christmas Carol" at DCPA in December of 2014 is a production to be cherished!
"A Christmas Carol"
Stage Theatre, Denver Center of the Performing Arts
Through December 28. 2014
Tickets: 303/893-4100
denvercenter.org
800/641-1222, TTY 303/893-9582