Alcott's Little Women To Open Candlelight
By Tom Jones, April 6, 2021
Jo is there. So are Amy, Meg, and Beth – under the careful watch of their mother, Marmee March . A musical adaptation of Louisa May Alcott's classic "Little Women" opens this week at the Candlelight Dinner Playhouse this week for a two-month run.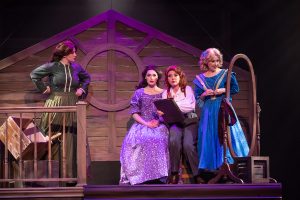 I dropped in to see much of the show in one of its final rehearsals this week, and was charmed by the excellence of the performance! Returning to the Playhouse, after more than a year of absence, was an eye-opener for me – reminding me of the wonder of seeing a live performance. The theatre industry has been among the hardest hit groups suffering from the pandemic. The Candlelight has been extremely careful in preparation for the few shows that have graced their stage in the past 14 months.
It now looks like the dinner theatre world might be back in full action, beginning now with minimum inconvenience to patrons while observing social distancing.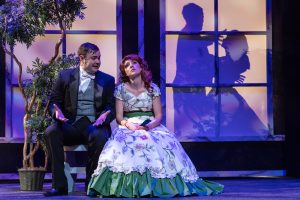 I'll review the full show in a couple of weeks. My comments here are just a look at a virtually flawless run-through shortly before opening. Alcott's semi-biographical novel was originally published in two volumes in 1868 and 1869 and went on to international fame. The musical version, now on the Candlelight stage is based on the Broadway production that opened on Broadway in 2005 with Sutton Foster as Jo and Maureen McGovern as Marmee.
This time around Emery Hines appears as Jo, with the always-excellent Jalyn Webb as the mother, Marmee. Hines is a newcomer to the Candlelight stage and is a marvel as the tomboyish Jo. She has great stage presence and a super voice. The remaining sisters are Sara Kowalski as Amy, Elaina Osburn as Meg, and Charlotte Movisso as Beth. Longtime Candlelight favorite Eric Heine is at his best as the family friend, Laurie. Each performance is very good. Pat Payne and Phil Forman co-direct the show, with music directed by Phil Forman and choreography by Susanna Houdesheldt.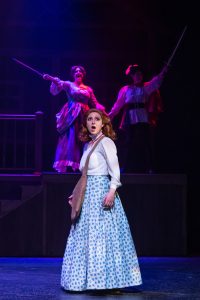 The sparring siblings are often at odds, but eventually always willing to be "family." Setting is Concord, MA. The four sisters are at home while their father is serving in the Civil War. Intercut with a look at the family, are vignettes where their lives are unfolded in the melodramatic short stories Jo has written. The most important of these interjections takes place at the beginning of the Second Act where the sisters appear in wild reincarnations of Jo's fantasies. Whereas I was familiar with the basic story, I was not adequately prepared for the wild insert, but it IS entertaining.
"Little Women" has been a young-girls favorite since it first appeared, and holds up well in its heartwarming look at life in Concord during the Civil War. I'm looking forward to "officially" seeing it in the next few weeks, especially with the hope that I can make more sense of the interjections of Jo's fantasies.
"Little Women"
Candlelight Dinner Playhouse
April 8 – June 6, 2021
4747 Market Place Drive
Johnstown, CO 80534
970/744-3747
www.ColoradoCandlelight.com