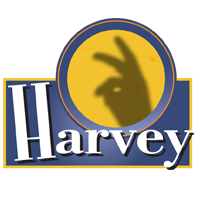 "Harvey is the unseen star of delightful Arvada Production
Reviewed by Tom Jones
February 8, 2015
Elwood P. Dowd is an affable chap – entirely without guile, and a friend to everyone. His very best friend, however, is a 6 foot one and one-half inch rabbit named "Harvey." Harvey is actually a pooka, conjured from Irish folklore. Elwood takes Harvey with him wherever he goes, searches for him when he becomes lost and the two are evidently great drinking buddies.
Harvey is less appreciated by Dowd's sister, Veta Louise Simmons.  It appears that Elwood was extremely close to his mother and would do anything for her. When his parents died, the family home was left to Elwood much to the dismay of his sister, and her marriage-age daughter, Myrtle Mae
Elwood has now transferred his love for his mother to the less appreciative sister.  Veta Louise is an avid social climber, longing to host parties and to be invited to others. Everything must be properly perceived. She is viciously afraid that Elwood will turn up with his unseen friend Harvey, and proceed to introduce him to everyone .
Her daughter, Myrtle Mae has her own challenges, as she believes that everything wearing pants might be the love of her life.
Veta Louise decides that she has had "enough" of the kindly Elwood and his tall rabbit friend and arranges to take him to a nearby sanitarium where she will admit him to stay forever. This also provides a path for her to gain ownership of the house.
Gavin Mayer and Ron A. Lansberry, director and artistic producer for the show, have assembled a delightful cast of wonderfully talented performers to bring this sometimes frenzied tale to life on the Stage of Arvada Center. Torsten Hillhouse is a jewel as the mild mannered Elwood Dowd. He has no desire to cause anyone any trouble and is quite willing to do whatever his sister suggests.
Elwood's sister, Veta Louise, is in a delightful frenzy, as played by Kate Gleason. She is eager to have Elwood and his rabbit out of the house, and wants her daughter Myrtle Mae, to similarly disappear, hopefully with a husband!
Missy Moore is a delight as the awkward daughter, Myrle Mae. She is a fine comedian, while not letting the part become camp!
Insanity reigns as Elwood's sister,Vera Louise, is erroneously admitted to the sanitarium instead of Elwood. Staff cannot believe that someone as kind and caring as Elwood might need psychiatric care, where as his sister appears to be completely nuts!
The cast is universally believable. Graham Ward is a fine physical comedian as the sanatorium doctor who is trying to figure out who needs mental care and who doesn't. His boss, played by Jeffrey Roark prefers not to be bothered with any details of activity in the sanitarium, but does become intrigued with the idea that Elwood's rabbit friend just might provide a two week out-of-this-world experience to be with someone more exciting than his wife.
The only person not worried with problems is the affable Elwood Dowd, who wants nothing more than to please everyone!
It is finally arranged for Elwood to receive an injection that will make him "normal." A taxi driver who turns up at the sanitarium tries to bring the group to their senses noting, that while the "injection will make Elwood a perfectly normal human being, you know what bastards they are!"
"Harvey" was one of America's best-loved plays in the 1940s and Marcy Chase received the Pulitzer Prize for Drama in 1945. It has been adapted for film and television several times, best remembered from the James Stewart performance as Elwood in the 1950 movie. Chase has roots to Colorado, graduating from Denver's West High School, and later studied at the University of Denver and University o Colorado Boulder.
Everything involved with this production is flawless. The amazing set by Brian Mallgrave is changed before our eyes from the Dowd home to the Sanitarium in Act One and again in Act Two — each time receiving applause as if it were a character in the show!
By show's end it just may be that Elwood (and his rabbit friend) are the only truly normal characters around. Veta Louise even admits that she just may have seen the the pooka !
"Harvey"
Where: Arvada Center For the Ats and Humanities
6901 Wadsworth Boulevard, Arvada, CO 80003
When: To February 22, 2015
Website: www.arvadacenter.org
Box Office 720/898-7200