Heavenly Exiles Make 16-year "Journey to the West" in Search of Clues to Immortality!
Reviewed by Tom Jones
Yes, an orphaned Buddhist monk and three disciples are on a quest – searching to find sacred scrolls that hold the key to immortality. They are currently on the stage of Lincoln's Center's Magnolia Theater, in OpenStage's impressive production of "Journey to the West." Man's search for the meaning of life, for immortality, and to bring enlightenment to the world have been themes of literature and theatre for centuries. The "search" occurs in "the Iliad" and "The Odyssey," in "Pippin," and even in "The Wizard of Oz!"

Director Peter Anthony has put together an impressive cast, to lead the audience from the East (China) to The West (India). He not only directed the show, but designed the set and the sound! It is an amazing accomplishment!. The set is a functional wonder of stairs and levels than can be used as chambers for royalty, as lakes – both frozen and tempest-tossed, and caves to hide persons when needed! Rebecca Spafford is credited for costume design, Brian Miller, for lighting, Eleanor VanDeusen for choreography, and James Burns for fight direction. There is a lot of "fighting" – impressively so, as the Monkey King, played by Dan Muth, is a threat to just about everyone in the show with spectacular feats of athleticism!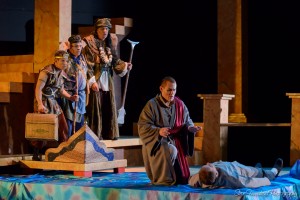 Jacob Offen stars as Tripitaka, the Buddhist orphan who leads the quest to find the sacred scrolls. His disciples include Dan Muth as the Monkey King, Steven P. Sickles as Bafie (the Pig), and Brien Fletcher as Sha Monk, a river monster. Offen has great stage presence, and is in obvious command of his sometimes-unruly disciples, as they trudge across mountains, plains and waterways, hampered by 81 ordeals – both human and mystical in nature. The four make an unlikely set of travelers, finally realizing that if they are to succeed they must work together and rely on each other.
At the outset Dan Muth's Monkey King takes the spotlight. He can jump, tumble, fly through the air, dance, and fight like a madman! At the post-performance line, he acknowledged that he does ice his knees following each performance, as his role is enormously physical. He is not to be outdone, however, as Offen, Fletcher and Sickles each has a chance to show his talent as part of the journeyers.
"Journey to the West" is a Chinese novel published in the 16th century, during the Ming Dynasty, and is considered to be one of the four great classical novels of Chinese literature. In English-speaking countries, the novel is widely known as "Monkey." Based on historical events from 602 to 664, the book has strong roots in Chinese folk religion and Chinese mythology, as well as Taoist and Buddhist philosophy. It is considered a comic adventure story, as well as an extended allegory as the pilgrims journey towards enlightenment.
The play is adapted by Mary Zimmerman from Anthony C. Yu translation of the original novel, 'His Yu Chi'. Zimmerman, a professor of performance studies at Northwestern University, has extensive credentials including receiving the 2002 Tony Award for Best Play for her adaptation of Ovid's "Metamorphoses"
Fort Collins audiences are familiar with Zimmerman's writing, as she authored "Arabian Nights" which Peter Anthony directed for OpenStage in 2007.
The "Journey to The West" cast is large, with most actors playing more than one role. The effect is rewarding. There is not a weak link in the total production! This is truly a journey of satisfying enlightenment!
Journey to the West runs to October 4, at 8:00 p. m. on Fridays and Saturdays, Sundays at 2:00 p.m. (September 28)
Fort Collins Magnolia Theatre
Lincoln Center
417 West Magnolia Street
Fort Collins, Colorado
For tickets contact 970/221-6730, or lctix.com.
For more information, visit openstage.com