The Arvada Center for the Arts and Humanities Hosts Delicious ABBA Treat
Reviewed by Tom Jones
September 8, 2018
Sophie is in a bind. She is about to be married, and wants to invite her father to walk her down the aisle. Problem is that she does not know who her father is. Raised by a single parent mom who runs a guesthouse on a tiny Greek island, Sophie finds her mother's diary, learning that her mother had liaisons with three different men who just might be her father.
What to do? Invite all three to the wedding!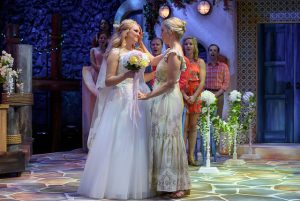 Such is a premise of the delightful "Mamma Mia!" on stage this autumn at The Arvada Center for the Arts and Humanities. It is a joy from beginning to end. Mariah MacFarlane and Shannan Steele are both excellent as Sophie, and her mother, Donna Sheridan. Worth billing as a "cast" member is the incredible set designed by Brian Mallgrave. It is as sunny and inviting as a sunny day on a Greek island, and as warm and comfortable as a guest bedroom in a charming vacation villa.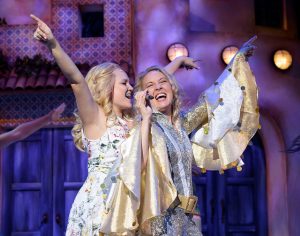 The Arvada Center was honored this past July as the Colorado Theatre Guild for Outstanding Season for a Threatre Company. Included in its list of recent wonders are "Sense and Sensibility," "Joseph and the Amazing Technicolor Dreamcoat," "Sunday in the Park with George," and "All My Sons." What to do for an encore? Have Director Rod A. Lansberry put together a production of "Mamma Mia!"
"Mamma" burst onto the stage in London in 1997 and was an instant success. The idea was interesting. Take some of the Swedish group ABBA's already-existing hit songs, weave them into a basic story of young love, and magic pops out of the magician's hat! Music and lyrics are by Benny Andersson and Bjorn Ulvaeus, with book by Catherine Johnson. It premiered in London in 1999 and became a worldwide sensation. It opened in New York City in 2001 and played 5,773 performances before closing 14 years later. The 2008 movie version is reportedly the most successful movie ever shown in England.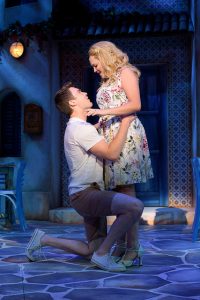 As wedding guests arrive, we meet several young friends of the engaged couple, two of Donna's longtime "best friends," and the three possible fathers, not realizing why they are invited, and not realizing they may have fathered a beautiful daughter – about to be wed.
Then there is the ever-welcome music – "I Have a Dream," "Thank You for the Music," "Mamma Mia," "Dancing Queen," "The Winner Takes All," "I Do, Do, I Do," and many more.
MacFarlane and Steele headline the always-entertaining cast, with additional sensational performances by Kitty Skillman Hilsabeck and Piper Lindsay Arpan as Donna's friends, Rosie and Tanya, with Daniel Robert Sullivan, Mark Devine and Jeffrey Roark as the unsuspecting potential father of the bride. Hilsabeck also provided the highly appreciated toe-tapping choreography.
The set, direction, and performances are not the only marvels. The orchestra, lighting and costumes are all equally impressive.
If the thunderous applause from the opening night Arvada audience is any indication, tickets to "Mamma Mia!" are going to be difficult to find. This is a joyful experience, and the audience was hesitant to let the performers leave the stage.
"Mamma Mia!"
Where: Main Stage, Arvada Center for the Arts and Humanities.
6901 Wadsworth Boulevard, Arvada, CO 80003-9985
When: Through September 30, 2018
Tickets: 720/898-7200
For more information: Arvadacenter.org