Midtown Arts Features Music Of "Old Blue Eyes"
Reviewed by Tom Jones
January 18, 2019
Frank Sinatra became a legend. Beginning as a scrawny teen crooner from Hoboken, New Jersey, he subsequently ruled the musical world until his death at 82 in 1988. He was virtually adored by music-lovers, looked at with dismay by some others — because of his personal life. He didn't write his own music; but gave voice to a host of songwriters. He reportedly recorded something like 1,500 songs – some over-the-top wonderful.
About four dozen of the songs he recorded are featured this season at Midtown Arts Center production of "My Way – a Musical Tribute to Frank Sinatra" on stage in Fort Collins.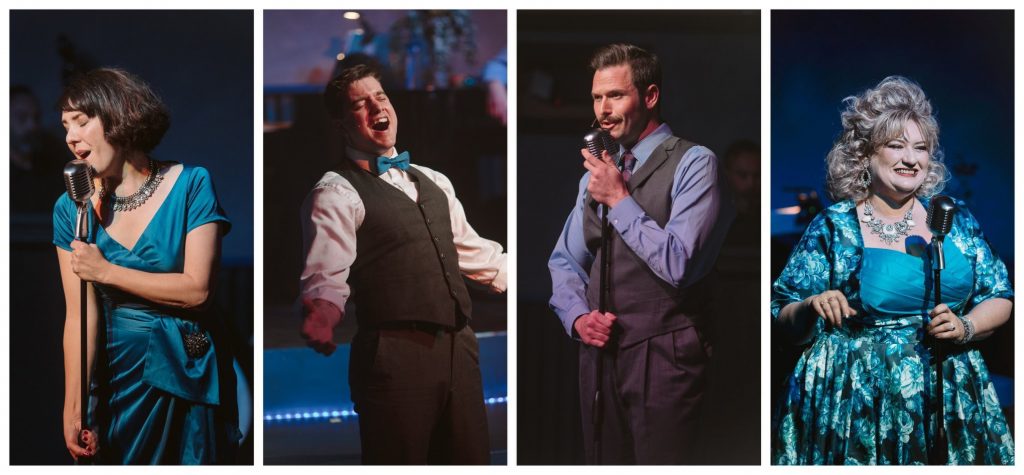 Jalyn Courtenay Webb stars in and directs this tribute. She, too, has become a legend in her time, as the vocal stylist and director of many productions in the area. This year she received the prestigious Colorado Theater Guild Henry award as best performance by an actress for her work at MAC in "Always, Patsy Cline." But as in the world of sports, even the world's most successful baseball player doesn't hit a home run every time he comes to bat.
I am an unabashed theatre fan. I usually get an adrenaline rush each time I await the beginning of a show. Some have criticized me, noting "Oh, he likes everything he sees." Unfortunately "everything" does not include this current Sinatra tribute.
The Sinatra songs are there; such great memories provided with "Fly Me to the Moon," "My Way," "It Was a Very Good Year," "Summer Wind," and the list goes on and on. The instrumental background is flawless. The four vocal performers are talented. Unfortunately, they don't seem to be participating in the same show. There is minimal chemistry between then. Some of the Act One vocal harmonies are wondrous. As the show continued, however, either the performers could not find the pitch, or the sound system let them down. I could understand very little of the spoken tidbits of Sinatra history.
Productions in the MAC Ballroom setting are always problematic as there is no one center of focus. The Sinatra tribute is staged as if in a 1950s nightclub, with the cast sometimes mingling with the audience, with a drink in hand. Sometimes this works. Sometimes it is distracting.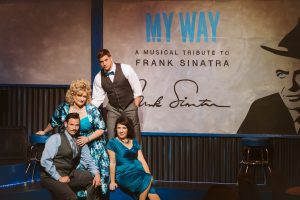 "My Way — A Musical Tribute to Frank Sinatra" has become a phenomenon of its own, currently playing in dozens of venues worldwide. If you are eager to hear such standards as "All of Me," "My Kind of Town," "Young at Heart," and "I've Got You Under My Skin," rush to Midtown Arts Center this season.
If not, don't cross the theater off your list of places to go. While the Sinatra tribute is playing in the MAC Ballroom, the terrific "Dames at Sea" is on the main stage.
I saw Bernadette Peters tap-dancing her way to stardom many, many years ago when she created the leading role in New York. I was delighted with a production of it at University of Northern Colorado a few years ago, and already have my tickets to see the MAC version. I'm not going to let my unhappiness with the current "Tribute" dampen my enthusiasm for the theatre. The adrenalin rush will always be there for me.
And all is not lost with "Sinatra." Old Blue Eyes provided more than one generation happy memories with his incredible styling of some wonderful music. Many in the audience appeared to be enchanted with the memories brought to life on stage at MAC. I learned that the performance I attended was rife with subsequently-repaired technical problems, and that earlier audiences have given the show standing ovations.
"My Way – a Musical Tribute to Frank Sinatra"
Where: Midtown Arts Center, 3750 South Mason Street, Fort Collins, CO 80525
When: To March 17, 2019
Information: Box Office: 970/225-2555
Tickets: www.midtownartscenter.com