There's Dancing In The Aisles At Midtown Arts Center
Reviewed by Tom Jones
October 14, 2018
Open the floodgates, and let the adjectives flow. "The Roy Orbison Experience" has arrived in Fort Collins. And that voice. Where did Chris Trimboli come from? Bespectacled with the Roy Orbison trademark dark glasses, Trimboli began to sing – and what a voice! The audience went crazy. This was an evening of absolute joy.
While acquainted with some of Orbison's music, I did not have an appreciation of his voice and talent until seeing this production. According to the program, several years ago Trimboli was approached by a producer who asked him if he knew who Roy Orbison was. He did not, so that night he went home and started listening to Orison music and researching the man behind the glasses.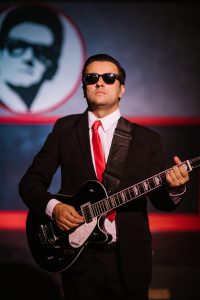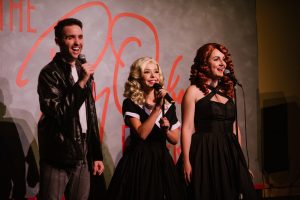 Product of that introduction is the musical now premiering in Fort Collins. Trimboli had done his work learning about Orbison and is now portraying the musical legend in the show that he wrote. Trimboli may just become a legend himself, as his voice, like that of Orbison, is one of a kind.
The format is interesting — on one end of the ballroom is a slightly-raised platform where the band plays, including enough space for singers to perform from time to time. The other end also has a raised platform with three or four microphones for the performers to use to tell of Orbison's life and to sing some of the music. I was sitting very near to the orchestra, and found myself continually craning my neck to find which end of the room I needed to be watching. This also led to some difficulty in understanding the story itself. The band frequently played (although softly) during some of the narrative, and I had difficulty understanding what was being said.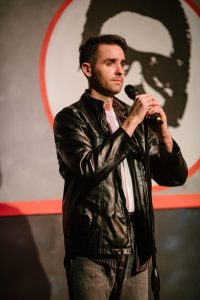 Roy Orbison was born in the Texas oil fields town of Wink. He began composing music early and was a contemporary of the Beatles, Johnny Cash, Linda Ronstadt, Patsy Cline, Elvis Presley, and other musicians of the era. Although he died 30 years ago, he remains one of the most respected musician and composers in the annals of American music history. His career had substantial highs and lows, as did his personal life. His first wife died in a motorcycle accident, followed two years later by the death of his two eldest sons in a fire that destroyed his Tennessee home. He remarried, and his career was having a tremendous rebirth, only for him to die of a heart attack at age 52. He left a remarkable legacy of achievement. – Not only music he performed, but also music he composed for others.
John Seaberry provided musical arrangements for the current Orbison show. He plays bass in the band, with Victor Walter on the piano, Ryan Millard on guitar, and Dean Vlachos on percussion. Chris Trimboli is music director.
The musical showcases many of Orbison's classics, using the voice of Trimboli, as well as voices of three very talented back-up performers. Anthony Weber looks and sounds like he might be another Trimboli or Orbison in the making. Emily Erkman has extensive experience as a lead singer for several bands. Delany Garcia brought the house down with her "Blue Bayou." This is the now-grown-up version of the young girl who charmed me as young Mary Lennox years ago at Greeley's Union Colony Dinner Theatre's production of "The Secret Garden." I could hardly believe my eyes and ears.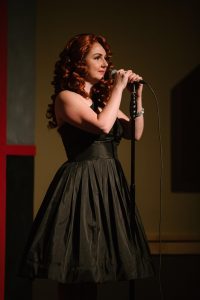 Northern Colorado has great credentials with this show, as Weber studied OperaPerformance at CSU, Chris Trimboli is a graduate of the University of Northern Colorado, and Delany Garcia is a senior there this year. Erkman spent the early years of her career in New York and in Colorado
The excellent skills of Michael Lasris are apparent as he directs the show – keeping the audience's attention moving from one side of the room to the other while creating such memorable moments of Roy Orbison's legacy, with such magic music as "Blue Bayou, "Oh Pretty Woman," "Only the Lonely," "Crying," and a host of others.
The audience was not eager for the show to end. They were clapping, cheering, and dancing in the aisles. This is super entertainment.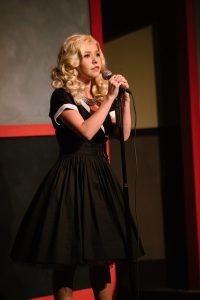 And what a year this is for the show's producer, Jalyn Courtenay Webb. She sings. She acts. She performs. She teaches. This past summer the Colorado Theatre Guild honored her as Best Actress in a Musical for her role in "Always, Patsy Cline" at MAC. Webb is the founder of the new divabee Productions, and can now add "producer" to her resume. This is her first venture producing a show. And what a winner it is.
"The Roy Orbison Experience"
Where: Midtown Arts Center, 3750 South Mason Street, Fort Collins, CO 80525
When: To November 18, 2018
Information: Box Office: 970/225-2555
Tickets: www.midtownartscenter.com