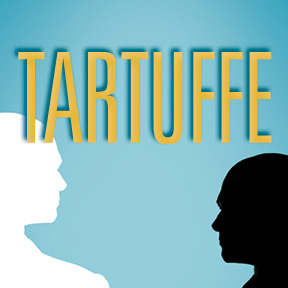 Family has hilarious time in exposing plan to steal the families jewels
Reviewed by Tom Jones
October 9, 2016
Beware of scams. Hang up when a supposed IRS agent threatens to take away your home. Don't offer your social security number or other information that could be used to defraud you. And be especially on the lookout for Tartuffe. He is the pious beggar at the doorstep with mystifying charm – promising eternal salvation. Orgon, the family patriarch, believed him, took him into his home; and the scammer soon had Orgon and his doting mother under his spell. The rest of the family was aghast.

And it takes more than two hours of hijinks for the crook to be exposed. The time is well spent, however, as the family, the maid, and friends have a devil of a time convincing Orgon that Tartuffe is not a saint.
Sam Gregory is a delight as Orgon, head of the family, with enough of a past to welcome the purported saint into his home with the idea that he has found true religion. Leslie O'Carroll is equally delightful as Orgon's pious mother, eager to pray when needed, and not doubting her beloved son's devotion to his new friend. And she looks like she just stepped out of pages of a comic book.
On the other side of the house, everyone is unanimously aware that Orgon's new guest is a charlatan in white clothing. Jessica Austgen, as the maid Dorine, is a super comedian. She looks sensational in her maid's mini-skirt, black lace stockings and three-inch heels. Feather-duster in hand, she occupies her time keeping the house (and everyone in it) in ship-shape order. Orgon's brother, Cleante, played by Josh Robinson, doesn't appear to have much use for the family in general, and is amazed when his brother gives such devotion to the visitor.
Stealing the show is Kate Gleason as Orgon's bewildered wife, Elmire. When Tartuffe makes amorous advances to her, however, his desires just might be exposed. She needs help from everyone else to convince Orgon of Tartuffe's devious treachery. The charlatan just might get away with his scheme. He goes too far, however, when demanding that Orgon's daughter, Mariane, marry him.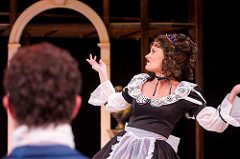 Mayhem ensues in the Orgon family sanctuary. Marianne is distraught. Her fiancé, Valere, can't believe his ears to learn that his beloved is about to marry a rascal. Emily Van Fleet and Anthony Adu are excellent as Mariane and Valere. Orgon's son, Damis, is exiled from the home when he openly defies his father's claim that Tartuffe is wonderful. Sean Scrutchins is convincing as the enraged son.
Through it all, Michael Morgan retains his piety as Tartuffe. He is a ragamuffin disguised as a saint, and is a delightfully fraudulent charmer!
Director Lynne Collins keeps the staged goings on in great shape, just as the maid Dorine does to the Orgon home and family. Collins has taken the Moliere tale, updating it with today's social media – complete with selfie sticks and IPhones. At one point Orgon thinks he has stabbed his son, Damis, through the heart – only to realize that his "sword" was a retractable selfie!
The pinnacle of craziness takes place in the second act when Orgon's wife, Elmire, is atop a family altar trying to lure Tartuffe's affections while her husband is hiding beneath — ready to expose the crook. Laugh-out-load moments abound.
Moliere's version of the delightful play premiered in Versailles in 1664, written in French, in rhyme. Richard Wilbur succeeded in translating the play into rhyming English couplets in 1955. His version has been updated somewhat to include reference to today's computer, social network systems. The result is great fun. Great fun for everyone, except Tartuffe.
"Tartuffe"
Where: Arvada Center for the Arts and Humanities
6901 Wadsworth Boulevard, Arvada, CO 80003
When: To November 6, 2016
Box Office 720/898-7200
Online:  www.arvadacenter.org