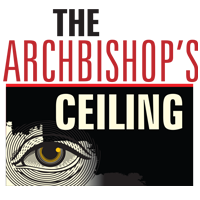 "The Archbishop's Ceiling" just might be bugged by the secret police!
Reviewed by Tom Jones
March 28, 2015
Cast members look upward as they speak, feeling that the room's ceiling is probably concealing a hidden microphone. Or maybe it is by the fireplace, or under a table. Life in Central Europe is not a pleasant experience. The Arvada Center for the Arts and Humanities is hosting the regional premiere of Arthur Miller's story of political intrigue in "The Archbishop's Ceiling" through April 19.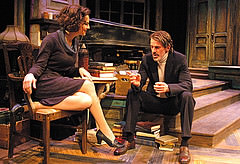 Espionage and Cold-War politics of the 1970s are dissected in Miller's drama. The story takes place in an ornate room of a former Archbishop's palace in Eastern Europe,, probably bugged by the secret police. The Arvada set is very impressive, with scenic design credited to Brian Mallgrave.
An American, Adrian, turns up at the apartment to see a writing friend, Marcus – only to find that Marcus is currently out of town. Looking after the apartment in Marcus' absence is Maya, Adrian's former lover! Adrian is well-played by Rodney Lizcano. Adrian and Maya begin guarded, somewhat stilted conversation, each believing the room is probably bugged, and caution is necessary. They can't talk directly about their past relationship, or about their friendship with other writer friend such as Marcus, or another friend, Sigmund, who might be the object of secret police hunt. It appears that writers are of particular interest to the secret police, looking for anyone who might oppose the current government. Heather Lacy is excellent as Maya, an intelligent woman caught in a web of politics and political intrigue. She gets around and has romantic history with Adrian and Sigmund and Marcus!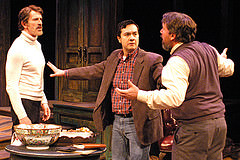 The visit is uncomfortable, with added intrigue when Sigmund and Marcus turn up, with Marcus bringing along a new love, Irina! William Hahn is terrific as Marcus. He is a take-charge personality, whose character has spent seven years in prison for political crimes. Sigmund, played by Michael Morgan is terrified, as someone has just stolen the only copy of a manuscript that he has been working on for five years, and just might include information that could incriminate him! Marcus' new friend, Irina, is played by Adrian Egolf. She appears to understand very little of the English spoken by the others, and spends most of the play lounging on a couch, and looking through issues of "Vogue" magazine.
Marcus has ties with the government and understand their system of dealing with writers, having spent years in prison. He suggests that his writer-friend, Sigmund, seek political asylum and immediately leave the country All of this is conveyed in hush tones, or in meetings in the apartment hallway which might not be bugged. Everyone is afraid to say much to or about anyone else, leaving the audience in doubt as to what should or should not be said. It is a confining and uncomfortable situation.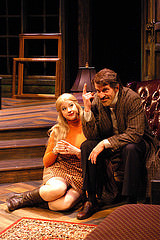 Arthur Miller was one of America's most-prolific writers. His plays include "Death of a Salesman," "A View from the Bridge," "All My Sons," "The Price," and "The Crucible." He also wrote screenplays, including "The Misfits," which turned out to be Marilyn Monroe's final movie. Monroe was Miller's second wife, with their divorcing before her death.
"The Archbishop's' Ceiling" was written in 1977, and has not been frequently produced. Miller was very interested in the subject matter, however, spending substantial time in Eastern Europe and becoming well aware of the Cold-War espionage tactics. The play becomes tense, as Sigmund's friends all encourage him to flee the country, whereas he is so strongly tied to his homeland that he cannot bear the thought of leaving, even with a prison sentence being a real possibility.
Acting is flawless. Direction by Brett Aune is very good. Set is excellent. Only real problem is the play itself, which becomes repetitive with so much "talk. "How does it end? I'm not "telling." My secret remains with an apartment ceiling, which may or may not hold a hidden microphone!
"The Archbishop's Ceiling"
Where: Arvada Center. For the Arts and Humanities
6901 Wadsworth Boulevard, Arvada, CO 80003
When: To April 19, 2015
Box Office 720/898-7200
Online: www.arvadacenter.org