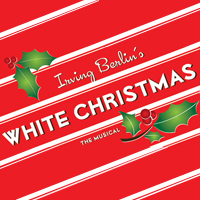 Even an unhappy Scrooge could not say "Bah Humbug" to the "White Christmas" Charmer in Arvada
 By Tom Jones
November 29, 2015
Ben Michael and Cody Williams take center stage early in Arvada Center's "Irving Berlin's White Christmas." The scene is an army entertainment show for servicemen at Christmastime of 1944. Michael is Captain Bob Wallace, and Williams is Private Phil Davis, putting on a vaudeville-type routine for the amusement of the attending soldiers in Europe, as the war there is winding down. As the scene concludes they learn that their commanding officer, General Henry Waverly is being relieved of his duty, and is set to return to the United States. Soldiers under his command are evidently very fond of him, and give him high respect, as he notes that "Ten years from now our lives will have changed!"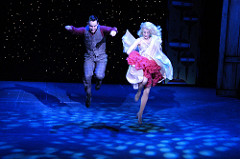 Michal and Williams are talented performers – song and dance men. The characters they play have remained friends and have become respected entertainers in New York, ten years after the battlefront show. Thus sets the stage for an evening of Irving Berlin music, remarkable choreography, and a nostalgic look at what patriotism meant to America's citizens and soldiers.
Songwriter and composer Irving Berlin was born in Russia in 1888, moved to America with his family and is widely considered one of the greatest songwriters in American history. His songs include such hits as "Easter Parade," "This is the Army, Mr. Jones," "There's No Business Like Show Business," "A Pretty Girl is Like Melody,"and the immortalized "God Bless America." Berlin was raised in poverty and was forever in love with America and the opportunities it provided to him!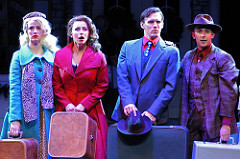 His song, "White Christmas" first appeared in a 1942 movie musical, "Holiday Inn" about a country inn opened only on holidays. The song was performed by a crooner named Bing Crosby. It was an instant hit, and resulted in being the theme of a l954 Paramount Pictures movie musical, "Irving Berlin's White Christmas," again starring Bing Crosby. His recording of the song continues to be the most-sold single in recorded music history.
The movie was the biggest money maker in 1954, and generated the stage version which premiered in San Francisco in 2004 and has played in various venues including Broadway in 2008 and revived again in 2009. New York theatre critics were not impressed with the stage musical version, but audiences have been enthusiastic. The Arvada production is excellent – bringing to life the mood of the 1950s, and showcasing some of Berlin's well-known standards.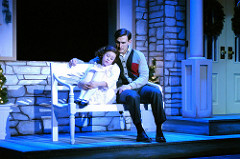 The creation of the show revolves around using many of Berlin's hit songs to advance a basic boy loves girl, girl loves boy story. They spar, leaving doubt as to how their relationship will conclude. The show can be a bit too talky, but once the music takes off, the show is very pleasant. Some of the musical numbers sometimes don't quite fit into the plot line, but the "I Love a Piano" routine which begins the second act is as terrific as any in recent memory. Kitty Skillman Hilsabeck is credited as choreographer. She brought down the house with her disco action recently in Arvada Center's "Saturday Night Fever," and brings her clever ideas to "White Christmas." The entire production is under the direction of Gavin Mayer who has put together a very talented cast in providing holiday cheer to Northern Colorado.
Ben Michael and Cody Williams are the production's stars, assisted greatly by Lauren Shealy and Erica Sweany, as their love interests, Paul Page as General Henry Waverly, the enthusiastic Sharon Kay White as the Vermont Inn Manager, and Darcey Keating as the General's granddaughter.   The granddaughter role is double cast, with Keating and Darrow Klein sharing the role. I saw Keating who was super, and very convincing as a young wannabee actress..
The song and dance team are ready to travel south by train from New York to Miami for some rehearsals for a new show, but end up going north to the "Snow" of Vermont, following two girls they just met.. Coincidentally they end up in the country inn owned by the now-retired General Waverly. Lack of Vermont snow is currently a great problem to Waverly's maintaining ownership of the Inn. Bob Wallace and Phil Davis are concerned about the financial plight of their former commander. So, as Mickey Rooney and Judy Garland used to say in early movie musicals, "Let's put on a show." Unbeknownst to the General, the two soldiers from his past put together a show for the Inn, inviting everyone from their former army days to bring revenue to the resort.
Very good performances, excellent sets, costumes, lighting, and super dancing overcome any plot flaws, and provide the audience with the "feel good" memories of a "White Christmas."
"White Christmas"
Through December 23, 2015
Arvada Center for the Arts and Humanities
6901 Wadsworth Boulevard, Arvada, CO
For information go to www.arvadacenter.org or call 720-898-7200