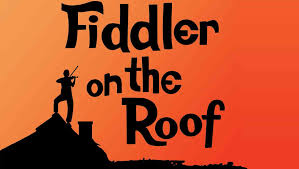 Student Production Wows Audience at Midtown Arts Center
Reviewed by Tom Jones
August 19, 2017
Twenty or so years from now the star performers at local theatres just might look back at this year, and say, "Remember when we received a standing ovation at MAC when we were young students in 'Fiddler on the Roof?" That same group of performers may continue to receive "standing ovations" wherever they go, as they possess boundless talent and enthusiasm. Today they are the stars of tomorrow.
Forty-six students at the Academy at Midtown Arts Center provided three performances of their student training achievement in mid-August of 2017. At the "welcome" provided prior to the curtain opening, the audience learned that the production this season is a result of just three weeks of rehearsals. Jalyn Courtenay Webb and Michael Lasris, the show's producer and director noted that finalizing the show is actually a miracle, with unbelievable odds that a show of this caliber could be completed in so little time, and with a cast of not-yet-professionals. The show itself echoes one of the productions songs, "Wonder of Wonders, Miracle of Miracles."
"Fiddler" is the tale of the Jewish milkman, Tevye, the kindly father of five daughters, questioning why God has made life so difficult for him in Russia of 1905. He and his wife of 25 years, Golde, live in a tiny village of Anatevka, accepting their poverty as a way of life, handed to them by "Tradition." Tim Watson is amazing as the middle-age Tevye. He has a marvelous voice, and incredible stage presence. He will begin his college studies this year in Laramie. It will be interesting to follow his career, and I am curious how long before he will turn up as a brilliant Henry Higgins in "My Fair Lady," or as Harold Hill in "The Music Man." Avree Linne is a student at Fossil Ridge High School in Fort Collins. I was slow to warm up to her. But midway through the production either she became brilliant, or I just began to appreciate her talents, and I came away from the show with awe for her skills.
The list goes on and on (and on and on, as there are 46 young persons in the show). Among the standout supporting players are Meg Brown as Yente, the matchmaker; Lexi Reese, Daye Waldner and Zoe Maiberger as the oldest of the five daughters, and Jack Bramhall-Heck as the shy tailor, Motel, in love with the oldest daughter, Tzeitel. Meg Brown (Yente) and Jack Bramhall-Heck (Motel) have the flashiest roles, and light up their every scene. Also of particular interest is Nic Rhodes who is the "Fiddler" at the beginning of the show and turns up frequently to provide the inner feelings of the show's leading man, Tevye.
"Fiddler" is a musical with music by Jerry Bock, lyrics by Sheldon Harnick, and a book by Joseph Stein. The original Broadway production opened in 1964, and was the first musical theater run in history to surpass 3,000 performances. It received numerous awards, became basis for a highly successful movie in 1971, and continues to play on stages throughout the world.
The August 2017 production is the conclusion of this summer's youth Academy endeavors. It is a winner in every respect. The sound and lighting are excellent, the costuming is very good. Perhaps the highlight of the production is the movement of the performers – getting so many persons on and off the stage so frequently and efficiently, and have them performing so many choreographic skills throughout the entire show. Director Lasris credits Dominique Atwater, Adam Bourque, Cassidy Cousineau, and Emily Erkman, for their work as choreographers and musical directors. Artistic Director is Jalyn Courtenay Webb, who also produced the show. Webb commented that she is personally impressed with the vocal skills of the ensemble, noting that she has rarely heard the show sound so good.
I have been a little hesitant to see student productions at local schools. Shame on me. Whenever you have a friend or family member that you know is performing in a local student production, find out more about it, and dash to the auditorium. The Academy at Midtown Arts Center is one of the most imminent theatre schools in the area. Enrollment for their next season is open now, with the Fall Schedule set from September 11 to November 16.
Congratulations to everyone connected with this delightful "Fiddler" production. I'll be on the lookout to see where so many of you will be performing next!
"Fiddler on the Roof"
Where: The Academy of Midtown Arts Center
750 South Mason Street, Fort Collins, CO 80525
Online: Midtown Art Center