Midtown Arts Center dishes up highlights of well-known shows.
Reviewed by Tom Jones
January 22, 1017
Broadway show fans will be hard-pressed to find a more entertaining venue than "Forbidden Broadway," as presented by Midtown Arts through March 18. Local performers take on personas of the famous and not-so famous entertainers from the New York stages. Jalyn Courtenay Webb becomes Carol Channing in "Hello Dolly." Scotty Shaffer is a wow portraying a tall feline from "Cats." Lisa Kay Carter is a crazed over-the hill "Annie" longing for another role. Rob Riney is spot-on with his announcement that "This Is the Song That Goes Like This"" from "Spamalot." Paul Falk keeps everyone on pace with his excellent piano accompaniment.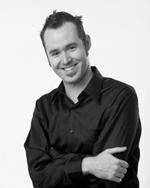 In 1982 Gerard Alessandrini came onto the scene with his Off-Broadway show, "Forbidden Broadway," spoofing highlights of famous musicals. The review has been an ongoing hit — changing musical subjects in keeping with the current Broadway shows. Alessandrini has rewritten the show more than a dozen times, with more than 20 editions. Thirteen of those have been immortalized on Albums/CDs. The version in Fort Collins is Off-Broadway – way Off-Broadway — some 2,000 miles from its home base.
When "Les Miserables" opened in London, the newly-devised rotating stage was a marvel. In "Forbidden Broadway" it is a delight with cast members moving in circles trying to keep track of when to get on and off the supposedly rotating stage. "Spamalot" comes alive with a canned-Spam-bedecked Shaffer galloping around the stage.
The cast is excellent. Jalyn Webb continues to amaze. One of her highlights this time is a wide-lipstick-placed version of Carol Channing trying to find the famed staircase in "Hello Dolly." She is teetering, as Riney and Schaffer are required to help the ageing and nearly blind-with-make-up performer find her mark. Rob Riney was a wow a few years ago in "Alter Boys" at Union Colony Dinner theatre. His performance resulted in the audience giving him a standing ovation in the middle of the show – unheard of from dinner theatre patrons who rarely stand up and cheer even at a show's conclusion. He is equally impressive this time in a variety of roles from "Fiddler" to "Spamalot."
The spotlight hits Lisa Kay Carter as Liza Minelli chanting, "I'm Liza One Note." Carter and Webb take on Rita Moreno and Chita Rivera fighting it out to keep track of who is who in what was what, with "West Side Story Music. Carter is the dummy on the lap of Shaffer's ventriloquist in "Chicago." Everyone takes a word sounding like "tradition" from "Fiddler on the Roof's" opening scene. There is "ambition," "rejection,'" "complexion," "attention," and "projection." Even tongue-twisting lyricist giant Steven Sondheim gets his due with the "Into the Words" spoof on the opening number from "Into the Woods." The list goes on and on.
This is terrific entertainment. A handful of the spoofs miss their mark, but most are direct hits. A whale of a show. Performers let their hair down to embody the foils of some of Broadway's most famous stars – and appear to be enjoying every moment in the process.
Note: "Forbidden Broadway" produced by Kurt Terrio and directed by Jalyn Courtenay Webb is performed in the theatre's Ballroom Theatre, while "Million Dollar Quartet" continues on the Main Stage.
"Forbidden Broadway"
Where: Midtown Arts Center, 3750 South Mason Street, Fort Collins, CO 80525
When: To March 18, 2017
Information: Box Office: 970/225-2555
Online: midtownartscenter.com