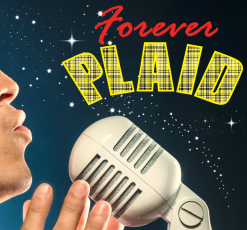 Candlelight Brings Memory-Laden Music of Bygone Days
Reviewed by Tom Jones
January 20, 2017
How long has it been since you heard a song on the radio that you could sing-along with, or saw a show that was full of long-ago memories? Candlelight Dinner Playhouse is offering a trip down memory lane this winter with the forever-popular "Forever Plaid. Remember when Johnnie Ray instructed us to "Cry," or when Perry Como" suggested we "Catch a Falling Star," when we were told to throw "Three Coins in a Fountain," or when we watched the craziness on The Ed Sullivan TV Show?
The "Plaid" guys have been around since 1989, when the revue opened in New York City. The show has been performed widely across the nation, and is an enormous success for local theatres. The "Plaids" are reportedly a group of high school buddies who were on their way to their first professional performance. Their car was broadsided by a bus of parochial teenage girls from Pennsylvania enroute to New York City see the Beatles on the Ed Sullivan Show. None of the girls was injured, but the Plaids were all killed.
They have, however, been given a chance to return to earth for one night to perform the show they missed so many years ago. It is now as if hundreds of harmony-wise young men are cropping up everywhere to give "life" to the Plaids.
The hokey dialogue is of minimal interest, with the show relying on the performers' harmony and choreographed movement. Bits and pieces of the original production have been carried from show to show – the ego of the accompanist thinking that the audience is present just to hear him perform; Smudge whipping his head so hard that his glasses fly — to be caught by another; and the guileless audience member who is brought to the stage to perform a one-finger melody of "Heart and Soul." Jinx has had so many bloody noses over the years that they have become annoying, as have another Plaid's breathing problems. Then there is the crazy "Matilda" sing-along portion when the audience is instructed to "think" the song without voicing it.
But never mind, the music is wonderful. The set for the Candlelight show is particularly good – created by Aaron Sheckler and Joel Adam Chavez. Direction and Choreography are by Matt LaFontaine. He has drilled the four performers to automated perfection as they go through their over-the-top maneuvers accompanying every song. There is a delightful naivete to the show. The synchronized movements of the Plaids are terrific, even though their harmony does sometimes go astray. The audience was very enthusiastic.
Ben Welch, Mikeal Macbeth, John Tyler Heath, and Steven Charles Turner are the current Plaids. They are each seasoned Candlelight performers, and bring their individualized charm and talents to the production. Victor Walters is the egotistical (and very talented) accompanist, and Benjamin Hornacek provides good backup on Bass.
This is not a heavy "message" production, but a nostalgic romp – a chance to relax and recall so many past "Moments to Remember."
"Forever Plaid"
Where: Candlelight Dinner Playhouse
4747 Marketplace Drive, Johnstown
To: March 12, 2017
For Tickets: Box Office: 970/744-3747
Online: ColoradoCandlelight.com