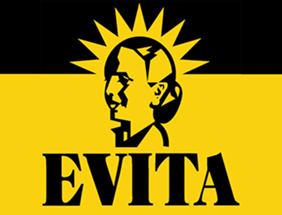 Lauren Shealy Soars as The High Flying, Adored "Evita"
Reviewed by Tom Jones, April 14, 2017
Eva Duarte had a miserable early life in Argentina. Poverty and parental abandonment hardened her, giving unrelenting resolve to do something with her life. By the time she was 15, as reflected in the classic musical, she had learned substantial street smarts, including manipulation of many lovers. She had some professional success as a radio personality and as a movie star.
Eva meets General Juan Peron at a local reception, and immediately discards her date, going off with Peron. Peron is no saint. He has been with a string of women since his divorce, and has become an important officer in the military. His military progression has been by careful stratagem, and by force. He is not daunted to have Eva go to his apartment, finding a mistress in his bed. Eva isn't the least bit fazed. She matter-of-factly demands the woman leave the bed, get dressed, get packed, and get out. The surprised mistress provides one of the show's early musical moments, sadly commenting on what might be next for her with "Another Suitcase in Another Hall."
Eva Duarte becomes" Evita" Peron; and the musical traces the next 18 years of her life. Andrew Lloyd Webber wrote the music, with Tim Rice providing the lyrics. Webber had collaborated with Rice earlier, with "Joseph and the Amazing Technicolor Dreamcoat" in 1968. They teamed up again in 1970 for "Jesus Christ Superstar." In 1976 they created a rock album, "Evita," which turned into a full production in London in 1978. That year it received the Laurence Olivier Award for Best Musical, and transferred to Broadway the next year to become the first English musical to receive the Tony Award for Best Musical.
Webber has subsequently worked with a variety of lyricists to provide a string of such acclaimed musicals as "Phantom of the Opera," "Cats," "Starlight Express," "Aspects of Love," "Sunset Boulevard," and a slew of others. A movie version of "Evita" was released in 1996 starring Madonna and Antonio Banderas.
The "Evita" production at Lone Tree is a winner. Director Gina Rattan has done her homework on studying Eva's life, bringing it vividly to the local stage. She has modified some aspects of the original show, now emphasizing Eva's many early lovers. She takes care to show how the young woman's vulnerability transferred to her becoming hard as steel, while enjoying the adoration of the Argentine populous.
At the beginning of Act Two Lauren Shealy's "Eva" is on the balcony of the Casa Rosada in Buenos Aires. She is at the microphone, looking out over the cheering audience below, and begins with some humbleness to explain her role as wife of the country's leader. As she moves more deeply into the song, her persona changes, and she displays an amazing self-confidence. The adoring fans appreciate her newfound brilliance, and regard her as their personal saint. This is the show's triumphant, "Don't Cry for Me Argentina." Shealy's rendition may just be the song's definitive interpretation.
The population continues its adoration of the "Santa Evita" while she is busy emptying the country's coffers, and publicly tossing money to a few from her bogus charity fund.
Looking on in bemused cynicism, watching Eva's rise to the top, is Miles Jacoby, as the protagonist narrator, Che. His role is reportedly based on the revolutionary Che Guevara. There is no evidence that Evita and Che ever met. Jacoby is a show-stopper on his own, with a strong presence and commanding voice. He is substantially taller than anyone else in the show, but has an uncanny ability to fade into the crowd to become just one of the masses, when he is not the center of attention.
The music remains as exciting as ever, and now includes Eva singing, "You Must Love Me." This is one of the second act's most touching moments, and was not part of the original score. It was written for the Madonna movie, and is a rewarding addition to the stage version
Jesse Sharp is good as Juan Peron, as is Seth Dhonau as Magaldi, a local musician who served his time as Eva's lover. It is Lauren Shealy as Eva and Miles Jacoby as Che who star in the show. They are flawless.
Another character, not as effective, is in the form of two staircases. They are moved around with great fluidity, but eventually become more distracting than effective. The show is also hampered with so much movement of tables and chairs early in the production. These are minor diversions, however, as the total effect is sensational.
Lone Tree's commitment to excellence is clearly displayed here. The music is difficult, requiring substantial vocal ranges. The staging, lighting, costumes, choreography are remarkable, with excellent results. Someone leaving the theatre following the performance I saw, noted to a companion, "I had no idea it would be that good!"
"Evita" is a history lesson while providing such memorable music as "Don't Cry for Me Argentina," "Another Suitcase in Another Hall," "High Flying, Adored", "You Must Love Me," and the exquisite "Don't cry for Me Argentina."
"Evita"
Where: Lone Tree Arts Center
10075 Commons Street
Lone Tree, CO 80124
To: April 29, 2017
Online: www.lonetreeartscenter.org