Disney's Delight Lands Onstage at Candlelight Dinner Playhouse
Reviewed by Tom Jones
September 9, 2018
That ever-efficient nanny, Mary Poppins, is flying in and out of Johnstown this season. Harmony Livingston is delightful as the ingenious Poppins who proclaims that she is "Practically Perfect" in every way as she arrives at the George Banks household in London. The family has not been successful in finding a good nanny, as the two children have run off a string of would-be-governesses. Mary is a no-nonsense dynamo that knows just what children need, and how to make them enjoy the transformation.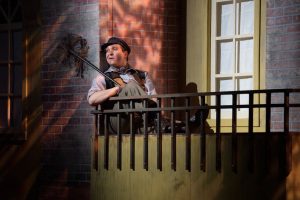 Livingston is given great help by Bert, her longtime friend in fantasy. Cole Emarine is super as the mysterious friend who turns up here and there and everywhere as a friend to all. We originally meet him as an artist displaying paintings in a public park. He then turns up at a local fair, and finally as a chimney sweep who promises good luck to anyone who shakes his (dirty) hand.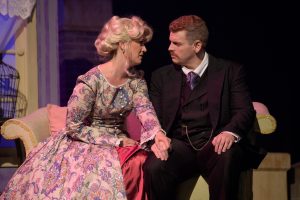 Livingston as Mary and Emarine as Bert make a very impressive duo. They are both multi- talented, have great singing voices and can dance up a storm. Emarine's athletic skills have him performing a maneuver that needs to be seen to be believed, dancing with his chimney-sweeping friends late in Act Two.
The action takes place in London, on Cherry Tree Lane, at a local park, and at the bank where George Banks works. There is a bit of mysterious magic permeating the show, mostly due to Poppins' extra-ordinary abilities. When the show begins to lag, a mind-blowing evil Miss Andrew turns up. Referred to as "The Holy Terror," when serving as George Banks' childhood nanny years ago, she continues to be an evil and brutal tyrant. When the now-adult George sees her, he immediately flees the home. He has never fully recuperated from being under her care. Victoria Pace briefly steals the show in her performance as the dreadful Miss Andrew, appalled that Poppins' kindness can have any effect on the home.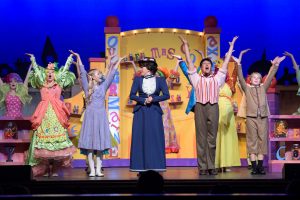 Everyone in the cast is skillful. Scott Hurst is believable as George Banks, the family head who has virtually traded his family for his job. Alisha Winter-Hayes is convincing as the ever-suffering kindly wife who is not pleased with the way her husband treats her and the children, but doesn't know how to do anything about it. Scotty Shaffer and Annie Dwyer are the household servants whose jobs appear to entail ignoring anything unpleasant going on, and merely do their work. The roles of the two Banks children are double-cast, with Julia Gibson and Gwyneth Bohl trading places as Jane; and Ryan Fisher and John Miley portraying Michael. I saw Bohl and Miley. They both appeared to be at ease on the large stage, mixing well with experienced performers.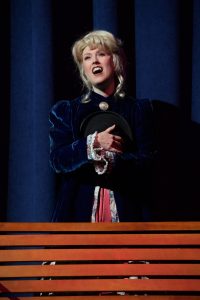 A well-designed and crafted set displays great detail of the buildings and park. Costumes and lighting are also excellent. Choreography is by Kate Vallee who excels with the chimney sweepers "Step in Time" and with everyone in incredible synchronization for "Supercalifragilisticexpialidocious" (twice!). Director Pat Payne has assembled a spirited cast of performers and has carefully used the talents of set designers, costumers, lighting and technicians. He appears to have figured out how to cast a magic spell on the entire show.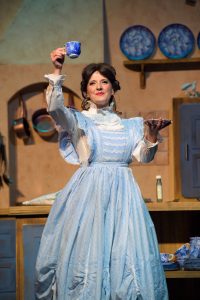 "Mary Poppins," as seen this season in Johnstown, has music and lyrics by Richard M. Sherman and his brother Robert B. Sherman, with additional music and lyrics by George Stiles and Anthony Drewe. Script is by Julian Fellowes. The musical is based on children's books by P. L. Travers and the 1964 Disney film, using various elements from both sources.
The original West End production opened in London in December of 2004, and subsequently transferred to Broadway two years later. It received numerous awards on both sides of the Atlantic and has been performed world-wide. The music has become classic Disney: "Practically Perfect," Jolly Holiday with Mary," "A Spoonful of Sugar," "Feed the Birds," Chim Chim Cherr-ee," "Step in Time," and the forever challenging "Supercalifragilisticexpialidocious." (Can you spell it backwards?)
Just like the nanny portrayed, the musical "Mary Poppins" is "practically perfect in every way'"
"Mary Poppins"
Where: Candlelight Dinner Playhouse
4747 Marketplace Drive, Johnstown, CO
When: To November 11, 2018
For Tickets: Box Office: 970/744-3747
Website: ColoradoCandlelight.com