Even Some "Thinking" Is Included In The High Hilarity
Reviewed by Tom Jones,
September 14, 2018
What are the chances? What are the chances that I'd decide to see a play this week, something I'd never heard of before, and something that did not pique my interest before sitting down in the theatre? What are the chances that I'd be thoroughly amused and idea-challenged in two hours of watching four characters tell their tales? What are the chances that the chocolate mints I purchased before the show would not melt in my pocket before the intermission?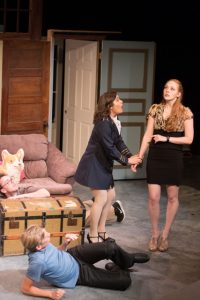 What "chances" is life all about? Do we have any input into who we are, where we are, and what we are doing at any one time? In the clever and thought-provoking "Mr. Perfect," an off-the-wall flight attendant makes her move on an unsuspecting, and unwilling passenger in mid-air in this daffy delight on the Bas Bleu stage this month.
Local playwright William Missouri Downs reportedly lives in a cabin somewhere near Fort Collins. How does he spend his time in the cabin? Is his world a whirlwind of thought, putting clever ideas into the mouths of characters he creates? And are we just "characters" in plays of our own, needing an itinerary for life's path?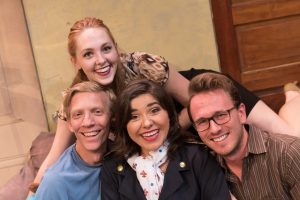 Brikai Cordova is a ditsy delight as Zooey, a stewardess (oops—an "airline attendant") who has created her own fantasy world, listening non-stop to romance novels on tape, receiving her joys and sadness completely from the books she listens to. She persuades Jeffrey, a passenger on her flight, to join her in the airplane bathroom, hoping to seduce him high over Ohio. In order to have any kind of romantic satisfaction, she needs to be wearing ear-phones, listening to her current romance novel, or have her conquest tell stories in the verbiage tense she requires.
Jeffery, wondrously played by Adam Verner, finds Zooey exciting to a point, then realizes that she has no life beyond what she hears on tape. He is more grounded, earning his living as narrator/reader of the romance tape novels that Zooey enjoys. Zooey is in no hurry with her amorous adventures, as long as she can be occupied listening to something on her ear-phones. She notes that she is in no hurry, commenting "When I make love, I like to listen to the '1812 Overture.' If that intimidates you, I've got 'The Minute Waltz.'" She is, however, a whiz at math, and can immediately compute the statistical odds of a couple's "chance encounter" not being more than a "chance."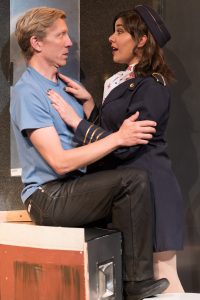 Cordova and Verner are beguilingly-talented performers. She with her wide eyes and perfect delivery, and he with his narrator-trained voice and perfect delivery.
Playwright Downs then introduces us to two other strangers on the planet who also meet my chance encounters: Ralph and Donna. Ralph is a student working on his thesis at Columbia University, masquerading as a religious parishioner to gain statistics for his thesis. Donna is a published author, a self proclaimed authority on human relationships. She turns out to be someone who might be human, but doesn't have a clue about relationships. Graeme Schulz and Dominique Mickelson are both convincing as Ralph and Donna, whose lives intersect with the stewardess (oops – airline attendant) and her voice-over book narrator.
The four are just about as unique as can be imagined. Playwright Down's mind is on a trajectory to somewhere in the universe to have four people so uniquely different meet up "by chance" to provide two hours of non-stop fun in "Mr. Perfect." He is a highly-respected playwright and director. His plays have received several honors and have been produced widely in the United States as well as in Spain, Canada, South Africa, Russia, Singapore, Switzerland, Austria, India, and South Korea. His words travel well.
By play's conclusion, there is no "truth" or "error." There is, however, the chance of enjoying a great experience, exploring the minds of four persons. They could be any of us, trying to determine our own fact and fantasy, and living out our own itinerary. What are the chances?
"Mr. Perfect"
Where: Bas Bleu Theatre Company
401 Pine Street, Fort Collins, CO 80524
When: To September 30, 2018
For Information: Telephone 970/498-8949