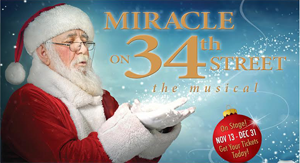 "Miracle on 34th Street" is Reminder that Christmas is Nearly Here!
By Tom Jones
November 16, 2014
With the arrival of Macy's televised Thanksgiving Day Parade, can Christmas be far behind? The famous Parade is front and center at the beginning of "Miracle on 34th Street" on the stage at the Candlelight Dinner Playhouse in Johnstown through December 31. The curtains open to a terrifically appealing view of the front of Macy's Department Store on 34th Street in New York City. The created mood is delightful – parade lovers looking skyward at the large balloons, the clown-costumed technicians doing their best to hold onto the ropes of the balloons. Even the high=-kicking Rockettes from Radio City Music Hall are there!

It is immediately apparent that the audience is going to be treated to a delightful visual feast! The parade's Santa Claus shows up, thoroughly intoxicated – and the search for a replacement is immediate. The story revolves around a skeptical little girl, Susan Walker, who has been taught by her Macy-employed mother that there is no Santa Claus. When the mother hires Kris Kringle to replace the drunk Santa, the plot thickens!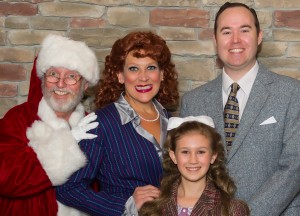 "Miracle on 34th Street" has gone through several incarnations. It was a popular holiday film in 1947 and turned up on Broadway as a musical in 1963, known as "Here's Love." The Candlelight production is based on the original story, and retains the original name, and includes the music and lyrics Meredith Willson provided for "Here's Love." Willson became a household name in 1957 when the terrific "The Music Man" began to enchant audiences. Three years later he scored another triumph with "The Unsinkable Molly Brown." Three years after "Molly" his "Here's Love" opened at the Shubert Theatre in New York, running for nearly 350 performances. Whereas "The Music Man" contains some of Broadway's best-loved songs, the magic was slightly less in "The Unsinkable Molly Brown." Much of his creative spark is missing in "Here's Love."
Some of the music is familiar. "It's Beginning to Look a Lot Like Christmas" is always fun, and "That Man Over There is Santa Claus," while not well known, is a true delight! It appears late in the second act, and adds some zip to the show which tends to become lost with too much dialogue!
Kris Kringle is played by Tom Mullin. Mullin has substantial experience, but is not yet well known to local audiences. He is especially endearing as the mild-mannered Kringle, wanting everyone to enjoy the Christmas season. The role of the young Susan Walker is double-cast, with Becca Hyde appearing in some performances and Lexi Woolridge in others. I saw Becca Hyde. She is excellent! She sings, she dances, and I could understand every word she said! Her mother in the show, Doris Walker, is played by Annie Dwyer. Fred Gaily, a new neighbor of the Walkers, has returned from military service, and is eager to become friends with the mother and daughter. Scotty Shaffer is well known to local audiences, and continues his string of excellent portrayals as the well-meaning neighbor.
The cast is large, with several persons playing more than one role. Particularly good are Thomas Castro, Stephen Charles Turner, Marlin May, and Jack Barton. Jon Tyler Heath and Michelle Sergeeff are impressive as lead dancers in a First Act mini-ballet featuring music from several Christmas carols. The orchestra, conducted by Angela Steiner, includes Ron Pflug, Joyce Shambaugh, Joe Chisholm, Tirling Bowlick, Ryan McGavin, and John Houston Head.
The production is directed by Patrick Sawyer. Angela Steiner is music director. Michelle Sergeeff provides the excellent choreography. Jeremy Girard's work as sound designer and engineer is also excellent. As noted earlier, the set is wonderful, utilizing the skills of Tyler Clark, Casey Kearns and Dustin Harltey.
The show is designed to look like a huge Christmas gift to theatergoers in Northern Colorado. It looks terrific, and is hampered only by a less-than-wonderful script and some somewhat-bland songs.
The enthusiastic cast brings life to the show, with the setting reminding us that it truly is "Beginning to Look at Lot Like Christmas!"
"Miracle on 34th Street"
Where: Candlelight Dinner Playhouse, 4747 Marketplace Drive, Johnstown, CO 80534
When: Thursday, Friday, Saturday evenings, with some Sunday Matinees, to December 31
Cost: From $52.50 to $59.50 for adults (including meal), depending on date and time of performance. Costs are less for students and children, and for those wishing only the show – no meal.
Information:
Box Office: 970/744-3747
Website: coloradocandlelight.com