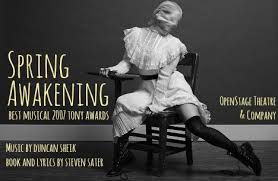 "Spring Awakening" is Harrowing Look at Pubescent Teens' Search for Understanding!
Reviewed by Tom Jones
November 15, 2014
Wendla is a teenager in a provincial German town in the late 1800s. She realizes that her body is going through some changes, but has no idea what they might mean! Nicole Olson is very good as the anxious young teen who goes to her mother for help. The austere mother refuses to give her daughter any guidance about the sexual awakening her daughter is facing – throwing her to the mercy of her young friends, many as confused as Wendla!
"Spring Awakening" produced by OpenStage in the Magnolia Theater of Lincoln Center is a harrowing look at the situation many teenagers face as they reach puberty – in the Victorian Germany or in present day-America. The original play, written by Frank Wedekind in 1891, was considered a scandal for its time, and was not produced on stage until several years later. The musical adaptation arrived on the Broadway scene in 2007 and received several Tony Awards that year, including being named Best Musical.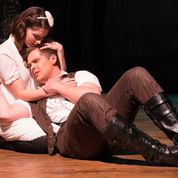 This is not a happy show, but an interesting study of youth at the doors of becoming adults. Music as by Duncan Sheik, with book and lyrics by Steven Sater. It is sometimes confusing to adjust to the angst-ridden teenagers suddenly pulling microphones from their pockets to blast out rock anthems! The music has received awards, but does not always easily bridge the gap from Victorian Germany to today. The first song, however, is a triumph. "Mama Who Bore Me" is the pleadings of Wendla to her mother.
The set is impressive, used as a church, a school, and homes! Set and lighting is by Brandon Ingold, . Lighting is effective, and the choreography (by Teri English and Sarah Wilhelm) is excellent. These are not "dance your heart out" numbers that we've seen in shows such as "Seven Bridges for Seven Brothers," but brief pieces of boys walking in lock-step to the demands of the hostile school master, or girls hopefully-enjoying brief interludes of careless joy!
Story revolves around Wendla and two of her friends Melchior and Moritz. Melchior appears to "have it all." He is handsome, bright, and his friends look to him for advice and wisdom. Ryan Miller is a convincing Melchior. His friend, Moritz, is played by Ben Hilzer, also very believable. He is the local rebel, who can't seem to get his life together, and is about to be expelled from school for not achieving desired test scores.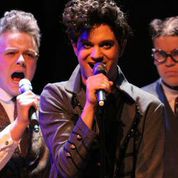 Their nucleus of friends include girls portrayed by Aanya Quillen, Margot Girerd-Barclay, and Gabriella Cuebas. The young boys include Kyle Moffitt, Will Ferrie, Karl Perry and Sam Otter. Another girl, who is featured later in the story, is Ilse, played by Haleigh Paige Gavaldon. She is excellent and her wonderful voice offers some of the show's more tender moments!
Debbie Swan and Dan Tschirhart portray all of the adults. Interestingly, they portray each adult in about the same fashion – the austere mothers, the strict headmaster, the hostile fathers, etc! They are a basically unlikable group of adults that the children are forced to look up to as role models or hide from in fear of the elder's demands and insensitivity. Swan and Tschirhart are excellent as the adults we want to hate!
None of the principal characters find happiness, as tragedy awaits all three of them individually!.
Direction is by Candice M. Ingold, with music direction by Matthew Rothstein and vocal direction by Katie Rothstein. Whereas some individual songs were not always on key, the vocal ensemble music was excellent. The talented band, under direction of Matt Brown includes Brian Kittrell, Patrick Weseman, Jayme Cole, Michelle Sieck, and Crystal Pelham.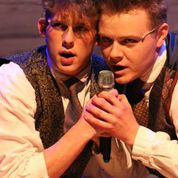 I was uncomfortable in much of the show, with the simulated sex scenes, and realizing there was not going to be a happy ending. The production has haunted me, however, with its interesting portrayal of youthful sexual anxiety. I was also interested to see how many young persons were in the audience. The show struck a chord of interest for many youth, who were obviously thrilled with what they saw on the stage of the Magnolia Theater.
"Spring Awakening"
Where: OpenStage, at Magnolia Theater of The Lincoln Center, 417 West Magnolia Street, Fort Collins.
When: To November 29, 2014. Fridays and Saturdays at 8:00 p.m., Sundays Matinees November 16 and 23, at 2:30 p.m.
For Tickets: 970/221-6730, lctix.com.
For more information: visit Openstage.com