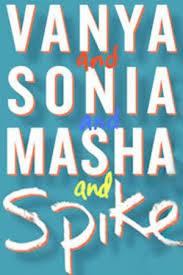 Terrific Comedy looks at a Chekhov-like dysfunctional family in Bucks County, PA
By Tom Jones, October 17, 2014
"Vanya and Sonia and Masha and Spike" at Ricketson Theatre, DCPA
Vanya and his adopted sister, Sonia, are getting on each other's nerves. Their "day" consists of a morning coffee, watching for the heron on the pond outside their window, and … not much else. They have lived singular lives in this routine of nothingness for several years – ever since the parents they were taking care of died. They might actually like to do something with their lives, but just can't get around to it. The spark in their existence is the housekeeper, Cassandra, who drops in once a week, claiming she can foresee the future – and it doesn't look good!

Sam Gregory is Vanya and Amelia White is Sonia. The crazed Cassandra is played by Socorro Santiago. They are excellent! Vanya has been secretly writing a play. Sonia is dull as a door-mouse, lacking self confidence, and needing something to prod her along. Cassandra is a crazed delight, bringing some activity into the boring house.
Thus is the introduction to three of the characters in Christoper Durang's delightful and insightful, "Vanya and Sonia and Misha and Spike" on the Ricketson Stage of the Denver Center for the Performing Arts. The play has received scads of honors, including the 2013 Broadway Tony Award for for Best Play!
The initial trio are but half of the terrific cast in this comedy with shades of Chekhov's Uncle Vanya, Three Sisters, and "The Cherry Orchard" all rolled into one evening of high hilarity and somber wisdom! Into the home sweeps their sister, Masha, a narcissistic actress whose career may be running out of steam. She has been through five husbands, and currently has a boy-toy in tow, a hunky dimwit who aspires to become a famous star. Kathleen McCall is spellbinding as the over-the-top Masha and Eddie Lopez is a hoot as the young man whose current activity is keeping Masha sexually charged. Added to the mix is Nina, delightfully played by Lesley Shires. Nina is a young neighbor of Vanya and Sonia –. a wonderful innocent, enthralled by meeting Sonia, the celebrity; somewhat bemused by the daffy Spike, and openly interested in the aging Vanya who has written a play he'd like Nina to read.
Jenn Thompson has directed this wonderful ensemble cast – giving each a chance to shine as well as to support others as the tale progresses.
Masha and her young bimbo arrive at the home for a visit and to attend a neighborhood costume party where Masha hopes she might meet someone who can help her career. She is a self centered snob who believes the entire world revolves around her. She has assigned costumes for her siblings to wear to the party. She, of course, will be the "star" as Snow White, with the others as her dwarfs! Sonia does have the gumption to refuse to be a dwarf and finds enormous self-confidence by outshining Masha at the party – going as Maggie Smith enroute to the Academy Awards. Getting the household ready for the party is just one of the show's many crazy highlights!
While bossing everyone around with costume instructions Masha just happens to mention the real reason for her visit is to put the home up for sale. She has been paying all costs for upkeep of the house ever since her parents died, and is about to possibly throw Vanya and Sonia on the street. The housekeeper Cassandra has foreseen all of this and does everything in her power to foil Masha's plan.
The set is especially terrific. Looks like a substantial home where everyone has potential of being happy and secure – if only they could find something meaningful to do with their lives!
A visit with Vanya and Sonia and Masha and Spike is a visit to be long remembered with great affection! This is enormous fun with some thought-provoking ideas about where America's social conscience is going! A super show!
"Vanya and Sonia and Masha and Spike"
Ricketson Theatre, Denver Center of the Performing Arts
Through November 16, 2014
Tickets: 303/893-4100
denvercenter.org
800/641-1222, TTY 303/893-9582