Wendy Ishii In Peak Form In Award Winning Drama
Reviewed by Tom Jones
October 20, 2019
Times they are a changing! Or are they? Playwright Alfred Uhry received the Pulitzer Prize for Drama in 1988 for "Driving Miss Daisy, "dealing with the relationship between an elderly Jewish widow and her black chauffeur. Uhry's semi-biographical play begins in Atlanta, Georgia in 1948 and is based on the later years of Uhry's grandmother, Daisy.
Uhry's memory tale looks at the complexity of relationships in the Atlanta of 1948 immediately following World War II.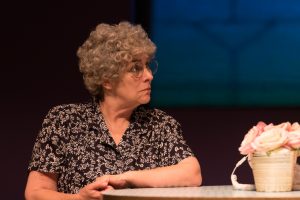 Wendy Ishii is stunning as the very independent Daisy Werthan. She is depicted as a somewhat "older lady," at 72
Ishii's "Daisy" is a highly independent woman of means who wants to remain highly independent, and doesn't want anyone to know anything about her "means." As the play opens, she has just wrecked another car, and is being told by her adult businessman son, Boolie Werthan, that she can no longer drive. He is eager to hire an African-American, Hoke Coleburn, to take his mother to the grocery store, to church, etc. Daisy will have none of that. Hoke turns up at Daisy's home with instructions to take her wherever she wants to go. He just sits in the kitchen for several days waiting for the signal to drive – a request that is slow in coming.
"Time" does have a good effect on the situation, as Daisy finally accepts the reality that she is to be driven around. In slightly more than 90 minutes (with no Intermission,) Uhry's Daisy Werthan and Hoke Coleburn create an enlightening, and thought provoking relationship.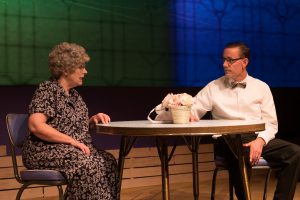 Ishii is at her best. The transition she makes in the 15 years covered by the story shows great empathy, along with incredible acting skills. When the audience met the actors in the lobby following the performance, I was extremely relieved to find a youthful Ishii. The brightness returned to her eyes, and so did her naturally healthy and happy demeanor. Towards the conclusion of the play, Daisy's mind has become trapped in her ageing body, and she is barely able to move her twitching arm. Ishii did comment that the portrayal is substantially more work than she realized it would be when she decided to take the role.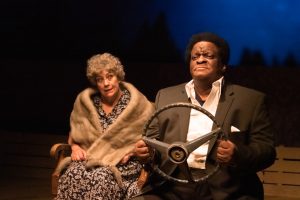 Herman Gabin Gaddy portrays Hoke. He has a remarkable theatrical background. He has produced radio programs, danced in musicals, sung, acted, or assisted with direction of dramas, comedies, operas as well as starring in a one-man show on Broadway. He is a force to be reckoned with and is a welcome addition to the Bas Bleu stage.
Kristopher Erickson plays Daisy's son, Boolie. He is new to Bas Bleu audiences. He is very good, comfortable on stage, and convincing as Daisy's successful son trying to find his own way in the Atlanta business and social scene of 1948.
The stage set is very good, including a revolving stage that takes Daisy and Hoke out driving. Jeffrey Bigger has directed the show with great care. He has kept the original tone of the thoughtful play while providing the audience with a great history lesson.
The original Off-Broadway production premiered in 1987 and was an enormous success. It was a highly respected movie in 1989.
Have compassion, understanding, appreciation, and acceptance of others changed since Uhry's grandmother lived in Atlanta in the 1940s? I'd like to say, "But of course they have." Seeing "Driving Miss Daisy," however, is troublesome. Perhaps society has not made the great strides we'd like to think we've made. Many more friendships like that of Daisy and Hoke might be the answer
"Driving Miss Daisy"
Where: Bas Bleu Theatre, 401 Pine Street, Fort Collins, CO 80524
When: To October 20, 2019
Information: basbleu.org, or call 970/498-8949