Larry Cahn – Much More To This Scrooge Than The "Bah Humbug" Meany Of Productions Past.
Reviewed by Tom Jones
November 23, 2019
Arvada Center's early-holiday gift to the community is a rare treasure.
Everyone knows the story. Everyone knows how it is going to end. But getting there this time around is ingenious entertainment. Director Gavin Mayer and Choreographer Kitty Skillman Hilsabeck and the entire artistic team have put together a "Carol" version of rare excitement. There is so much going on all the time that it was a delightful challenge to know where to look.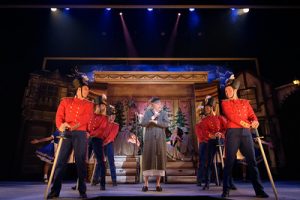 Larry's Cahn's portrayal of the miserly Scrooge provides the legendary grump with a touch of humanity. Yes, he is frightened by the visit of the three ghosts, but realizes that he does have the power to modify his situation. Cahn is a performer to be reckoned with. He is excellent in every respect. His voice is a marvel. By show's end the audience wants to stand up and cheer when Scrooge figures what makes life meaningful. He understands that basic kindness and caring might be more important than wealth. What a lesson!
Charles Dickens wrote his novella "A Christmas Carol" in 1843. It has surfaced in hundreds of productions with various interpretations over the years. The delight currently on stage in Arvada is the musical that was presented annually in New York City's Madison Square Garden for several years. Music is by Alan Menken, with lyrics by Lynn Ahrens. Book is by Mike Ockrent and Lynn Ahrens.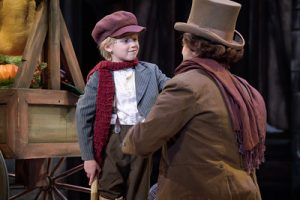 I have seen many versions of the Scrooge tale, including the beautiful offering by the Denver Center for the Performing Arts. I have never, however, found the experience to be as rewarding and ultimately joyous as that on the Arvada Stage this season. Director Gavin Mayer has used his "Midas Touch" in providing another charmer to his repertoire. The total endeavor is flawless. The set is a beautiful. The music first-rate. Kitty Skillman Hilsabeck's choreography is brilliant, including impeccable precision to wind-up marching soldiers.
There is never a dull moment. Scrooge is continuing his Groundhog Day experience of recurring dreams. There are delightful, special effects, nearly a "Where's Waldo" wonder of trying to see everything. It is as exciting as a circus, and the impeccable timing and syncopation are first rate. At its root, the Scrooge story is a somber tale with an important message. This version provides that, but includes great excitement, warmth and humor. The result is impressive.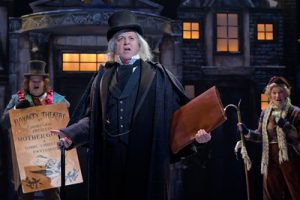 Dickens's famous characters are all alive and well. Ebenezer Scrooge (played by Cahn) is as cantankerous as ever as he is confronted in a nightmare by his former partner, Jacob Marley, portrayed in chains by Wayne Kennedy. The kindly but poor employee Bob Cratchit is convincingly portrayed by Aaron Vega. Scrooge's warm-hearted nephew comes to life by Joe Callahan. The three visiting ghosts are in rare form. Megan Van De Hey is having a romp as the Ghost of Christmas Past. Zayas Da Camara looms as the warm-hearted Ghost of Christmas Present. Kitty Skillman Hilsabeck is nothing short of incredible as the diminutive, frightful Ghost of Christmas Future who takes to the sky while taunting the frightened Scrooge. The young performer Kieran O'Brien is very well cast as the poignant Tiny Tim.
The music is much more interesting than I had anticipated, with several excellent songs and dances. The total impact is highly interesting. I began to imagine what I might learn if ghosts of my past, my present, and my future may paid me visits. How would I react, and what might I do to change.
Director Mayer has spelled out the options Scrooge faces, resulting in an unusually beguiling tale.
There was a sincere and warm standing ovation opening night. I can only imagine that once word of mouth gets around, there won't even be "room to stand" as the show nears its final run. Enough adjectives. Maybe. But if I give it more thought, even more might surface. This musical "A Christmas Carol" is just plain wonderful!
"A Christmas Carol, The Musical"
Where: Arvada Center for the Arts and Humanities
6901 Wadsworth Boulevard, Arvada, CO 80003
When: To December 22, 2019
Information: Box Office 720/898-7200
Online: www.arvadacenter.org