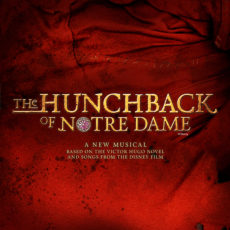 Hugo's Classic Story Is Set To Music At The Candlelight Dinner Playhouse
Reviewed by Tom Jones
September 6, 2019
That famed Parisian landmark was in the news recently, as Notre Dame suffered serious fire damage and is currently closed for repairs. The Victor Hugo' famed cathedral story has remained intact, and is now glowing on the Candlelight Dinner Playhouse stage, with a very impressive fire scene of its own.

Dinner theatre has reached new heights with this masterwork production. The set is remarkable, the choral work outstanding, the performers in great shape. This is not the standard for-the-children Walt Disney musical. It is virtually a tragic opera with themes of goodness and evil, haves and have-nots, and accepting others "not like us!"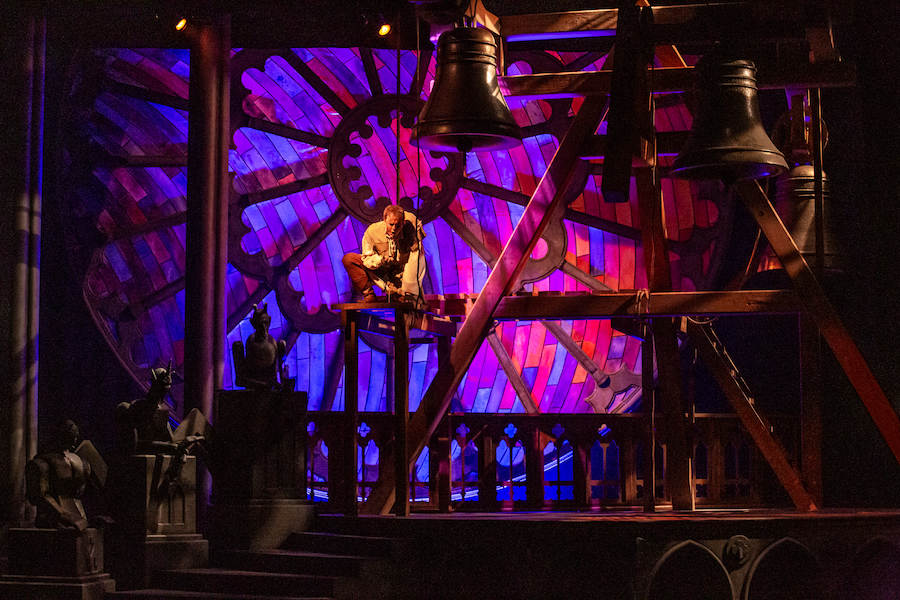 Victor Hugo wrote "The Hunchback of Notre Dame" nearly 200 years ago. The story has been presented in 13 films, five television productions, five non-musical dramas, eight musicals, six operas, five ballets and even a video game. The current production's printed program notes: "This universal story of unrequited love and a yearning for acceptance resonates as powerfully today as it did when Hugo created it."

Two brothers have become estranged. One has gone far away from his Catholic upbringing, has become involved with a gypsy who gives birth to a hopelessly deformed child. When both parents die, the unfortunate child in left in the care of his uncle, Dom Claude Frollo, archdeacon of the Notre Dame Cathedral.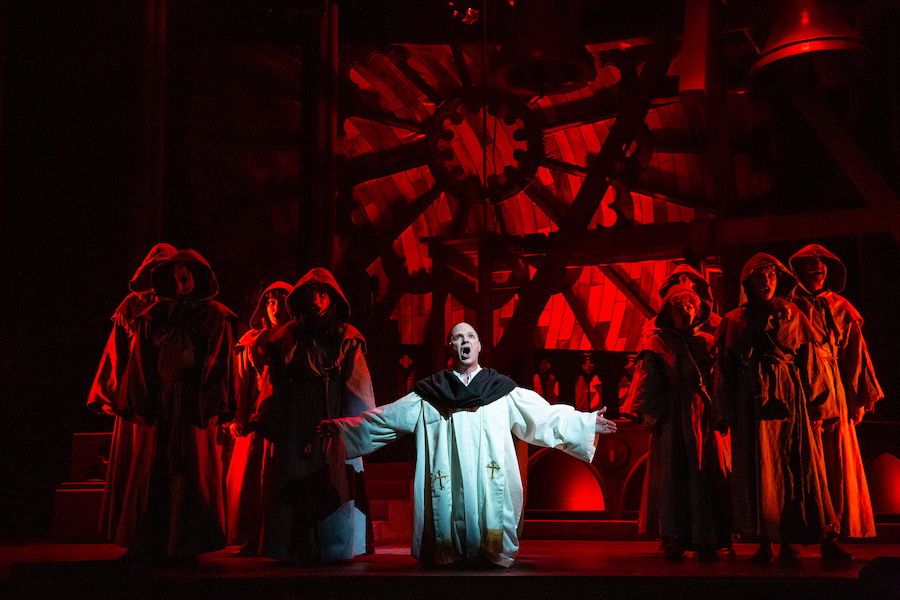 Frollo has named the child, Quasimodo, and has kept him a virtual prisoner as the bell ringer in the tower of Notre Dame. Quasimodo knows only what the somewhat deranged Frollo wants him to know. His only "contacts" are with the stone statues in the cathedral, with whom he converses on a regular basis. He can see humanity far below him on the streets of Paris but is never permitted to leave his cathedral sanctuary.

His life changes dramatically at the annual "Festival of the Fools," when the city is "open" to the dangers of gypsies, the antics of free-roaming animals, and all manner of foolish mayhem permitted for the specific days of the Festival. Quasimodo ventures outside the cathedral, is harassed because of his deformity, but defended by a beautiful outcast gypsy, Esmeralda.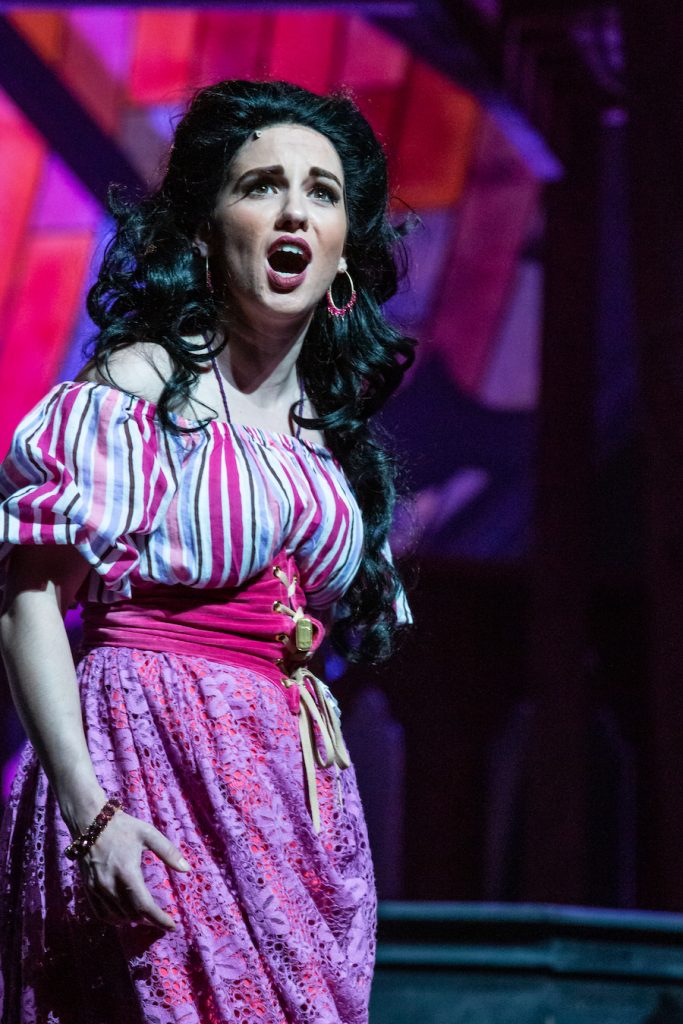 What ensues is sheer drama as three stars in the show (Quasimodo, Frollo and Captain of the Guard Phoebus) want Esmeralda as their own. This is not theatrical comedy, but a serious test of wills, friendship, and longings to belong. I have not seen the Walt Disney movie musical, but understand that this stage version is somewhat darker, as it does not end up with an "everyone-is-happy" conclusion. The Disney movie, although pegged for a more-adult audience, went on to receive enormous financial success and critical acclaim. This live production includes songs from the Disney film, as well as new music. Music is very good and is interestingly mood-setting.

Ethan Knowles as Quasimodo, Sarah Grover as Esmeralda, Scott Hurts, Jr. as Phoebus, and Scotty Shaffer as Clopin are all very good and with excellent voices. David L. Wygant, however, is so very evil that he nearly "steals" the show as Dom Claude Frollo.

Director Richard Cowden comes to Candlelight with long list of successful shows — more than 50 productions over a 25-year-career. Music Director Phil Forman has enjoyed great success with Candlelight and other venues worldwide. Excellent choreography is provided by Heather McClain, and the remarkable set is the work of Ranae Selmeyer, Dave MacEachen, and Joel Adam Chavez, with bells designed and built by the The Stampede Troupe.

This musical stage version was first produced in Germany in 2014, and has not yet appeared on Broadway

With all my enthusiasm for the excellence of the production, there remains something unsettling about it. There is a bit too much obvious "drama!" At the conclusion of the first act, everyone is searching for Esmeralda who seems to have disappeared. It became somewhat farcical. I wanted to run to the lobby, to the outside parking lot, and even to the gentlemen's restroom to see if I could "find" Esmeralda.

Despite the sometimes overly-dramatic obvious clichés there is so much to be enjoyed. Director Cowden notes, "This classic source material is as relevant to us today as it was when published 1831. It contains profound messages of tolerance, morality, and what it truly means to be human."

The creative team has worked wonders. The powerful voices are remarkable. The liturgical choral work, some sung in Latin, is especially rewarding. The show currently at Candlelight is a masterwork of sight and sound. Opening Night audience awarded the company an unusually-enthusiastic standing ovation.

"The Hunchback of Notre Dame"
Where: Candlelight Dinner Playhouse
4747 Marketplace Drive, Johnstown, CO
When: To November 17, 2019
Box Office: 970/744-3747
Online: coloradocandlelight.com