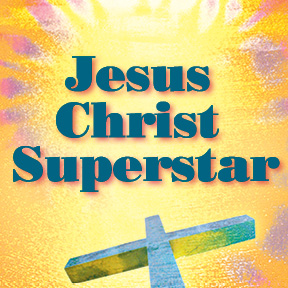 Familiar Show Has Never Sounded or Looked Better!
Reviewed by Tom Jones
March 25, 2017
From the moment the audience sees the incredible set, until the story concludes, there is a reverent awe with the never-better production of "Jesus Christ Superstar." Director Rod A. Lansberry has outdone himself with this brilliant show.
Release of a single song, "Superstar," in 1969 encouraged composer Andrew Lloyd Webber and lyricist Tim Rice to expand their work to a 1970 rock concert concept album which had an immediate following. The album ultimately resulted in a full-scale production of "Jesus Christ Superstar" opening on Broadway in October of 1971. The original Broadway show and subsequent productions met with enormous fan support, but were rejected by some religious groups. I saw the original New York production and was alarmed. My memory of that introduction is hazy, with my recalling that it was primarily "loud screeching." What must I have been seeing? A few years ago, composer Webber appeared to agree with me noting that the original New York production was "a vulgar travesty" and opening night was "probably the worst night of my life."
Subsequent productions have been met with much greater favor. My memories of the Broadway production, and even my enjoying of the 1973 movie had not adequately prepared me for the marvel now on stage at the Arvada Center. There is not a flaw to be found. Based on the last seven days of Jesus' life as told in Bishop Fulton J. Sheen's book, "Life of Christ," "Superstar" begins its journey with Jesus shown preaching and miraculously healing his followers. The musical score is pulsating, with wonderful rock music combined with lilting melodies. There is no spoken dialogue. Who is this man, Jesus, and what is he up to? The local religious leaders are distressed. The Roman Government officials are distressed. What should be done with this man? His following is becoming too large and important. Everyone in the area is talking about him, with "What's the buzz. Tell me what's happening!"
Jesus is portrayed with great simplicity and conviction by Billy Lewis, Jr. He is a loving and gentle Jesus with his disciples but firm with the money changers in the temple. His voice echoes his calmness, raising to great heights and forceful when angered. Lewis is a wonder. Giving Jesus cause for concern, however, is one of his disciples, Judas, portrayed by Matt LaFontaine. LaFontaine provides a brilliance of his own, torn between loyalty and a chance at fame. He is known to local audiences including a recent triumph as Che in Candlelight's "Evita." Breaking up the tension is Jenna Bainbridge as Mary Magdalene, whose lilting and comforting voice could have everyone believing that "Everything's Alright."
Stephen Day's voice has impressive range as the commanding Caiaphas. He towers above the opposition leaders and is not to be reckoned with. Also excellent are Joe Callahan as Annas, Markus Warren as Pilate, and Wayne Kennedy as Herod. Kennedy provides the show-stopping comic-but-thoughtful relief as an over-the-top leader gleefully demanding Jesus to perform miracles for him.
As the story progresses Jesus' future looks more and more difficult, and the mood becomes increasingly somber. The local religious leaders don't want Jesus around, but send him off to the Romans who want to wash their hands of anything that may transpire. Jesus is ultimately condemned to die by crucifixion.
Late in Act Two, the sorrowful Mary Magdalene, and the horrified disciple Peter are trying to put everything into perspective with the soulful "Could We Start Again Please." They can't stop what is about to transpire, and the lashing and crucifixion are remarkably portrayed, leaving the audience in stunned silence as the cross is raised, holding the dying Jesus.
Musical Director is David Nehls. Choreographer Kitty Skillman Hilsabeck keeps movement on the stage looking completely effortless. Scenic Design is by Brian Mallgrave, with Lighting by Shannon McKinney. Sound Design is by David Thomas, with Costumes by Clare Henkel. The entire staff led by Director Lansberry has succeeded in bringing life, beauty, and ultimately amazement to the Arvada Stage with a miracle of its own — "Jesus Christ Superstar."
"Jesus Christ Superstar"
Where: Arvada Center for the Arts and Humanities.
6901 Wadsworth Boulevard, Arvada, CO 80003-9985
When: Through April 16, 2017
Tickets: 720/898-7200
For more information: Arvadacenter.org