Felicity Slade and Tyler Grasmick Shine in Windsor High School Production
Reviewed by Tom Jones
May 4, 2019
Beware, that smooth talking salesman, Harold Hill, is back in town. His reputation as a less-than-honest salesman precedes him, as he arrives in River City, Iowa, with a new gimmick. This season he is selling band instruments AND uniforms to naïve townspeople, eager to give their youngsters something to do while out of school.

The tale takes place over a hundred years ago – July of 1912. Citizens of Iowa were known to be stand-offish, and one lyric notes —
"And we're so by God stubborn
We can stand touchin' noses
For a week at a time and
Never see eye-to-eye.
(But you) ought to give Iowa a try!"
Harold Hill has a good salesman's eye to see how he can get rich quick in each town he visits. This time he learns that a pool table has appeared as a public diversion, and is quick to alert the townspeople that there is "Trouble" in River City. His suggested remedy is to keep the young men away from the "dangerous" pool hall after school. He wants to provide them with musical instruments and uniforms, all marching to the excitement of "76 Trombones."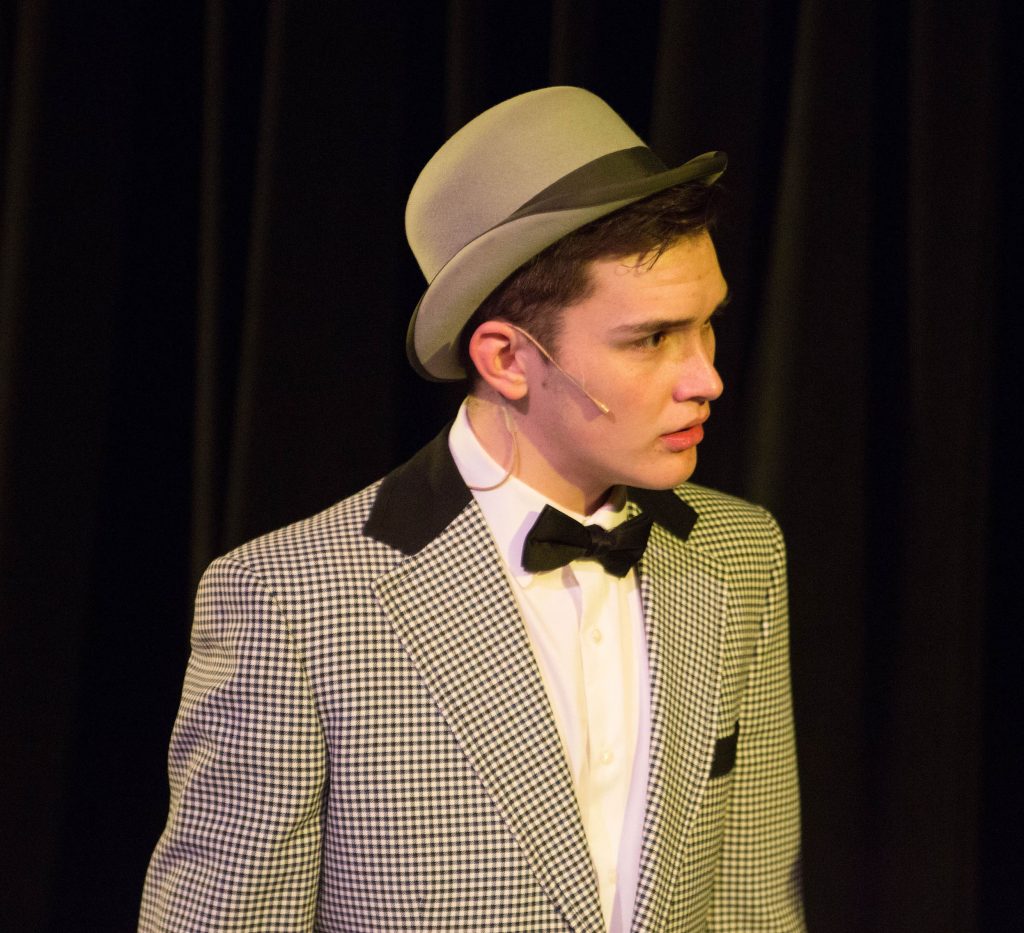 Windsor's Tyler Grasmick holds the River City townspeople (and the Windsor audience) in the palm of his hand as Harold Hill, weaving his magic. One skeptic citizen is the not-yet-married town librarian, Marian Paroo. She has set herself up as being intellectually ahead of everyone in the town. After all, she is well read. When town philanthropist Madison died, he left River City the library, but he left all the books to her.

Felicity Slade casts her own magic spell as Marian. She has a wondrous voice, and acting skills to match. Harold Hill might have just found his opposite match with the clever Marian.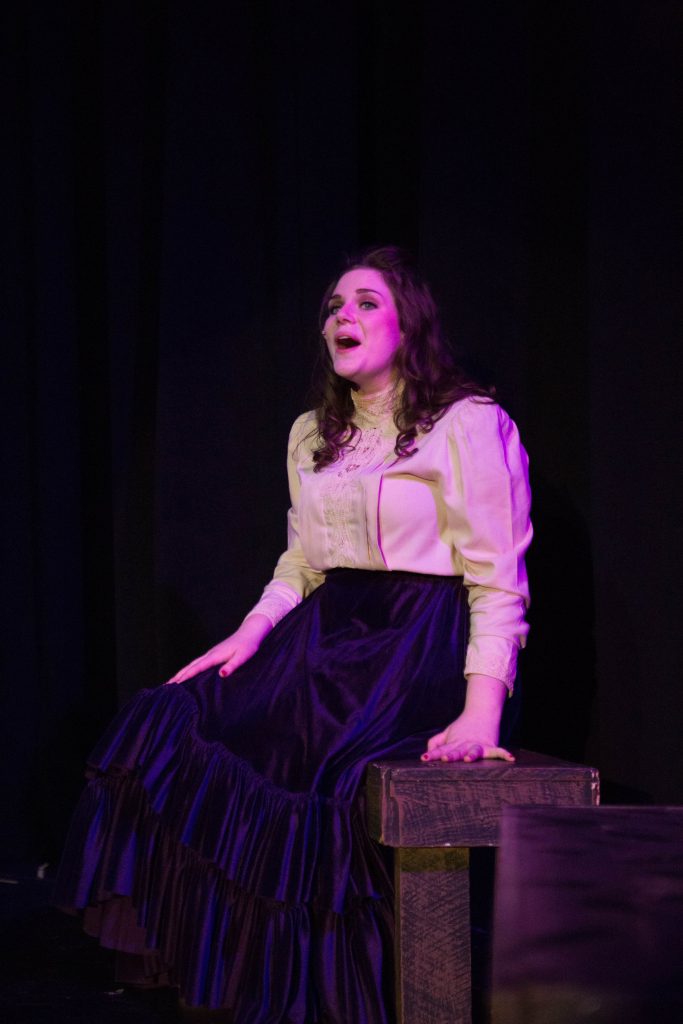 What ensues are slightly more than two hours of absolute joy. The show has been around a long time – premiering in New York in 1957, turning up as movie in 1962 and subsequently surfacing worldwide.

Meredith Wilson wrote the music and lyrics for this award-wining wonder. The tale holds up very well since its arrival on stages more than 50 years ago. In the current production nearly every song is a stand-out on its own, but several are nothing short of amazing. Amie Tyler's choreography is excellent, especially in the library sequence when Marian (the librarian) tries to keep Hill quiet and at bay. Then there is the delightful picnic "Shipoopi," and the town board quartet who Harold finds can sing together. even if they can't find harmony in anything else they do.

Grasmick and Slade as Harold Hill and Marian have especially wonderful scenes together, and on their own. Marion sings of her not-yet-found" My White Knight," and "Goodnight my Someone." Hill lights up the stage with "Trouble" and "76 Trombones." Near the show's conclusion the two make magic with a very romantic "Till There Was You."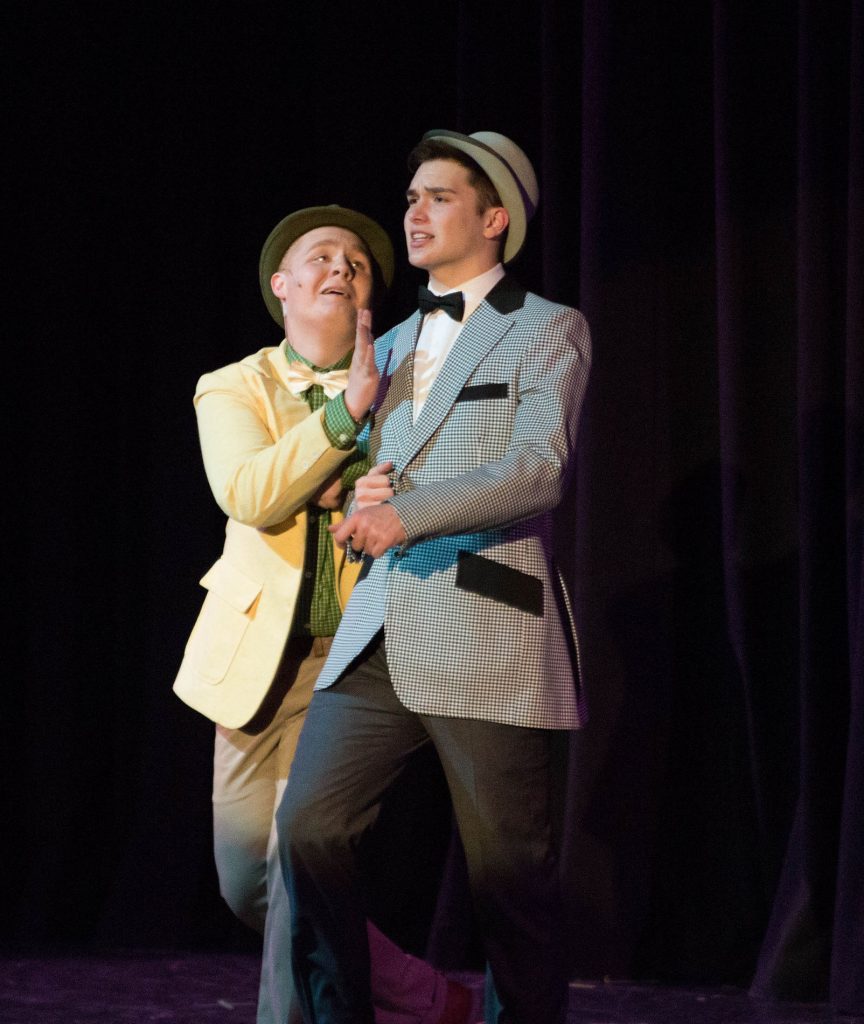 While Grasmick and Slade are the show's stars, they have excellent support from a very large cast. Some supporting cast members include Tiernan Cox as Winthrop Paroo, Tyler Cox as Tommy Djilas, Lillie Pooler as Mrs. Paroo, Christopher Wagnitz as Marcellus, Sydnee Glassier as Zaneeta Shinn, Jacob Naffziger as Mayor Shinn and the train conductor, and Alecia Marquardt as Eulalie McKechnie Shinn, over-the-top wife of the mayor.

There are five sets of siblings involved with the production, including Tiernan and Tyler Cox. Lillie Pooler (12th grade), plays Mrs. Paroo and her second-grade brother Ryan is among the town's kids. Jasmine Perry-Grice (11th grade) plays Alma Hix. Her sister, Jade, plays Amaryllis. Their mother, Jennifer Grice is the pit conductor. Logan Vienhage (11th grade) is part of the board member quarter, and his brother, Landon, is a props master. Twins Aidan and Ajay Lyons are a stagehand and sound board operator respectively.

The orchestra is excellent throughout. Director Julie Estrada has assembled an especially talented staff to bring the show to life. This is a difficult production, with a very large cast, wondrous costumes, and great technical support.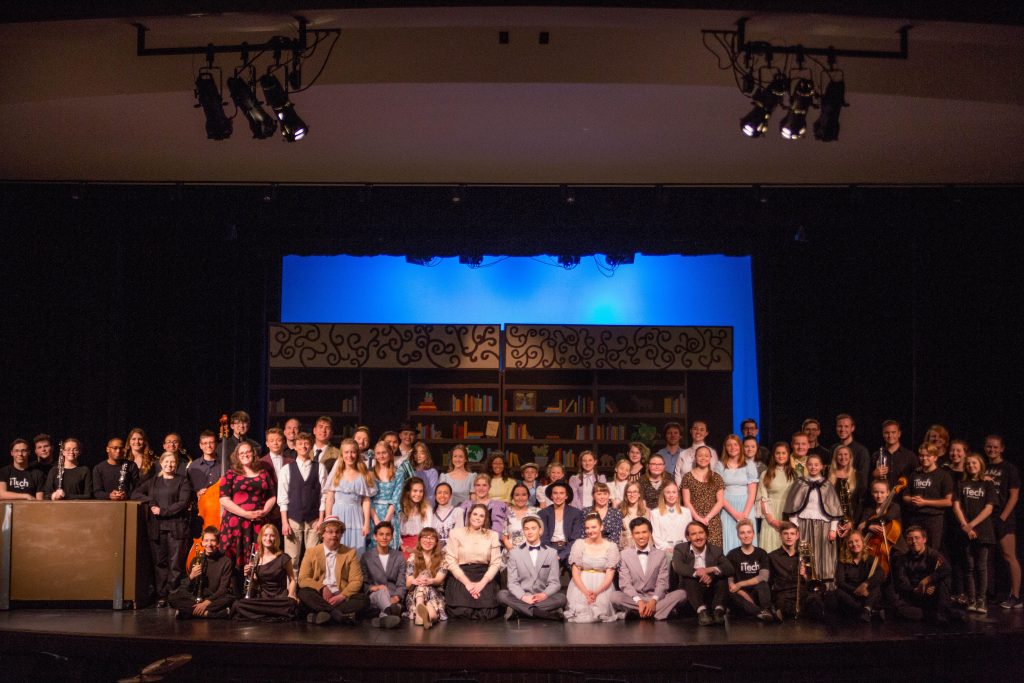 At show's end the standing ovation was not just the friends and families of the cast. It was as if the entire town was cheering for what might be a look at themselves as a town of loving and caring citizens. They were offering a great "thank you" for everyone involved in this production. Harold Hill came to town to conquer. He conquered, the town conquered, and the audience cheered.

"The Music Man"
Windsor High School, Windsor, CO
May 2nd, 3rd, and 4th, 2019