Neil Simon Comedy Arrives At Arvada Center's Black Box Theatre
Reviewed by Tom Jones
October 13, 2019
Neil Simon's "Plaza Suite" takes place in Number 719 of the famed Plaza Hotel in New York City. Three different couples inhabit the rooms during the course of a couple of hours in Simon's clever comedy now on stage in Arvada through November 10.
The couples, each played by the same actors, have nothing in common except being guests (at different times) in the same suite in the Plaza. The audience, however, gets to know all three couples with varying degrees of bemusement during the three-act production.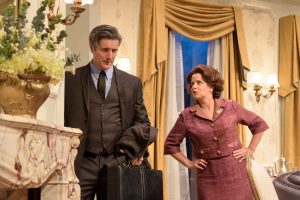 Kate Gleason and Gareth Saxe are in fine form as different characters in each act. Gleason is a favorite among Arvada audiences and Saxe makes an auspicious first appearance on the Arvada stage. Hopefully he will be back again and again to bewitch future audiences.
In Act One they are a couple (Karen and Sam Nash) from Mamaroneck who turn up in the Suite to celebrate their 23rd or 24th year of marriage – they aren't quite sure which, using the same room where they began their honeymoon. Or were they in room 819? They aren't sure. In reality they aren't so sure of much of anything. Their communication skills are non-existent. And there seems to be little interest in each other. Their home is being painted, and they turn up at the hotel as a refuge away from the odor of fresh paint, when it is their marriage that needs a fresh coat of something else.
Gleason and Saxe turn up in the suite on a spring day in Act Two. In this act they are Jesse Kiplinger and Muriel Tate who had a teenage romance in Tenafly, New Jersey, many years ago. They have gone their separate ways. He went on to Hollywood to gain fame, fortune, and self-loathing as a producer in Hollywood's hippie years. She stayed in Tenafly to mother two (or maybe three) children with a husband she claims she likes, but no one else does. It appears that she has done nothing with her life except keep track of Kiplinger's every move and marriages. He is in town for a few days and calls his girlfriend of long ago to join him at the Plaza, looking for an afternoon of passion. She turns up, ill at ease. She can find no reason to let Kiplinger become amorous unless he talks non-stop about his friendship with the Hollywood rich and famous.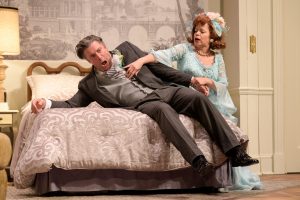 In Act Three Gleason and Saxe as Norma and Roy Hubley. They are at the Plaza for the wedding of their daughter, Mimsey. Mimsey has locked herself in the suite's bathroom, refusing to come out for the wedding. Her parents rant and rave, each blaming the other for not providing the parenting Mimsey evidently needed — resulting in her current situation. They claim to be worried about Mimsey, but are apparently angrier with each other than with their daughter. This scene is the most "fun" of the evening. It borders on farce, as the parents become more and more crazed with the refusal of their daughter to come out and get on with her wedding.
Acting is first rate. Kate Gleason's three women are all a tad ditsy, while Gareth Saxe's males run the gamut of misplaced libido, misplaced ego, and misplaced caring. The two stars are joined by J. C. Williams, Devon James, and Jihad Milhem in supporting roles.
The set is impressive, suggesting that anyone wishing to get away from it all in luxury needs only to head to the Plaza.
Playwright Neil Simon is regarded as one of the most successful playwrights in the world. Among his acclaimed successes are "Lost in Yonkers," "Barefoot in the Park" "The Odd Couple," "Sweet Charity," and a host of others. He has received virtually every award honoring writers, including the Tony Award and Pulitzer Prize.
Simon reportedly noted, "How sad and funny life is. I can't think of a humorous situation that does not involve some pain." Lynne Collins, director of the Arvada production notes that "Suite" has been one of her favorite Simon plays. Her direction is very good, as she keeps the laughter and pathos of Simon's writing intact. She lets the audience decide what is funny, and/or what is too close to reality to even smile about.
The audience was enthusiastic with its end-of-show ovation. The original production opened in New York in 1968 and received favorable reviews. A Broadway revival of it is set for March of 2020 starring a couple-in-real-life – Matthew Broderick and Sarah Jessica Parker.
"Plaza Suite"
Where: Arvada Center for the Arts and Humanities
6901 Wadsworth Boulevard, Arvada, CO 80003
When: To November 10, 2019
Information: Box Office 720/898-7200
www.arvadacenter.org