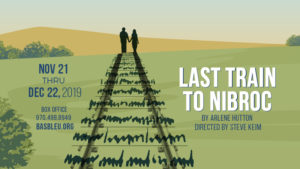 Bas Bleu Offers A Thoughtful Tale Of 1940s Americana
Reviewed by Tom Jones
December 8, 2019
In late December of 1940 a young man, Raleigh, and a young woman, May, meet on an overcrowded train heading east from Los Angeles. Although both are from rural Kentucky, they have never met before and are enroute to a lifetime of change. Raleigh is still wearing his uniform, after leaving the service just a few hours before boarding the train. He received a military discharge after having been diagnosed as an epileptic.
He is headed "east" – not certain just where he is going, but maybe New York, as he is wary about being accepted back home in Kentucky.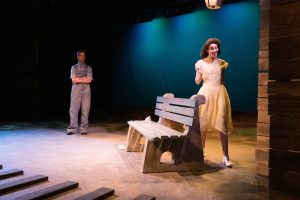 May has her own wariness. She had wanted to be a missionary, to help others, but ended up chasing a not-so-great boyfriend to California. Now she is returning home, concerned about how she might be received and wondering just what she should do with her life.
Also on the train, but tucked away safely in the baggage compartment, not saying a word, are the remains of two famous American writers (F. Scott Fitzgerald and Nathaneal West). They died within a day or two of each other and their remains are enroute east for burial. This is to be the final trip for the deceased writers who have provided the public with great observations of the America they chronicled. The two young people are just beginning their journey of life – in an era that will ultimately be unlike any other.
The train is overcrowded; and Raleigh is delighted to find a seat, when the place next to May becomes empty. He has been standing for most of the journey so far, and is exhausted. He is eager, however, to make some conversation with the attractive young woman. May is snippy. She appears to have no interest in speaking with Raleigh or anyone, as she is engrossed in a novel, and appears to care less about how tired Raleigh is, and has minimal interest about the famous authors sharing their train.
Playwright Arlene Hutton has created a uniquely interesting couple. They are strong but needy, and yet inquisitive creatures. They find themselves in this 95 minute convincingly beautiful piece of theatre. Hutton is from Kentucky and her plays include memories of people and events of her past. She has found success as an educator as well as a writer.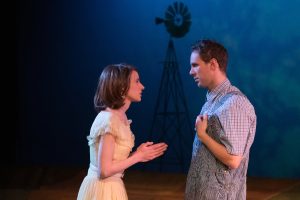 While the play begins on the train heading east, the audience subsequently looks at the changes faced by the young people from a change-resistant rural area. They are seen as if in a lengthy tribal mating dance, about to be buffeted by the war, and with enormous changes on the horizon. These changes are particularly unusual for the country's women.
The couple starts a conversation on a train and wind up finding lasting companionship with each other – for better or worse. By play's end, they have gained insight, wisdom, acceptance, and the realization that they truly can become what they want to be.
This is heartwarming stuff from a potentially health-damaged serviceman whose desire was to fly; and from a well-meaning woman wanting to soar providing help to others as a missionary. Will they fall in Love? Will they find happiness? Or will they become copies of the prejudiced families that produced them?
Steve Keim has directed a heartwarming vision of persons becoming secure enough in themselves to share their observations with others. This is a simple piece of theatre. Lovingly told, beautifully written, and acted with sincerity.
World War II is in the background of their lives. The stories written by Fitzgerald and West were to be replaced by others looking at life in the 40s – such as Ernest Hemingway, Ernie Pyle, James Michener, and maybe even that epileptic serviceman, Raleigh, and others like him.
A production of the show earned a rave review in the Chicago Tribune a few seasons ago. Critic Chris Jones (no relation) commented that the play "is the surprise, a don't miss of summer." I don't share his adoration, but found it to be a very interesting look at a time gone by. It is very worthwhile, very well done, poignant and thought provoking.
"Last Train to Nibroc"
Where: Bas Bleu Theatre, 401 Pine Street, Fort Collins, CO 80524
When: To December 22, 2019
Information: basbleu.org, or call 970/498-8949