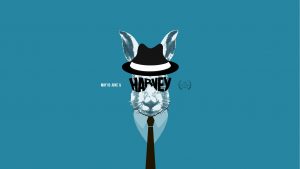 David Siever and Kathy Leonard Shine As Siblings Who See Life Differently.

Reviewed by Tom Jones
June 2, 2019
Hard to believe that the classic Broadway comedy "Harvey" has been around for 75 years! The play is due to celebrate its 75th birthday this fall – but how does one honor a tall white rabbit that only a few can see?

David Siever is a wonder as the confused brother, now in his 70s. He is incredibly amicable to everyone he meets, and is eager to introduce the six-foot-tall Harvey, to everyone he meets. His sister, Veta Louise, (convincingly portrayed by Kathy Leonard) however, is at loose ends. She is an avid social climber, horrified of what society might "think" of the family where one's best friend is a rabbit. Veta Louise decides everything would be just fine if Elwood was out of the house, confined to a mental hospital.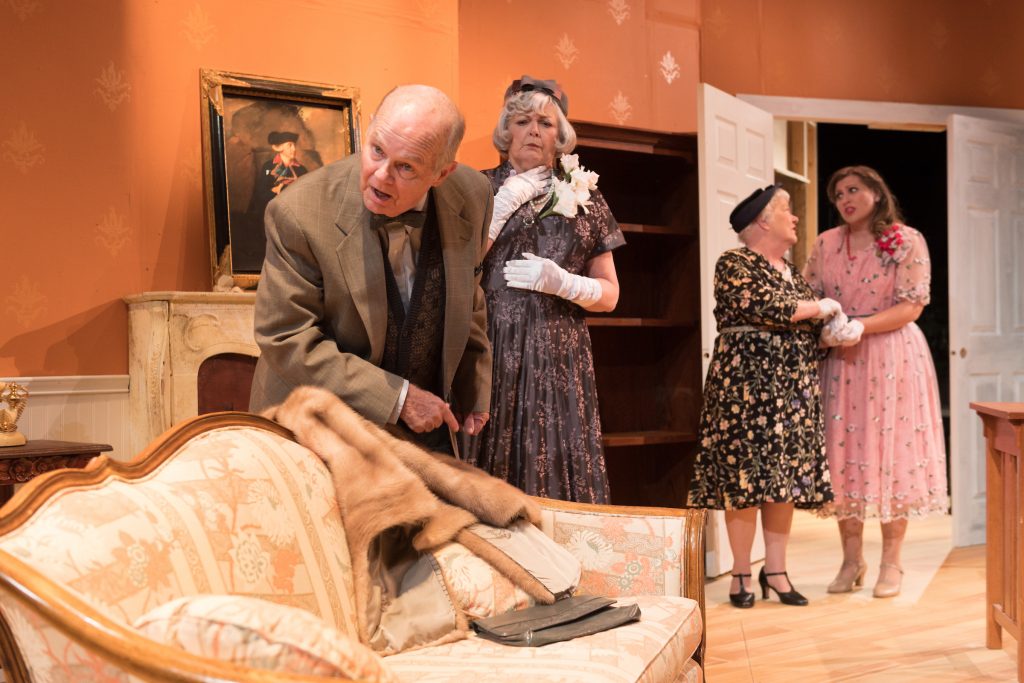 When the mother of Elwood P. Dowd died, she left ownership of the comfortable home to her unusual but kindly son. This resulted in problems for Dowd's sister, Veta Louise Simmons, who now lives in the home along with Elwood and her nearly-spinster daughter, Myrtle Mae. They are not a close-knit family. Elwood has a best friend, a tall invisible rabbit named Harvey. Elwood takes Harvey with him wherever he goes, searches for him when he becomes lost; and the two are evidently great drinking buddies. Harvey is evidently actually a pooka, conjured from Irish folklore.

Insanity reigns under direction of Morris Burns. Veta Louise is erroneously admitted to the sanitarium instead of Elwood. Staff cannot believe that someone as kind and caring as Elwood might need psychiatric care, when his sister appears to be completely nuts! Many appear to be a tad loony in this look at normal, next-to-normal, and just plain abnormal behavior.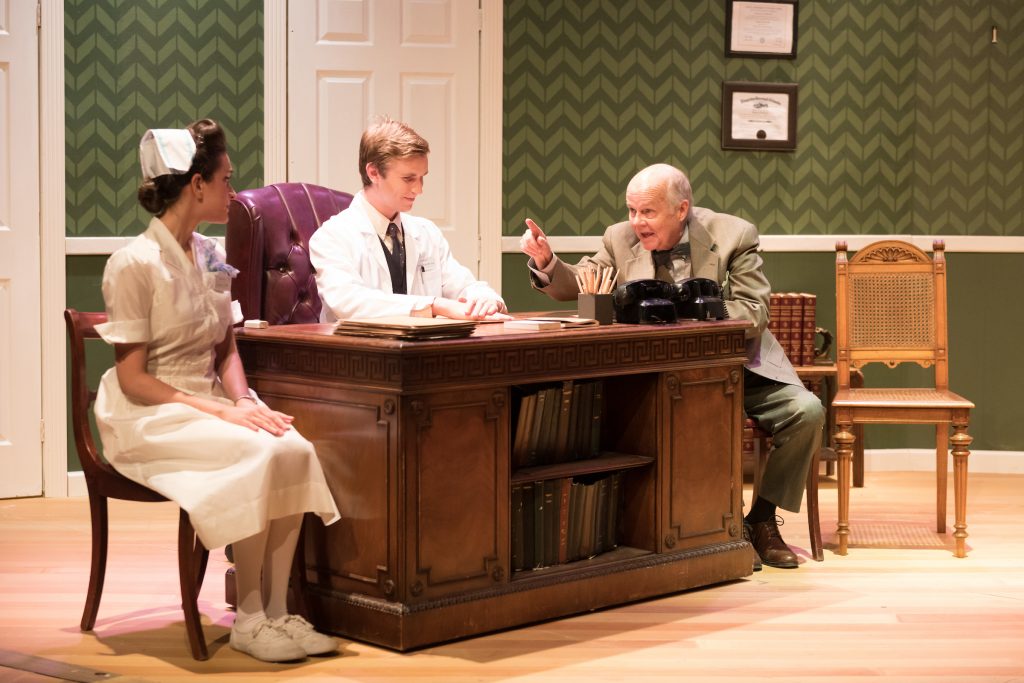 Comedies and dramas of the 1950s were usually two and one-half hour productions. Social media has subsequently changed interest of many theater-goers who want more action and less word-play. This is apparent in "Harvey," as there appears to be too much "talk" in the second act. That said, however, realizing that Harvey is seeing his tall white furry, friend, is highly entertaining. The set is terrific – a rotating look at the Dowd home and the mental hospital office. David Siever and Kathy Leonard are near-classics on their own as Elwood and Veta Louise.

Mary Chase wrote this daffy but poignant tale which has become one of America's best-loved plays. She received the Pulitzer Prize for Drama in 1945 for her "hare" raising story. Chase has Colorado roots, having graduated from Denver's West High School and later studying at the University of Denver and University of Colorado Boulder. When the story was transferred to film in 1950, James Stewart played the affable Elwood.

By show's end it just may be that Elwood (and his rabbit friend) are the only truly normal characters around. Veta Louse even admits that she just may have seen the pooka!
"Harvey"
Where: Bas Bleu Theatre, 401 Pine Street, Fort Collins, CO 80524
When: To June 9, 2019
Information: basbleu.org, or call 970/498-8949