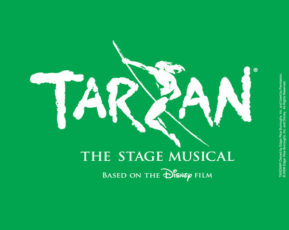 Candlelight Dinner Playhouse Greets The Jungle Man With Great Enthusiasm

Reviewed by Tom Jones
June 6, 2019
It's a jungle in Johnstown this summer as Tarzan literally swings on a vine into town! And what a Tarzan he is. Tyler Fruhwirth is enormous fun as the young Tarzan, being raised by a pack of gorilla following the death of his parents. He is a young actor – delightful with great enthusiasm.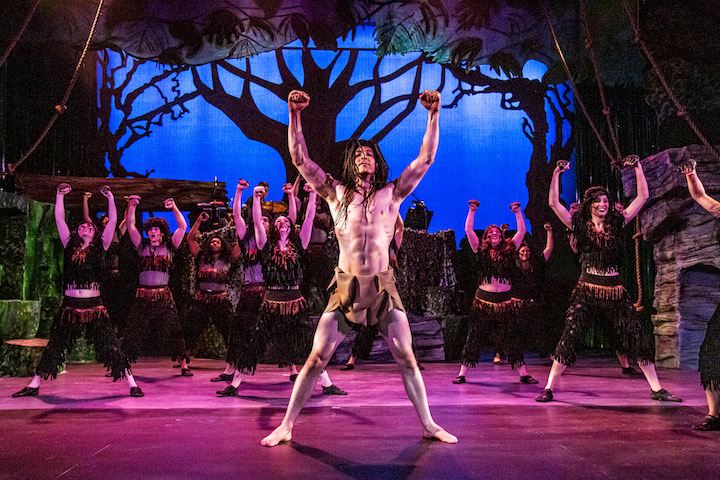 Then Tarzan grows to manhood. The adult Tarzan, as portrayed by Barrett Harper, rides on a zip line from the back of the audience to the top of the stage where he grabs a vine to swing into action. What an entrance. What a find! Barret has been performing in the area for a few years, but appears to come out of nowhere to command attention as the super athletic and super singing Tarzan. It is as if he has actually been raised by gorillas, as he moves with enormous skill though the jungle, jumping on and off rocks, walking on his hands, and swinging with his gorilla friends.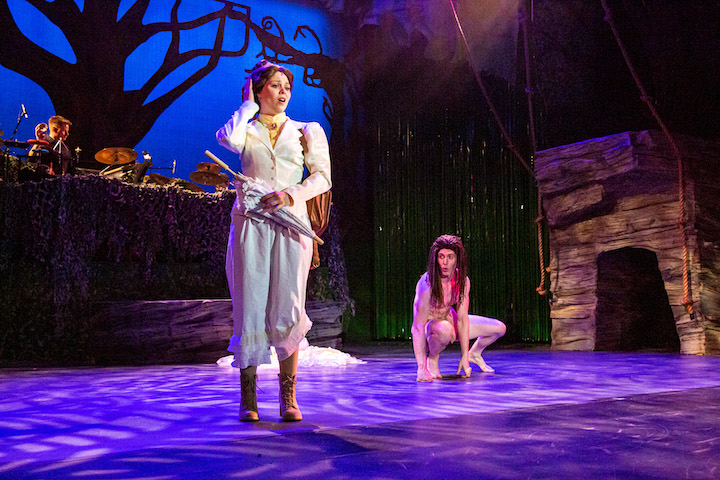 Edgar Rice Burroughs put "Tarzan" on the map through a series of 24 adventure novels beginning in 1912 and continuing through 1965. His Tarzan tales have been the source of several films, including the 1999 animated musical produced by Walt Disney Pictures. The stage musical, based on that film opened on Broadway in 2006 and is now being seen worldwide.

This production now on stage at Candlelight Dinner Playhouse is quite a show. Director and choreographer Piper Lindsay Arpan had the wisdom and skill to put the cast through tough training as wild beasts in the jungle. Now, surrounded by great scenery, she lets them swing on vines to the great amusement of the audience. Then she tones down the action to reflect a mood of courage, familial love, and acceptance of others. She succeeds with great success.

The production in Johnstown this summer stays close to the original story of the English couple and their infant son surviving a shipwreck and temporarily finding safety off the coast of Africa. A leopard is on the prowl, however, and kills the English couple as well as the young son of a gorilla mother, Kala. The heartbroken Kala hears the sound of the orphaned human and decides to love and raise him as her own.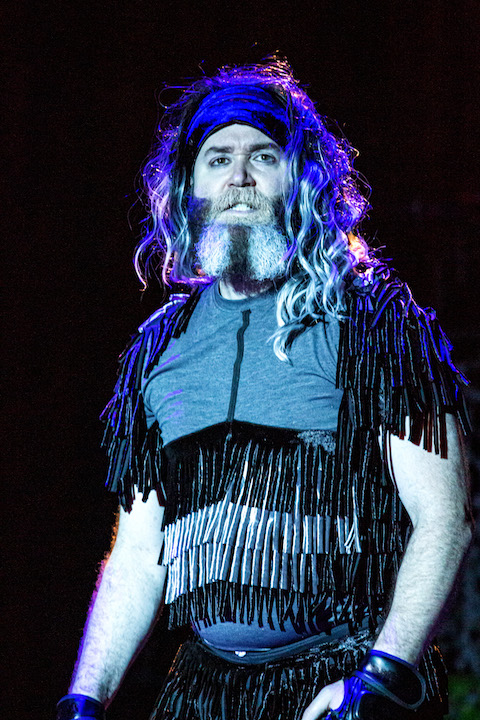 Kala's gorilla mate, Kerchak, is the group leader, and strongly disapproves of Kala's action, but protect the young human.

While Barret Harper as Tarzan is the star of the production, he is in very good company. The scenery nearly becomes a character of its own. Musical direction by Phil Forman is excellent. Choreography is terrific, and the vine-swinging is enormously entertaining. Director and choreographer Arpan has a great challenge in directing actions of gorillas as well as humans, showing their similar inbred animosities, as well as inherent abilities of loving and caring.

Heading the supporting cast are Harmony Livingston, convincing as the gorilla mother Kala; Katie Jackson, as Jane, the daughter of the English scientist whose expedition to the Congo results in their finding Tarzan living among gorillas; and Scott Shaffer, as Kala's gorilla mate, Kerchak. Shaffer is well known to local audiences as a talented and versatile performer. He is more interesting than ever as the gorilla leader, unwilling to let harm come to the human while realizing his gorilla tribe is in immense danger.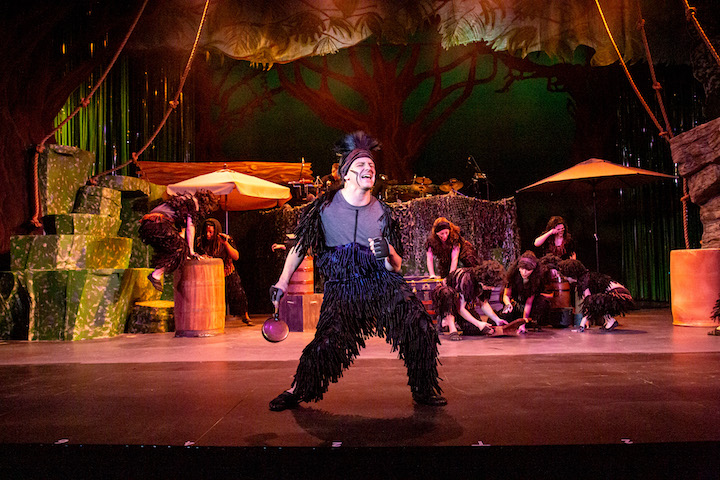 While Tyler Fruhwirth is excellent as the young Tarzan, Gabriel Waits is impressive as Tarzan's young gorilla friend, Terk. Tim Howard comes into his own with equal conviction as Terk when a few years older.

Music and lyrics are by Phil Collins and include the beautiful and haunting "You'll Be in My Heart."

This is a show for the entire family. I did have difficulty from time to time understanding everything the gorillas had to say. But then, I don't speak gorilla — nor does anyone I know. That, however, did not hamper my appreciation for the entire production. It makes for a wonderful night out!

"Tarzan"
Where: Candlelight Dinner Playhouse
4747 Marketplace Drive, Johnstown, CO
When: To August 25, 2019
Information or Tickets: Box Office: 970/744-3747 or online at
ColoradoCandelight.com